---
Advertisements

---
Drunk people can get into some crazy antics, but this person might take the cake.
On Wednesday (31 Aug), a man was seen drinking while dangling outside a window ledge on the eleventh floor of an HDB flat in Yishun.
According to Shin Min Daily News' report, this incident occurred at around 7am at Block 465A Yishun Avenue 6.
The drunkard in question is supposedly the homeowner of the unit.    
Well, one would hope so, otherwise we would need to ask how and why he is the flat.
New and Under Renovation
The bizarre part about this story is that the man had locked himself in a flat that was still under renovation.
Since it was a brand-new block of flats, none of the residents had moved in yet.
This is both a good and a bad thing: when the man caused a racket for three hours straight, he was not bothering anyone because no one was close enough to hear him; the problem is that he could have fallen off and no one would have been there to save him.
From the pictures taken by a witness, the man could be seen dangling outside his window as he drank from a beer bottle.
At one point, he climbed out of the window, his feet planted on the latch while he held onto the top window grilles. It looks incredibly precarious and he definitely did not have the finesse of Spiderman.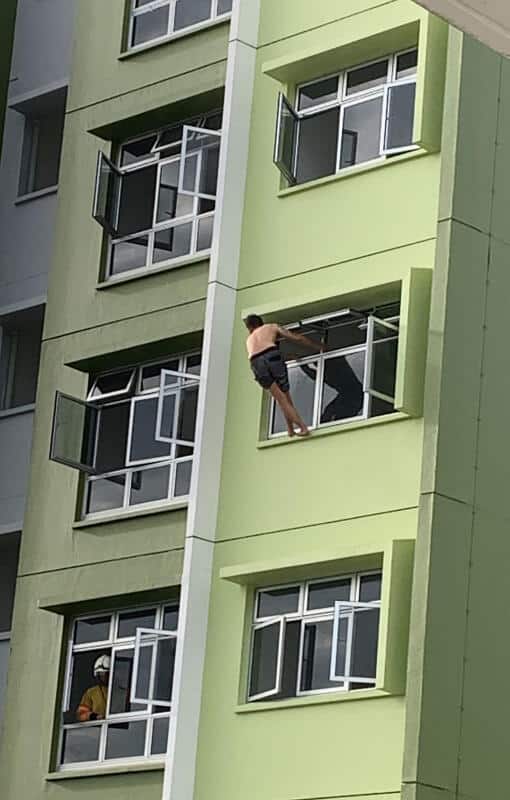 All the while, the Singapore Civil Defence Force (SCDF) officers can be seen one floor below, setting up their equipment so they can save the man from himself.
The Kick to The Rescue
When the SCDF arrived at the building, they immediately deployed air cushions on the ground floor.
The Disaster Assistance and Rescue Team were also dispatched.
The SCDF officers eventually saved the man by employing a green netting and then kicking the man back into his flat.
It can't be said that the rough treatment was not well-deserved…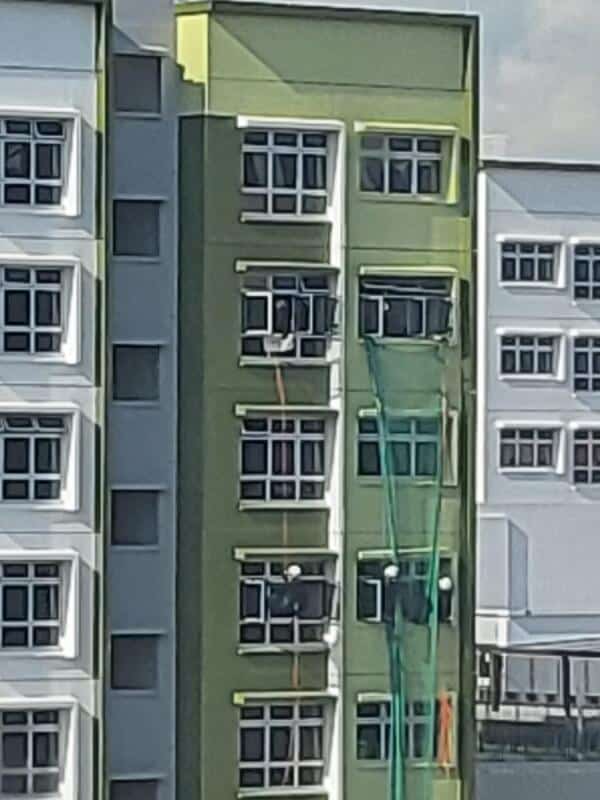 The man was later taken in by the police and brought to Khoo Teck Puat Hospital.
It is unclear who contacted the police as a few neighbours from the block facing 264A witnessed the drunkard's actions upon waking up.
There was also a renovation contractor who told Shin Min Daily News that he was visiting the house in order to collect payment for some renovation work.
However, his trip to Yishun was completely wasted due to the incident. He did not manage to receive the payment, nor did he manage to install the fixtures.
The only thing he got out of that morning was a wild story to tell his colleagues.
Read Also:
Featured Image: Facebook (Shin Min Daily News 新明日报)
---
Advertisements

---

Fresh grads, you don't need any experience to earn up to $4,200 with this "secret":
Read Also: