---
Advertisements

---
The cancel (or cancer) culture is strong.
Following the allegations of psychological abuse and controlling behaviour heaped onto Jeff Ng by his ex-girlfriend Lena Ng, the buy-now-pay-later brand Atome Singapore has started to distance itself from the 32-year-old singer.
In case you're unaware of who Jeff Ng, he's that singer who gathered a huge crowd for his busking sessions outside of Cathay Building over the past weeks.
You can watch this video to know how he got popular…
…and this video to know why he got cancelled:
The Speed in which He Was Cancelled
Shortly after the allegations came to light last Friday (1 July), Atome Singapore wasted no time removing all its posts related to Jeff Ng on its Instagram and TikTok.
While they might try to cover their association, someone on the internet never forgets.
---
Why Bird Paradise Suddenly Became Singapore's Yishun:
---
Before the fallout, Atome had called Jeff Ng "incredible" and lauded him for having "such a strong turnout".
"With Atome, you know you can always take your first leap in achieving your aspirations," the brand wrote, with their logo and social media platform handles splashed all over his singing equipment in its signature yellow in the photo.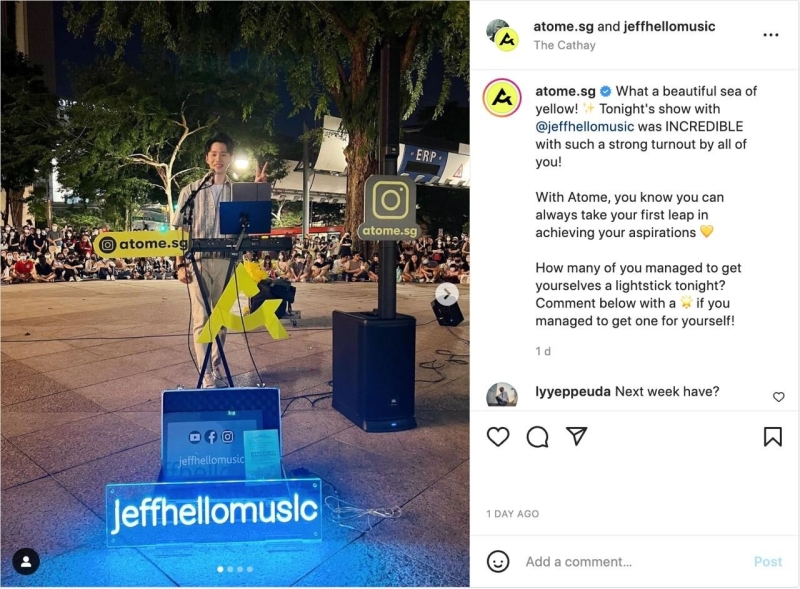 As you'd know by now, Lena Ng then came out with a grand slam of information on Facebook, alleging that Jeff Ng was "the worst person" she had ever met during the three years they were together.
She also claimed that he would control her actions and call her endlessly till she answered.
---
Advertisements

---
Purportedly, Jeff Ng also had the habit of making his partners kneel and bow to him to express that they were apologetic for something they did wrong. She alleged that she had "permanently ruined" many of her relationships because she defended him, except he never changed.
There's supposedly an Instagram post made on 1 July where he apologised for being "young and reckless" in his twenties, tagged with the promise that he would strive to become a better person, but that post is no longer available as he has made his Instagram private, though you can still see it on Facebook.
Then there's also the part where he allegedly stalks the people that unfollow him to confront them about it…
It's a mess, that's what it is.
Join our Telegram channel for more entertaining and informative articles at https://t.me/goodyfeedsg or download the Goody Feed app here: https://goodyfeed.com/app/
Given all these allegations, Atome Singapore appears reluctant to support him again, even going as far as to decline commenting about the singer when Marketing Interactive tried to get their opinion.
It's a far cry from when Atome enthusiastically promoted Jeff Ng, calling him "Singapore's latest sensation" in an Instagram video where they followed Jeff Ng to Design Orchard to pick a new outfit for his next performance.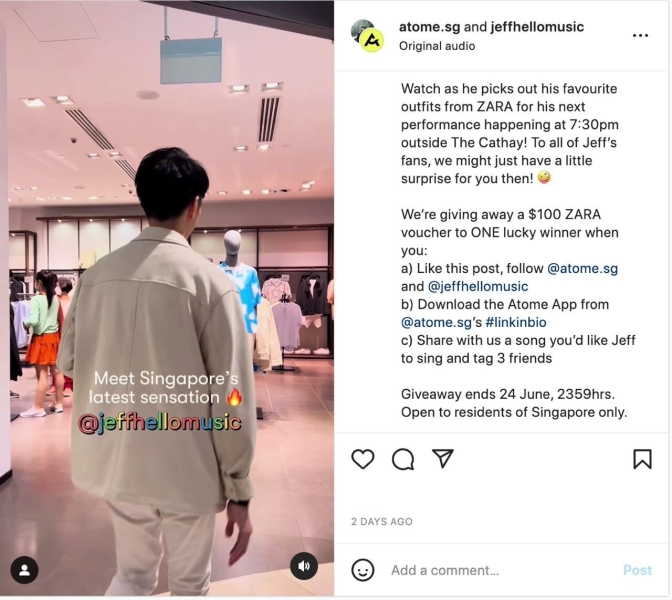 Fame is a fickle thing indeed.
And you're only worth the publicity when you're shiny and glamorous.
Read Also:
Featured Image: Instagram