---
Advertisements

---
The timestamps in the following article will be written according to Canadian local time (GMT -6:00).
A series of horrific stabbings that has killed at least 10 people and injured another 15 are currently unfolding in James Smith Cree Nation, Saskatchewan, Canada.
The Two Suspects
The Canadian police have named two suspects, Damien Sanderson, aged 31, and Myles Sanderson, aged 30.
The former has been described as 5ft 7in (171cm), while the latter is 6ft 1in (185cm).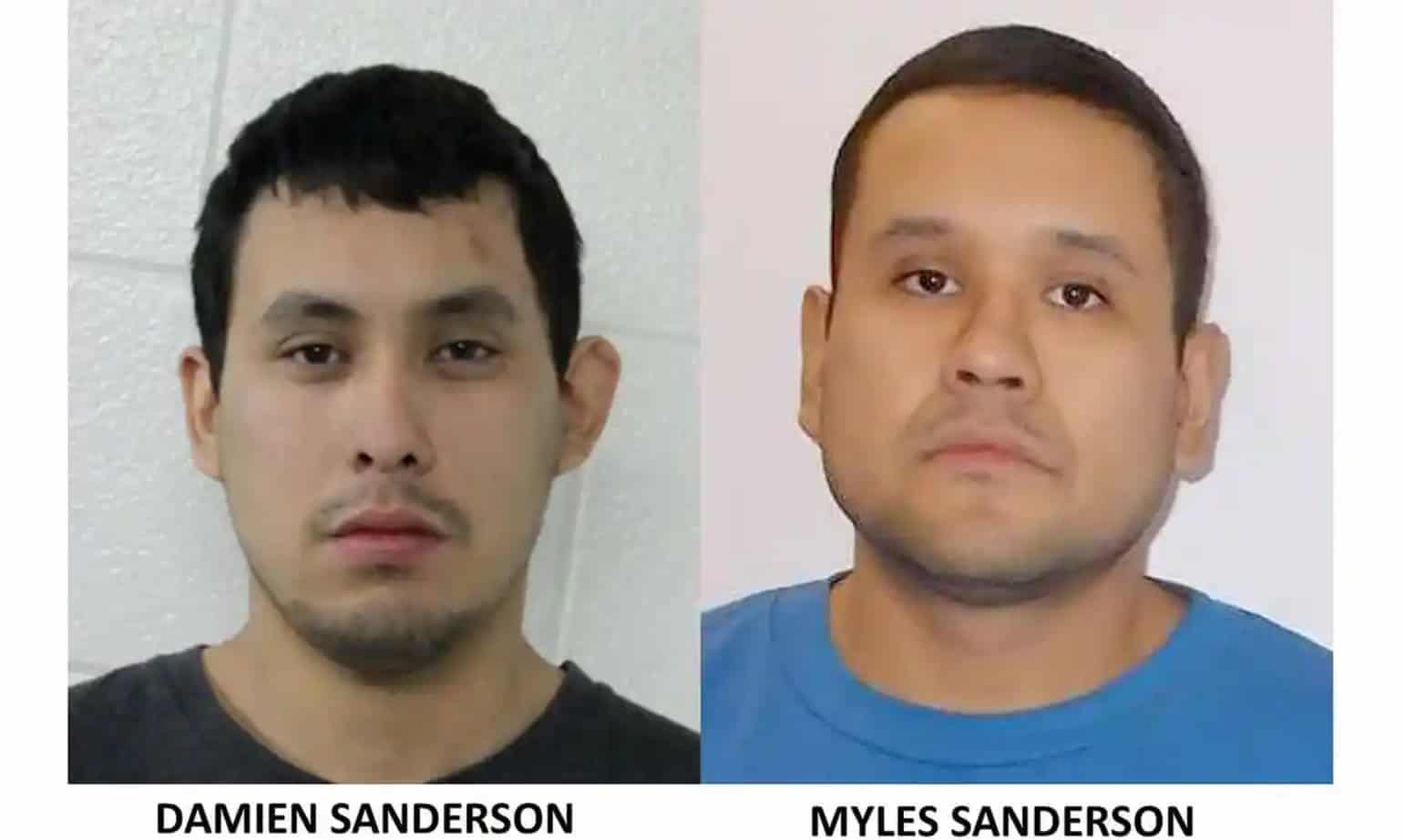 The pair were last spotted in the city of Regina, 320km south of the attacks in James Smith Cree Nation and the village of Weldon, travelling in a black Nissan Rogue.
The suspect vehicle was spotted on Arcola Avenue in Regina, more than 300km south of the first assault.
The two suspects are still on the loose.
In May, Myles Sanderson was apparently placed under the wanted list as "unlawfully at large" by Saskatchewan Crime Stoppers, a program that encourages members of the public to work with the police. There was no elaboration on why he was wanted.
The Call to Action
On 4 September, the Canadian police were alerted to a bout of violence at around 5:40am, in the provincial capital of Regina.
Soon after, more calls started pouring in, quickly revealing a whole string of attacks that was happening across the southern Canadian province.
13 crime scenes have been established thus far.
At 8:20am, a Dangerous Persons Alert for Damien and Myles was issued to the whole of Saskatchewan, and the warning was extended to the neighbouring provinces of Manitoba and Alberta three hours later.
The three provinces combined are almost half the size of Europe.
The Saskatchewan health authority has stated that the patients are being treated at several sites.
The emergency protocols have also been activated to call in more medical staff to cope with the "high number of critical patients".  
Two medical helicopters have also been dispatched, said STARS Air Ambulance spokesperson Mark Oddan.
Reportedly, two patients have been conveyed to the Royal University Hospital in Saskatoon via two helicopters, while a third carried a patient from a local hospital in Melfort to Royal University Hospital.
Police Conference
During the conference, Rhonda Blackmore, the Commanding Officer for the Saskatchewan Royal Canadian Mounted Police (RCMP) stated that the authorities have yet to establish a motive for the stabbings.
From the current look of things, some victims were targeted by the suspects, while others were "attacked randomly".
The residents of Regina have been told to take precautions and to seek a secure location.
"DO NOT APPROACH suspicious persons. Do not pick up hitchhikers," said the RCMP on Twitter, adding that suspicious persons should also be reported immediately.
---
Advertisements

---
If in the #YQR area, take precautions + consider sheltering in place. Do not leave a secure location. DO NOT APPROACH suspicious persons. Do not pick up hitch hikers. Report suspicious persons, emergencies or info to 9-1-1. Do not disclose police locationshttps://t.co/7RudIGEfSx

— RCMP Saskatchewan (@RCMPSK) September 4, 2022
Ms Blackmore emphasised that the police were "dedicating the maximum number of resources" to the investigation-slash-manhunt.
The police have received no indication that the suspects have left the Saskatchewan province, but are remaining on high alert. Checkpoints have been set up, with police checking the travellers' identification.
For James Smith Cree Nation, an area home to an indigenous community with about 2,500 residents, as well as Weldon which has around 200 residents, such bouts of violence are incredibly rare.
Witness Accounts and Close Shaves
Doreen Lees, an 89-year-old woman from Weldon, recounted that she and her daughter thought they saw one of the suspects when a car sped down her street early in the morning. She and her daughter were having coffee on the deck then.
A man later approached Lees, saying that he was hurt and required help.
---
Advertisements

---
However, when her daughter said that she would call for help, the man ran off.
Lees added that the man was covering his face with a huge jacket and refused to show them his face. When they asked for his name, he "mumbled" it, albeit incoherently.
He also told the mother and daughter that "his face was injured so bad he couldn't show it".
The man was by himself and looking "kind of a little wobbly," said Lees.
Out of the kindness of her heart, Lees tried to follow him and render him some assistance. The daughter, rightfully suspicious, told her mother not to follow him and to come back to the house.
---
Advertisements

---
Another Weldon resident by the name of Diana Shier said that she was in her garden that morning when she noticed emergency crews a few blocks away.
Shier's neighbour, a man who was living with his grandson, had been killed.
On Twitter, a James Smith Cree Nation resident posted a picture of a broken door handle, describing she was glad that her younger sister was away from home when the suspects broke into the house.
"This is forever gonna traumatize me," she added.
Condolences To The Affected Families
Shortly after the news broke out, Canadian Prime Minister Justin Trudeau tweeted: "The attacks in Saskatchewan today are horrific and heartbreaking. I'm thinking of those who have lost a loved one and those who are injured."
He added, "We are closely monitoring the situation, and urge everyone to follow updates from the local authorities. Thank you to all the brave first responders for their efforts on the ground."
Please read my full statement on the attacks in Saskatchewan: https://t.co/YEYHR6utxo

— Justin Trudeau (@JustinTrudeau) September 5, 2022

Likewise, Premier Scott Moe offers his "deepest condolences" to the families and friends of the victims of the horrible stabbings.
Read Also:
Featured Image: Royal Canadian Mounted Police
---
Advertisements

---

Fresh grads, you don't need any experience to earn up to $4,200 with this "secret":
Read Also: