---
Advertisements

---
A few days ago, a Grab Delivery Rider's bike was clamped at a Bishan condo.
20-year-old Gan Huan Bin had parked illegally in the letterbox area of the condo due to the heavy rain.
He had reportedly lost one day of earnings from the incident, paying a fine of $214 to unlock his vehicle. 
The news made rounds on social media, getting mixed reactions from netizens. 
Since then, the condo management has explained their side of the story.
"No Heavy Rain was in Sight"
In a statement published on 27 December, the management of Sky Vue reported that "no heavy rain was in sight" when Gan came to make his delivery.
In addition, the condo has a dedicated Rider Parking Area at level 1, where the security guard had directed Gan to park his bike.
The management also noted that the car park basement was available for parking during heavy rain.
Security guards have also said that all riders would choose to park at the Rider Parking Area regardless of the weather since its location made it convenient for deliveries.
CCTV Footage
There is also CCTV footage of the guards directing Gan to areas he was authorised to park. Mr Tng Leong Wai, the strata residential manager, also noted that the rider acknowledged the guard's directions.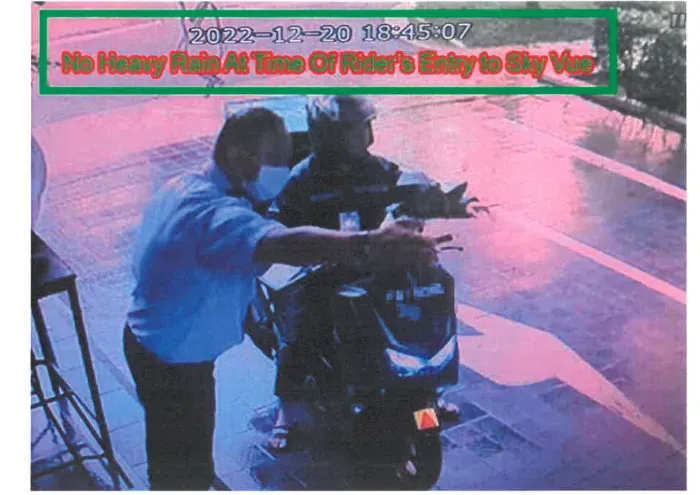 Furthermore, the footage showed that pedestrians could walk freely without needing shelter, implying that it was not raining heavily. 
However, the Gan had chosen to park in the letterbox area at level 1.
This was not an authorised parking area and even contained not one, but six "No Parking" signs.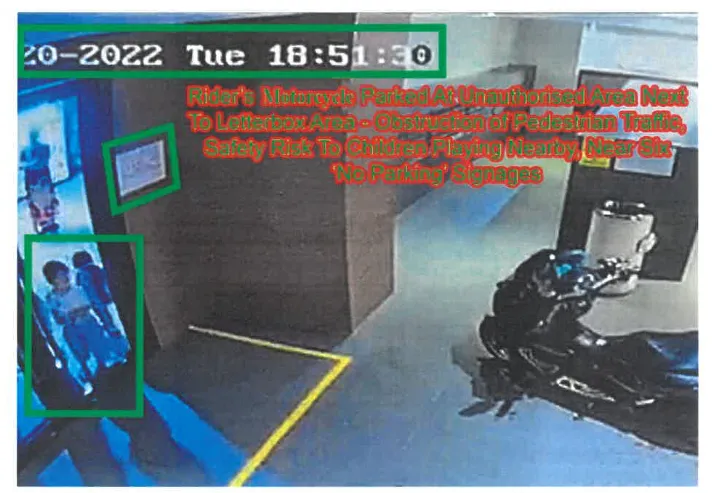 His actions obstructed pedestrian traffic.
There were also children playing nearby. Thus, a resident alerted security, which prompted the guard to clamp the bike when Gan was nowhere to be seen.
Allegedly, Gan had also argued with the guard and initially refused to pay the $214 administrative fee, though he eventually did.
Join our Telegram channel for more entertaining and informative articles at https://t.me/goodyfeedsg or follow us on Twitter : https://twitter.com/goodyfeed
Brief Recap of the Incident
According to a Facebook post by SG Road Vigilante, the incident occurred on 20 December.
Gan was making a delivery to SkyVue condominium in Bishan.
The security guards told him of the condo to park near the refuse bin area. 
However, according to Gan, it was raining heavily, and the area was unsheltered.
He claimed that he had no choice but to park his bike illegally due to the heavy rain and the fact that he was delivering food in paper bags. 
---
Advertisements

---
He said that he had reasoned with the guards that he would not take long and parked his bike near the residential lift lobby instead.
However, when he returned two minutes later, his bike's wheel had been clamped.
He had to pay a fee of $214 to unlock his bike.
Gan shared with Shin Min Daily News that his daily salary was around $200, meaning that he had lost more than a day's worth of wages from this incident.
Furthermore, though he usually worked from 6 am to 9 pm, he had started work a little later that day. 
---
Advertisements

---
The Internet's Reaction
When the news first came out about the bike being clamped, netizens were divided.
While some were empathetic, others pointed out that he deserved the administrative fee for disobeying the rules and obstructing pedestrian traffic.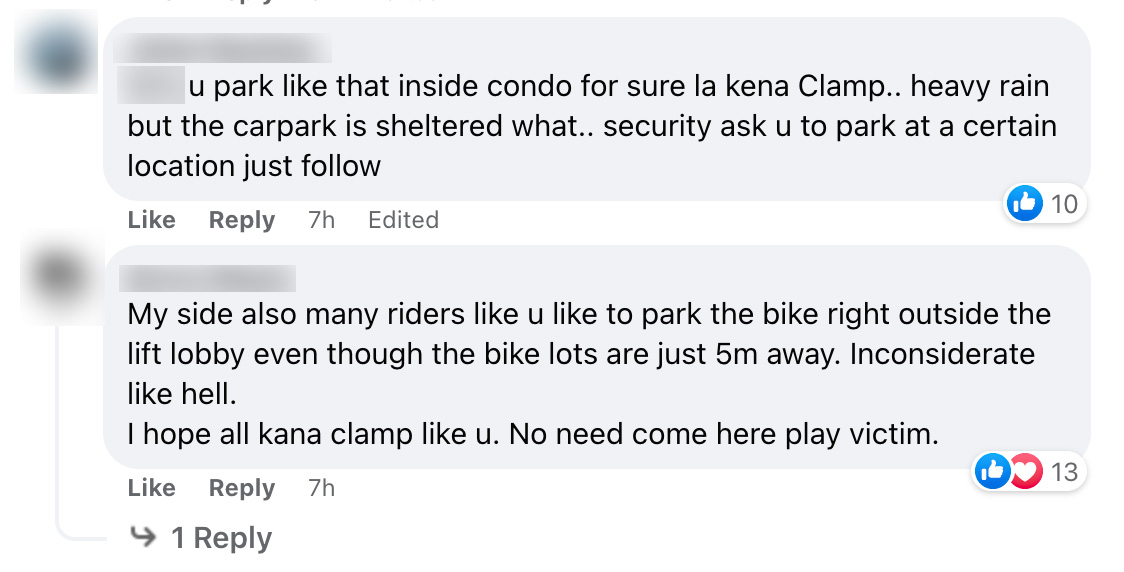 Ultimately, it was unclear who was in the wrong since we only had one side of the story.
Now that there's evidence, netizens have praised the condo's management. Others have expressed outrage at the fact that Gan lied.

It just goes to show that there are always two sides to a story. 
---
Advertisements

---
Interestingly enough, this situation demonstrated the Rashomon Effect.
Here's a video that explains the Rashomon Effect:

Read Also:
Featured Image: Facebook (@SG Road Vigilante) + Sky Vue

Fresh grads, you don't need any experience to earn up to $4,200 with this "secret":
Read Also: