---
Advertisements

---
If you've been wondering whether the girl in bus 198 has been mask-fishing you, wonder no more: from next week, you'd know.
Because after countless (two? Three? TEN?) years of wearing masks on public transport, this COVID-19 restriction is finally being lifted, and Singapore has healed from COVID-19.
Here's what you need to know.
No Masks are Needed in Public Transport from 13 February 2023
Starting on Monday (13 February), when Singapore likewise will lower its disease alert to its lowest level since the COVID-19 pandemic began, masks will no longer be required to be worn in select hospital and residential care facilities as well as on public transportation.
However, the Ministry of Health (MOH) announced today that it would continue to require visitors, workers, and patients to wear masks in places where there is patient interaction as well as in spaces indoors that are patient-facing, such as hospitals, clinics, and nursing homes.
To better safeguard patients and healthcare staff from infectious diseases, this will be a MOH requirement rather than a mandate under COVID-19 laws, the ministry stated in a news release.
In other words, people need to wear a mask not due to COVID-19, but due to other health issues.
Back to DORSCON Green
Singapore has continued to maintain a Yellow status, the second-lowest rung, under the Disease Outbreak Response System Condition (DORSCON) framework since April of last year.
Beginning on Monday, COVID-19 will be downgraded to code Green, placing it in the same classification as the H7N9 bird flu strain and the Middle East Respiratory Syndrome (MERS).
Singapore first increased its DORSCON level to Orange on 7 February 2020, which also led to massive spike in…toilet paper sales.
Watch this video to understand why we were obsessed with toilet paper then:
We introduced mask-wearing restrictions in April of that same year.
But it's not over.
"A new, endemic COVID-19 normal will…not be static, and we will adjust our measures when necessary," MOH said.
"But unless it is a very dangerous and virulent variant, we should be able to manage these subsequent waves with an appropriate level of measures that does not deviate significantly from the new norm, and continue to live our lives normally."
MTF Uncleband Disbanded
The multi-ministerial taskforce (MTF), which was established in January 2020 as a reaction from the entire government to COVID-19, would also be…disbanded.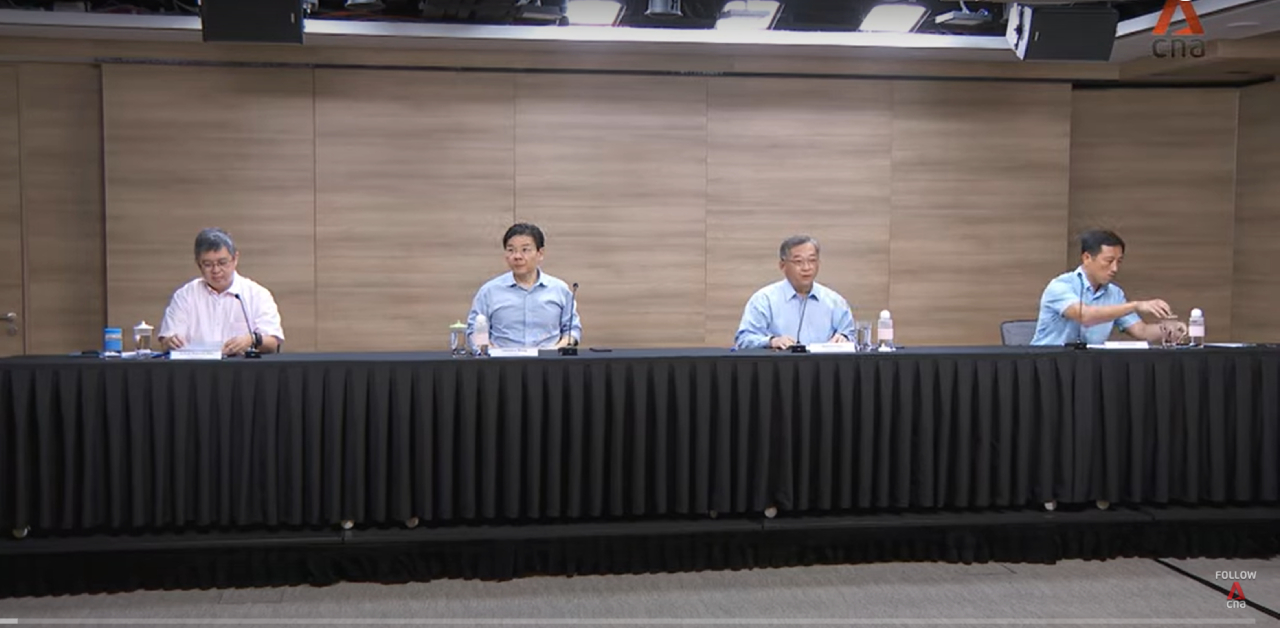 It comprised ministers Lawrence Wong and Gan Kim Yong, with Ong Ye Kung joining the team when he became the Health Minister.
Instead, the management of COVID-19 will be transferred to MOH. However, the government will reactivate a suitable multiagency crisis management framework if the situation drastically gets worse.
Goodbye, Protocol 1-2-3
Remember back in the past when everyone didn't know what to do when they contracted COVID-19?
Protocol 1-2-3 came, and everyone went for 7-day free MC.
That would also be removed.
---
Advertisements

---
Under a new general advisory, people who are sick and have Acute Respiratory Infection (ARI) symptoms, as well as people who have severe, persistent, or worsening ARI symptoms, should consult a doctor.
Those with mild ARI symptoms should remain at home until their symptoms subside.
Individuals should also exhibit social responsibility by minimising social interactions, wearing a mask, and avoiding crowded places if they must go out while sick or asymptomatic but positive for COVID-19.
In other words, treat your sickness like any other sickness lah.
Can Finally Delete TraceTogether
How About TraceTogether?
Sorry, one moment as I Google for information about TraceTogether. Or you can watch this video to learn more about it:
---
Advertisements

---
It's official: you can uninstall TraceTogether (if you've not done so) because it'll be stood down completely.
As for people holding on to TraceTogether tokens, a TraceTogether token return exercise will take place from 13 February to 12 March, and members of the public can return their tokens at counters at all 108 Community Clubs or Centres (CCs).
MOH added, "We no longer require infected persons to submit TT data, SE data is no longer being collected, and MOH has deleted all identifiable TT and SE data from its servers and databases."
However,  they added it was "useful" to keep both systems (TraceTogether and SafeEntry) ready for reactivation if new, more dangerous variants of concern emerge. Therefore, registration details such as names and mobile numbers will be retained in the system.
This means COVID-19 is indeed over, similar to what's happening in the US.
---
Advertisements

---
The US Also Just Announced Plans to "End" COVID-19
Earlier this month, the White House said that from 11 May, they would lift two COVID-19 emergency designations, the newest indication that the Biden Administration is reducing its efforts to combat the virus.
Unlike Singapore, the US is a big country, so they're announcing it earlier for states to prepare for the change.
However, the World Health Organisation (WHO) said that the global health emergency declaration remains in place. Still, WHO director-general Tedros Adhanom Ghebreyesus said he remains hopeful that the "world will transition to a new phase" in the coming year.
Goodbye, COVID-19. Hello, girl from Bus 198.
Read Also:
Featured Image: kandl stock / Shutterstock.com (Image for illustration purpose only)

Fresh grads, you don't need any experience to earn up to $4,200 with this "secret":
Read Also: