---
Advertisements

---
If you haven't heard about the fall of crypto, you're probably living under a rock.
The Fall of FTX
Futures Exchange, better known as FTX, is a cryptocurrency exchange system which promotes transaction of digital currencies. 
In this market, users are able to link their crypto wallets and engage into digital transactions. They can place trades, enter into contracts, as well as buy/sell NFTs. 
Started by Sam Bankman-Fried and Gary Wang in 2019, this platform originally saw hypergrowth. However, as it increased in popularity, it did not have enough to supply customer demands. 
Many were sceptical about the solvency of the company (the ability to meet long-term debts and financial obligations)  and worried that they stood to lose all their money. As such, they withdrew from the market.
The mass market pullout meant that FTX had to return the users' money to them. Unfortunately, they lacked assets in their reserve to meet the demand and were forced into filing for bankruptcy. 
Remember crypto? The coins and digital photos that could cost more than a house? 
---
Here's Why We Might Not Need to Vote in Presidential Election 2023 After Tharman's Announcement:
---
Yeah, that took a hit as well, a massive one at that. 
At one point, the popularity of crypto was inflating at unimaginable speeds, but suddenly, it burst. All because of the collapse of the FTX. 
To put it into perspective, Bitcoin fell 10% on Tuesday, reaching its 2-year low.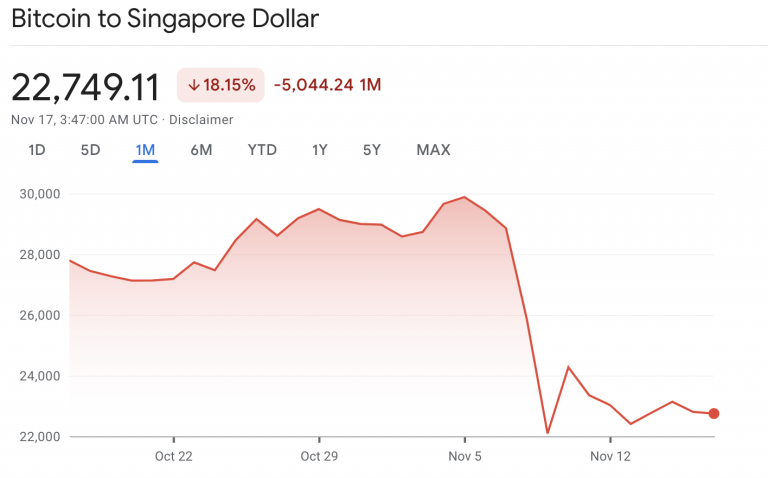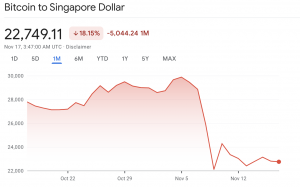 Yep, that big drop was due to the FTX crash.
---
Advertisements

---
Everyone was fearful of having their money lost and had to pull the plug before they suffered more losses.  
Broke Broker Genesis Trading
Because of the aforementioned, many brokers had to fork out money back to their users. A particular broker is Genesis Trading.
Genesis Trading, which has a Singapore unit (Genesis Asia Pacific), is facing difficulty returning users' dollars in light of the spate.
As such, they have halted withdrawals in the lending business, announcing on Twitter that they "have taken the difficult decision to temporarily suspend redemptions and new loan originations in the lending business."
Our #1 priority is to serve our clients and preserve their assets. Therefore, in consultation with our professional financial advisors and counsel, we have taken the difficult decision to temporarily suspend redemptions and new loan originations in the lending business.

— Genesis (@GenesisTrading) November 16, 2022
Another one bites the dust. 
They reasoned that "FTX has created unprecedented market turmoil, resulting in abnormal withdrawal requests which have exceeded our current liquidity.
"Our #1 priority is to serve our clients and preserve their assets," Genesis announced. 
In a thread of tweets, they have detailed their course of action and their reasoning to the public. 
Logically, people did not respond well. 
---
Advertisements

---
Most joked about the worthlessness of cryptocurrency today, as well as the major losses of the company, filling the comment sections with GIFs and memes. 
However, some had legitimate complaints. They were angry that their money was being vaulted and the company's incompetencies could not rectify the problem.
Hedge Fund's Involvement
Back in June 2022, Singapore-based crypto hedge fund Three Arrows Capital (3AC) entered liquidation because of the market downturn. 
A court in the British Virgin Islands, where 3AC's fund is incorporated deemed the company insolvent. Hence, 3AC was issued a liquidation order. 
As the court brought down the giant, it has resulted in a default. This means that 3AC would no longer be able to invest money into Genesis, impacting the latter's liquidity and duration profiles.
Join our Telegram channel for more entertaining and informative articles at https://t.me/goodyfeedsg or download the Goody Feed app here: https://goodyfeed.com/app/
The Singapore Side
In late June 2022, the Monetary Authority of Singapore (MAS) had granted in-principle approvals to Genesis Asia Pacific. In other words, it has agreed to extend funds to the company for its expansions and development. 
---
Advertisements

---
Chief executive of Alpha Impact Mr Hayden Hughes said that Singapore users would have faced the Genesis Asia Pacific and "it's still potentially a tricky situation."
"The Singapore entity is not technically bankrupt, but if there was commingling of funds then Singapore users could be affected by this," he said. 
Crypto crippled. 
Read also:
Featured Image: Time / Genesis Trading