---
Advertisements

---
Don Don Donki is famed for many things. 
Its delectable array of Japanese foods and drinks. 
Its impossible-to-get-out-of-your-head theme song. 
And, of course, its penguin mascot. 
Well, the penguin was almost killed. Almost. 
Don Quijote Announces Replacement of Penguin Mascot
On 16 December, the international Japanese store Don Quijote, known as Don Don Donki in Singapore, announced on Twitter that their penguin mascot, Donpen, would be changed. 
To what will it be changed? 
To the Japanese alphabet, "Do." Also, the Donpen name will be retired and replaced with the name "Dojou-chan."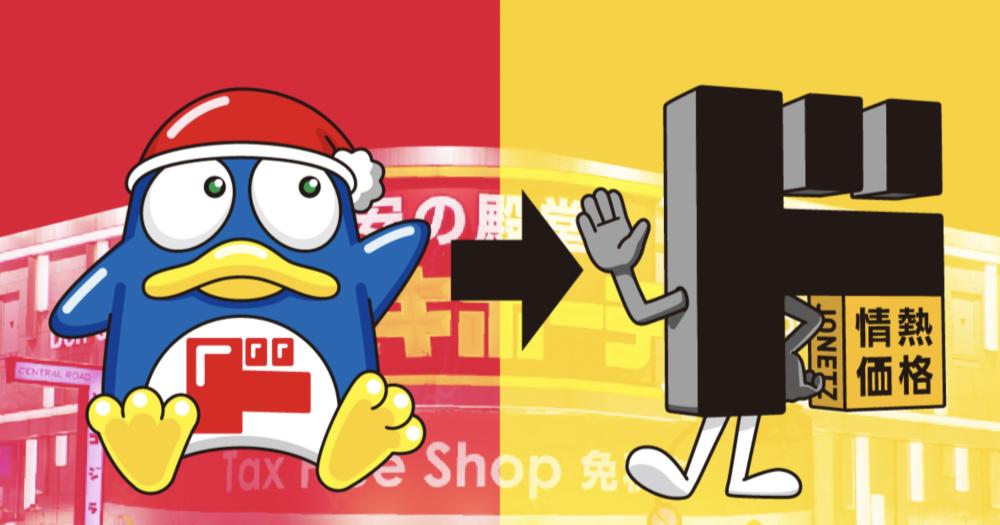 【大切なお知らせ】
ドンキのオリジナルブランド「情熱価格」を皆様に知ってもらいたいという真摯な想いから、この度ドンキ公式キャラクターを「ドンペン」から「ド情ちゃん」に交代する事が決定いたしました。

今後ともド情ちゃんを宜しくお願い致します。 pic.twitter.com/NfWFspOHVz

— 驚安の殿堂 ドン・キホーテ🐧 (@donki_donki) December 16, 2022
We Want the Penguin Back
The post went viral, with many against the changing of the mascot. The penguin signified the Don Don Donki that we all know and love, and for it to be replaced with a mere alphabet was saddening. 
Some also joked about boycotting the company for the penguin to return. 
---
Advertisements

---
The post not only took the public by surprise. Apparently, the president of the company was also unaware of the shift. 
In response to the post, the president said that he would be checking on the situation with the relevant departments. 
社長の吉田直樹です。私も事情がわからず関係部署に確認します。

— 吉田直樹 Naoki Yoshida (@NaokiYo73846593) December 16, 2022
Following up, they held an "urgent internal meeting" to discuss the issue. 
多くの方から反響をいただきまして、現在緊急で社内会議を行なっております。20時頃に公式Twitterにて何らかの回答をさせて頂きますのでお待ちください。

— 吉田直樹 Naoki Yoshida (@NaokiYo73846593) December 16, 2022
After a while, Don Quijote finally responded. 
They released an official statement saying the new mascot will be retracted and the old will return. 
【お詫びとご報告】
ドン・キホーテ公式キャラクターの交代につきまして、ご報告致します。 pic.twitter.com/SgIK3ZKQdH

— 驚安の殿堂 ドン・キホーテ🐧 (@donki_donki) December 16, 2022
Penguin FTW. 
Join our Telegram channel for more entertaining and informative articles at https://t.me/goodyfeedsg or download the Goody Feed app here: https://goodyfeed.com/app/
Don Don Donki Opening 15th Outlet in Jewel Changi on 20 Dec With Aviation Theme
This December, the famous Japanese supermarket will open yet another branch in Singapore, this time at Jewel Changi Airport. 
---
Advertisements

---
Seems like we just can't get enough of it. 
Located at B1 of the mall, the new store will be aviation-themed to suit Changi's culture. 
Look forward, because there'll be a treat for the first 100 shoppers. 
The store will open at 10 am, and if you are part of the early birds, you can get 50% off your salmon sushi set. 
This will be the chain's first outlet in Singapore to offer over 100 halal Japanese products. You can look forward to various products ranging from snacks, cooking ingredients, sauces, and more. 
Apart from the new additions, the shop will sell your usual favourites, like the ready-to-eat meals or the quality raw ingredients. 
---
Advertisements

---
So, save the date and save your appetite; see you there!
Read also: 
Featured Image: @donki_donki/ Twitter

Your parents are wrong: MSG (Monosodium Glutamate) is good for you (sort of). Here's the truth:
Read Also: