---
Advertisements

---
Last Updated on 2022-09-16 , 7:52 pm
It seems like the luxury goods scammer couple has started a trend of running away with customers' money while leaving their obligations unfulfilled, because now, a well known fitness studio / spin club has seemingly disappeared overnight, leaving confused customers unable to book classes they've already paid for.
Several police reports have been lodged by members against Kyklos Studios, and its affiliated brand X Fitness.
They've purchased hundreds of dollars in spin class packages from them prior to their sudden closure.
Both companies are run by a 31-year-old man by the name of Mr Atlas Ang, who, according to business records, holds the director position in four businesses dealing with training courses for sports and games, known as Kyklos, X+, XSC 1 and ACSG 1.
Earlier this week, the premises of the studio's two outlets appear to be shut down or cleared out, and their website and social media pages also suddenly became inaccessible to customers looking to make bookings for upcoming classes.
Users have also reached out to Mr Ang for an explanation, but he remains uncontactable.
If you only have three minutes, you can watch this video for a summary of what happened:
Both Customers and Studio Instructors Did Not See This Coming
Several users have taken to TikTok to express their bewilderment at the entire situation that seemed to have escalated out of the blue.
@somersault

i've been with them for almost a year and for this to happen it's damn crazy?!?! what is happening sia, i still got 16 classes left. anybody else also trying to contact them?? ☠️ #xspinclub #xfitnessclub #fyp
Goody Feed spoke with one gym member, Elyssa Yip, who had been a regular patron of the gym for two years prior to its sudden disappearance.
"I wasn't aware they are going to close or rather they showed no signs of it. I even went for my spin class with them on 10 September, which is one day before they were closed. The boss was there too," she said, expressing how unexpected the closure was.
"All along I find them quite ok and I have been going there to spin for 2+ years which is why I bought the package with them early this year. Now I can't even use my credits and they are uncontactable," she added.
She was one of the users who shared her story on TikTok, and has since filed a police report on her case.
However, she has yet to receive an update as investigations have just begun.
The Straits Times also contacted several customers like Yip, who revealed that they had purchased packages costing between $200 and $600, and were highly concerned that they will not be able to get their money back.
Some elaborated that they had chosen to take up the packages with Kyklos Studios as it had appeared to be a proper operation with physical outlets in malls.
I guess if we learnt anything from the scam owners of the store Tradenation, it's that having a legitimate shop unfortunately doesn't guarantee that there's a legitimate business behind it.
One woman in her 20s said she spent about $300 last month for a 20-class package following the end of the trial class she attended.
"I have signed packages with other studios and this has never happened before," she said.
"I'm really upset over the fact that they did not even announce anything on their social media and simply disappeared," she added.
---
Advertisements

---
Another customer noticed that a spin class instructor from the studio posted a statement on their Instagram addressing the issue.
As it turns out, they are equally clueless regarding the whole situation.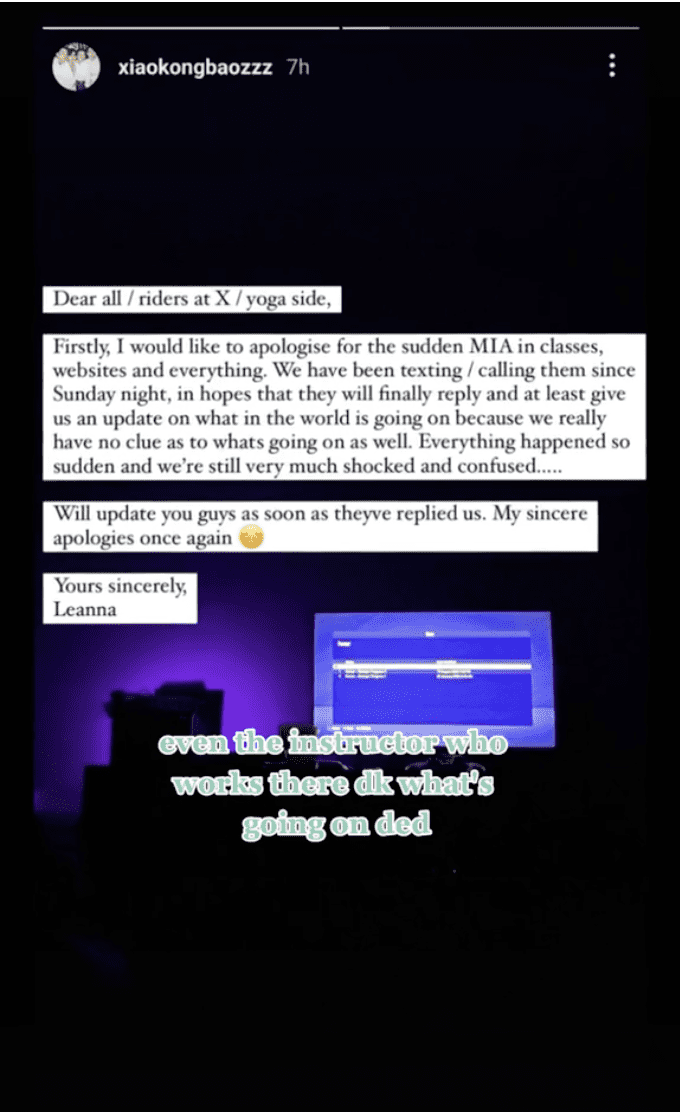 Some users also flooded the company's Google Review page with their complaints and stories. The company, X Fitness, currently holds a 2-star rating on Google from all the damning reviews.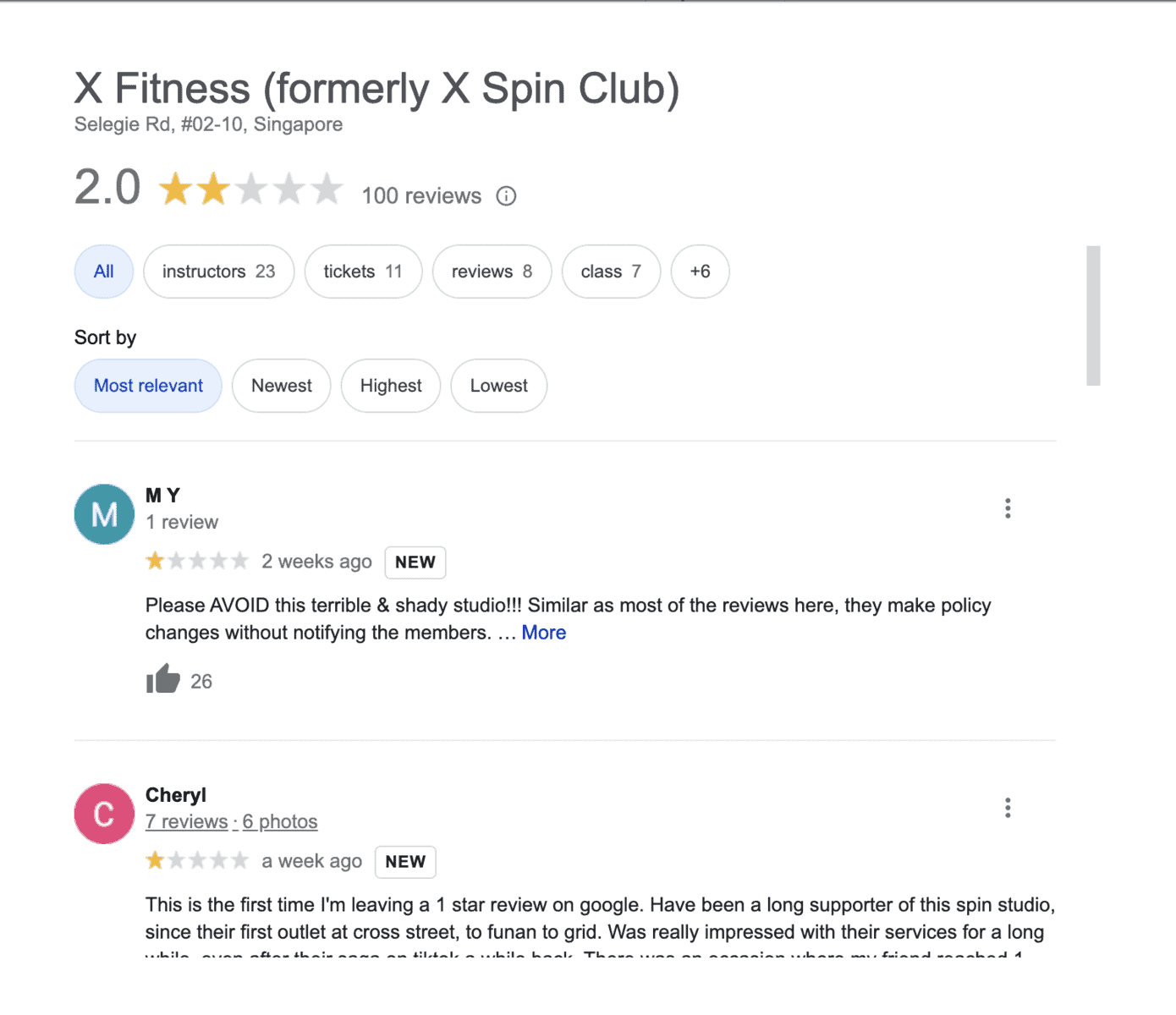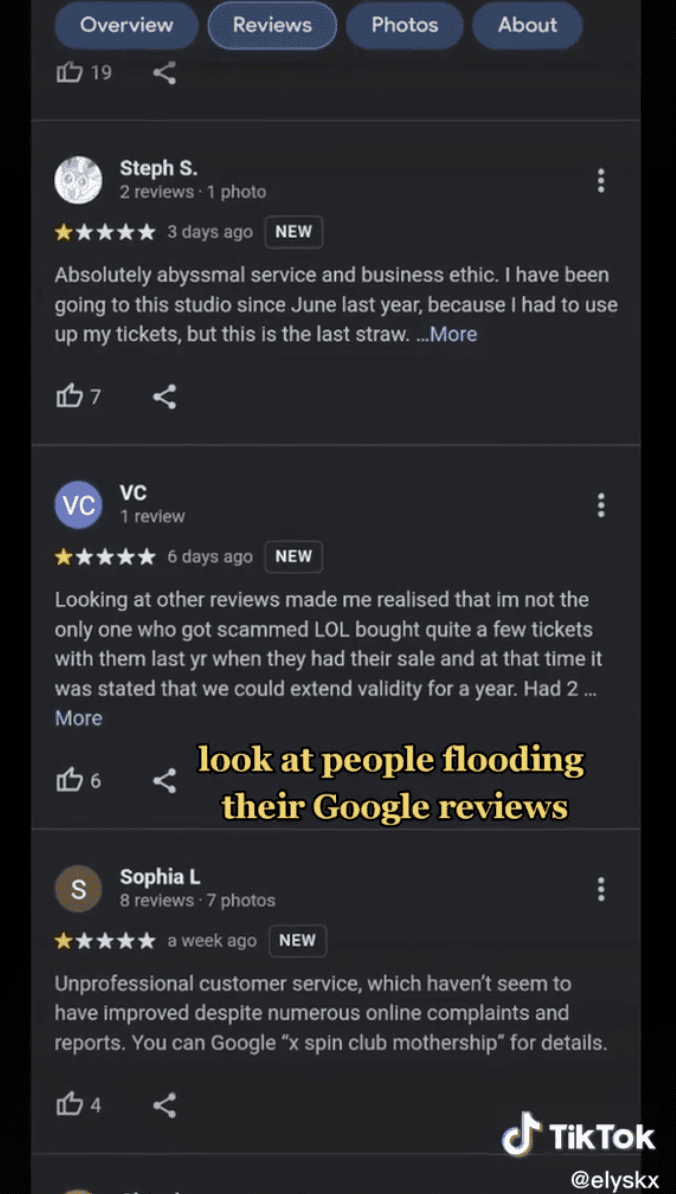 Consumers Association of Singapore has Caught Wind of the Situation
Consumers Association of Singapore (CASE) announced that they are aware of the police reports being lodged against X Fitness.
CASE president, Mr Melvin Yong said the association received one complaint each against Kyklos Studio and X Fitness between Sept 8 and 13.
---
Advertisements

---
One consumer told CASE that she purchased a $700 spin package from X Fitness but later found that she was unable to access its app to make class bookings bookings.
Mr Yong said the consumers have been informed on how to seek recourse, including filing claims with the Small Claims Tribunals.
"CASE advises consumers to avoid making huge sums of prepayments upfront for pre-paid packages, as it is challenging to seek refunds for unutilised package sessions if the company suddenly closes down or becomes insolvent," he said.
When The Straits Times visited the studio located at GRID mall yesterday (14 September), they noticed it closed.
The premises of X+ in Club Street also appeared to be emptied, with the mailbox being stuffed with letters from various other companies.
---
Advertisements

---
Mr Ang, wherever you are, don't attempt to flee to JB in the container compartment of a lorry. Because well, your predecessors have already tried that.
Read More:
Featured Image: TikTok (@Elyskx)

Fresh grads, you don't need any experience to earn up to $4,200 with this "secret":
Read Also: