---
Advertisements

---
Yesterday (24 August), eager fans awaited as Tiffany Young from the legendary K-pop group, Girls' Generation, landed in Changi Airport.
Much to the delight of Sones, Tiffany had flown in to take part in the launch of Lancome's first beauty technology flagship store in SouthEast Asia, located outside Mandarin Gallery.
This comes amidst the ongoing comeback her girl group is making to celebrate their 15th anniversary, with their album Forever 1.
Tiffany Gifts Autographed SNSD Album to Airport Staff
The Korean-American Singer had entered the country through the Commercially-Important Persons (CIP) terminal.
It was reported by a few Twitter users present that day that she gifted a staff their latest comeback album that was signed by not just her, but all seven of her fellow group members.
And suddenly you find yourself searching up airport job vacancies on LinkedIn.
What a lucky staff member, eh?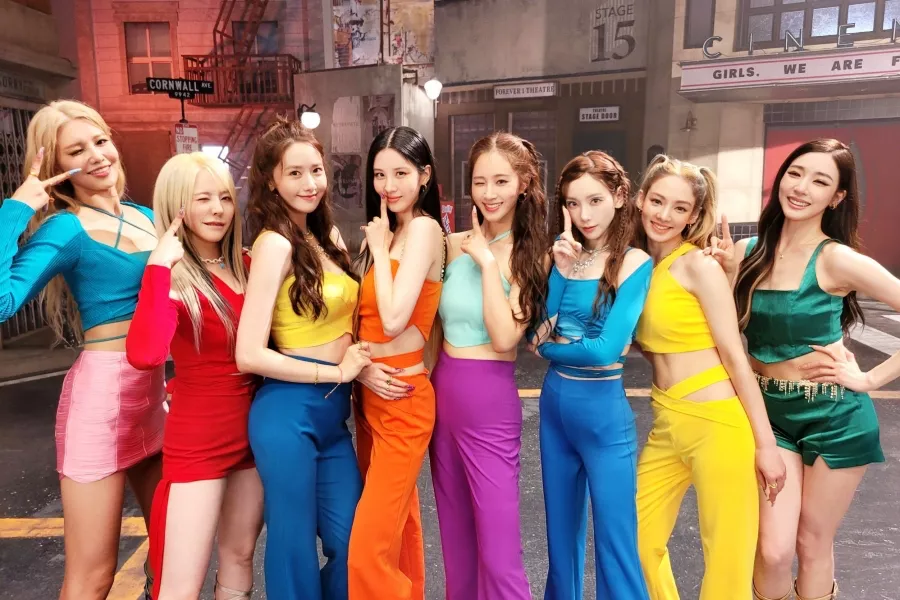 The JetQuay CIP terminal has been coined the "elite airport terminal" at Changi Airport because it offers multiple VIP services for passengers. It is also available to passengers flying in on private jets.
Fans Stood In the Rain To See Tiffany
Rain or storm, there's no environment K-pop fans won't wait through to get a glimpse of their idols or band "biases".
Yesterday, on 24 August, spirits were high as adoring fans waited at the event venue for Tiffany to arrive. This was despite the heavy rain that was ongoing, as one Twitter user shared.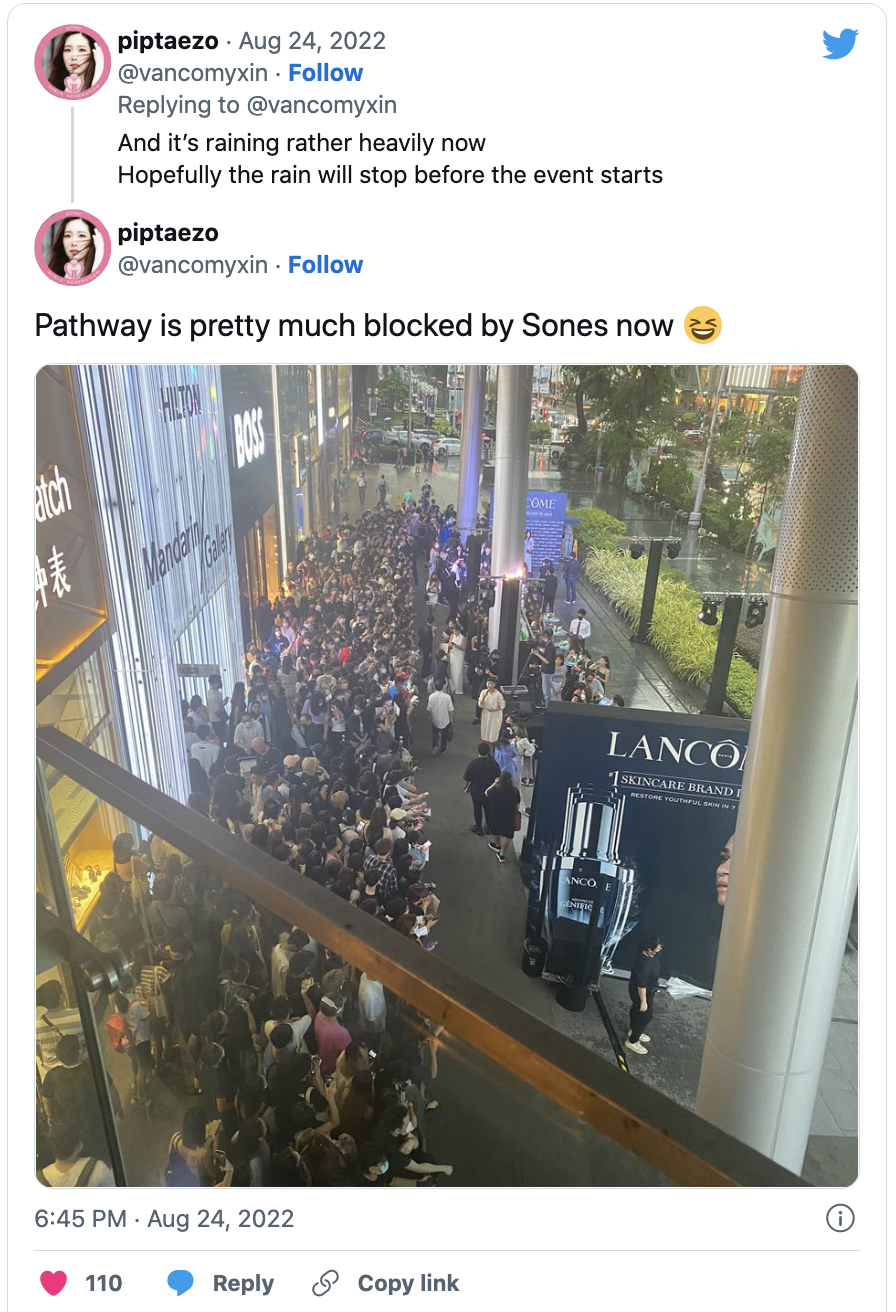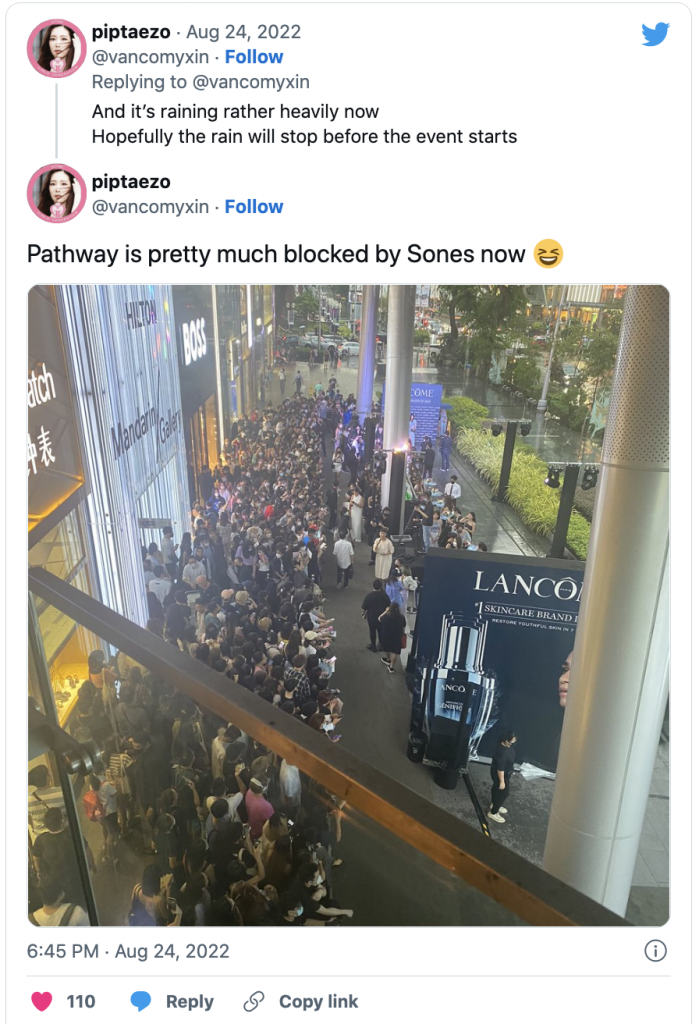 Although the event was set to take place from from 7.30pm, a few diehard fans arrived at 6.30am in the morning and camped outside the venue.
Alas, the idol arrived and was warmly welcomed by fans who had been chanting "Gee", one of SNSD's hit songs earlier in anticipation.
Tiffany Engages in Casual Conversations with Fans
In a TikTok video uploaded yesterday, Tiffany is seen speaking to a fan and talking to him about the Lasik surgery he had gotten.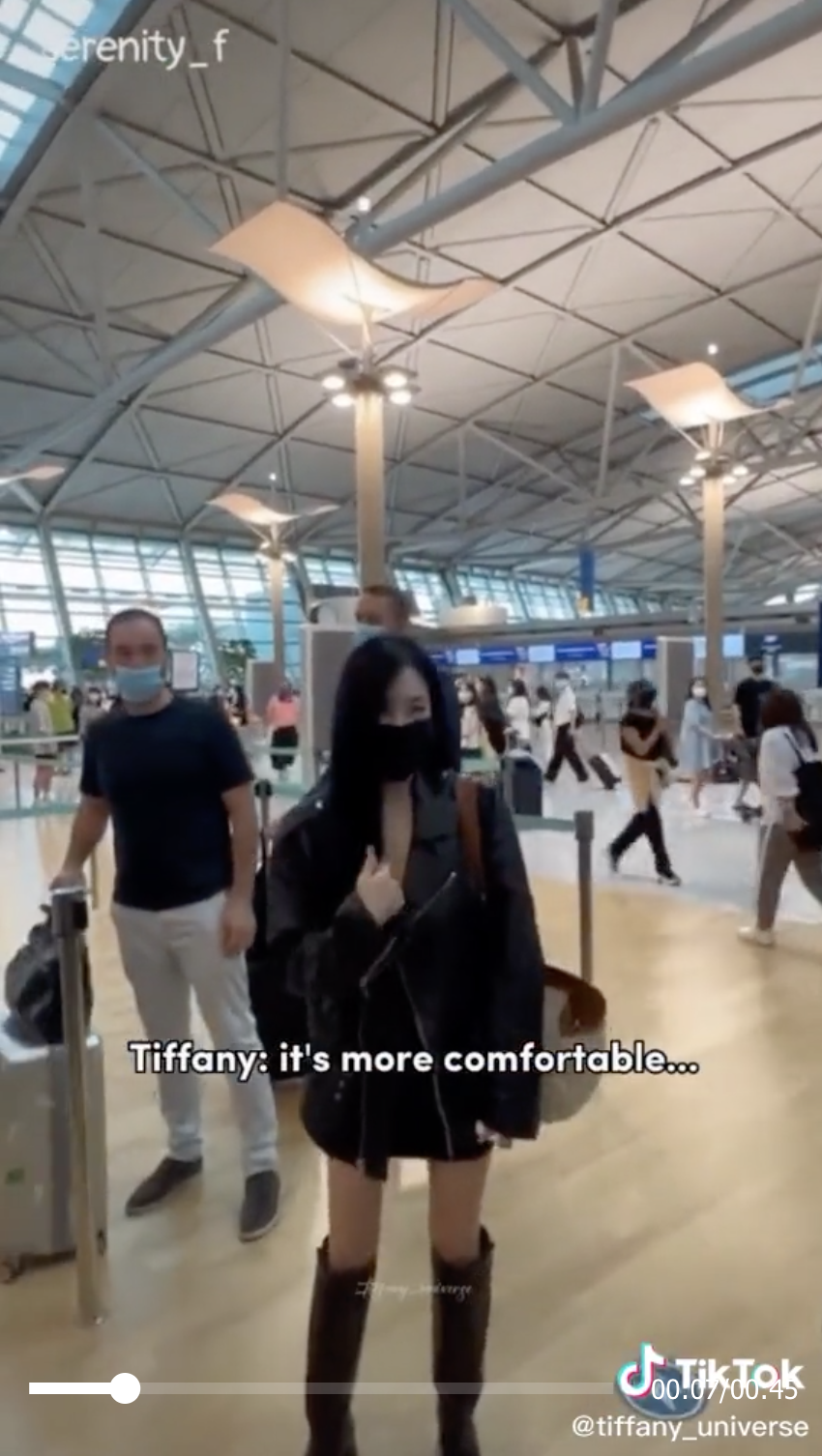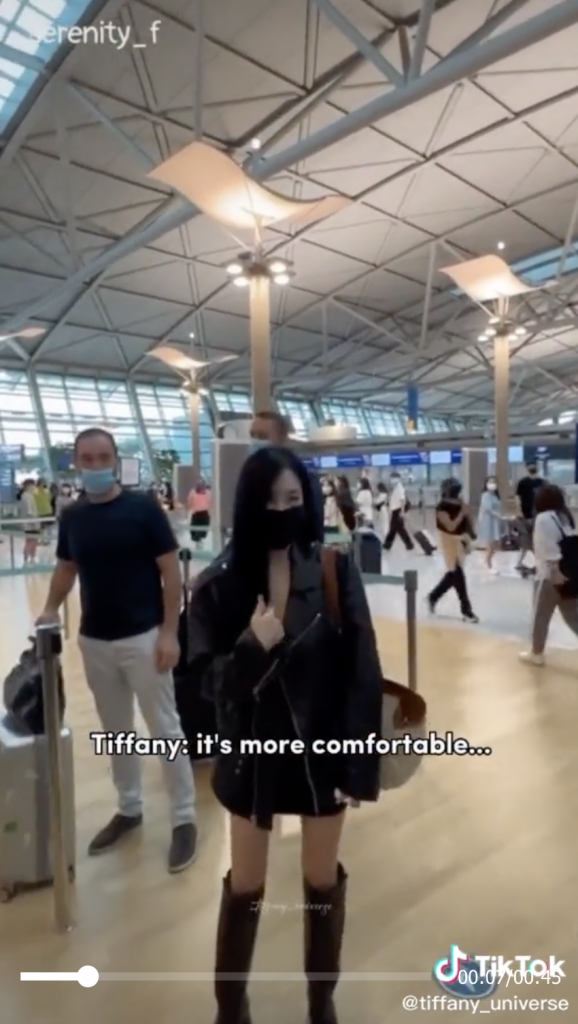 I mean this will likely go down in the books as one of the strangest conversations to be having when one meets their idol but still, it's a precious moment to remember.
From her documented interactions with fans, Tiffany is known for being a very friendly idol, and doesn't shy away from engaging in conversations when she meets them.
Tiffany, who was born and raised in California and scouted there by an agent from SM Entertainment, moved to South Korea at the tender age of 15, where she then began the arduous but rewarding road to stardom as a K-pop trainee.
She reportedly struggled in speaking Korean during the initial years, but her fluency in english is likely one of the reason's why she's able to converse and connect with her global fans effortlessly till this day.
Like a concerned mother, Tiffany was also filmed asking a fans from the car whether they had eaten.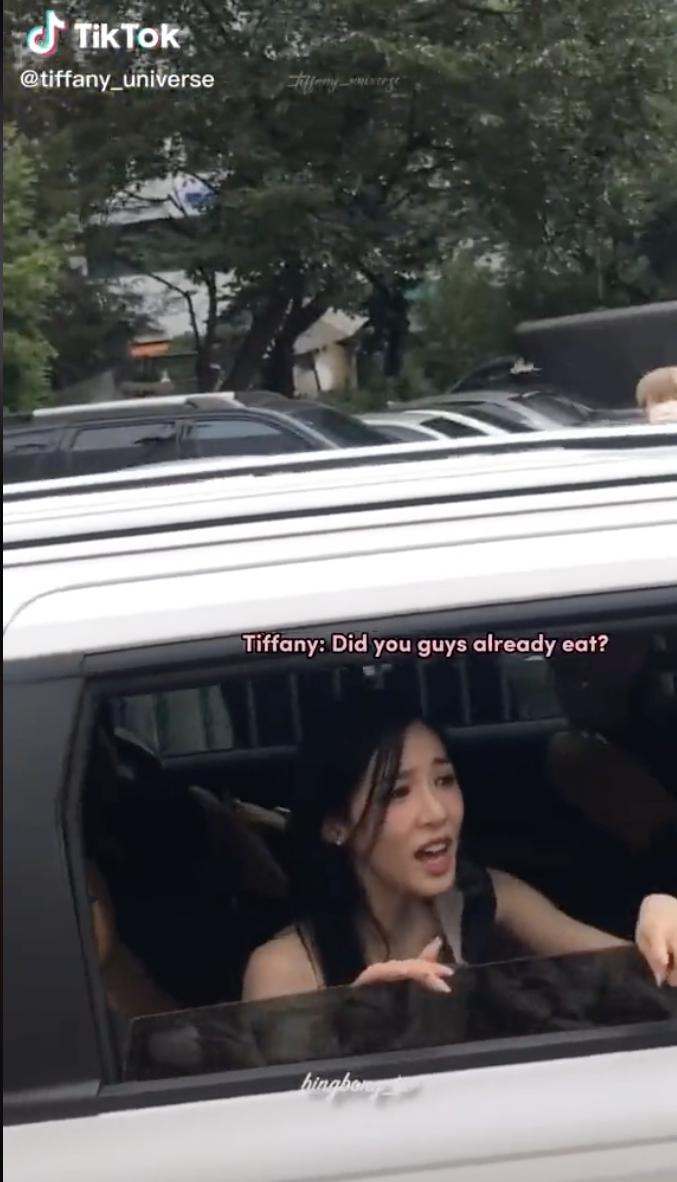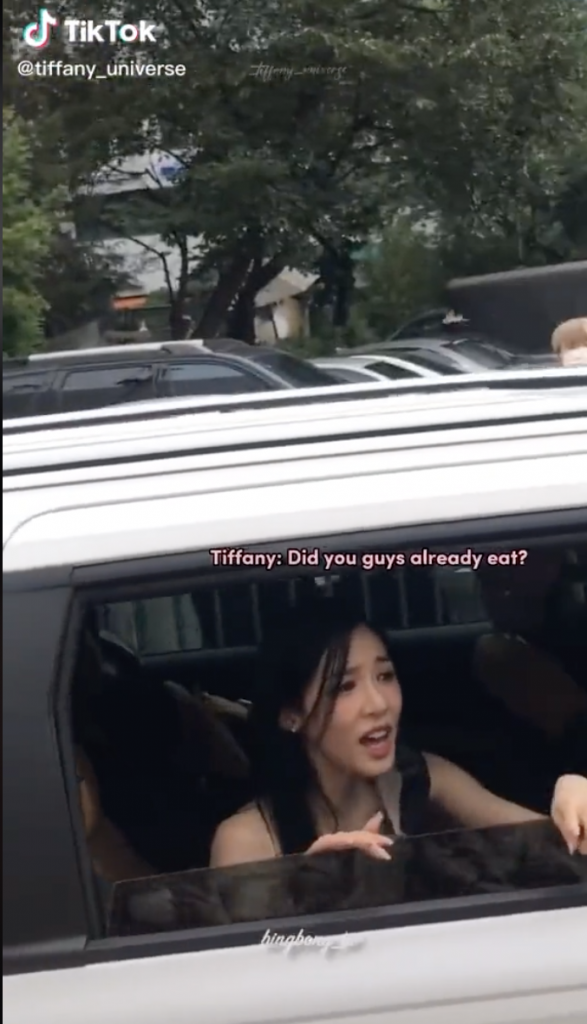 In another TikTok video uploaded on 19 August, she was seen in the back seat of a car and wound down the video to speak to fans outside.
"Have you guys eaten already?" Tiffany stopped the driver to ask her fans. "I don't want you all to fall sick!" she said.
---
Advertisements

---
It's easy to see why her fans have been smitten for years.
The 7th studio album of Girls Generation has been digitally released on August 5, marking an end to their 5-year hiatus.
Read More:
Featured Image: TikTok (@tiffany_universe)

Fresh grads, you don't need any experience to earn up to $4,200 with this "secret":
Read Also: