---
Advertisements

---
With the recent accident at Gambas Avenue that took the life of a 24-year-old father to be attracting much attention, some eagle-eyed netizens have spotted something that some of us may have not realised.
In fact, just yesterday (12 April), someone even mapped out all the issues that the road of Gambas Avenue brings about, and suggested it might have indirectly caused the incident.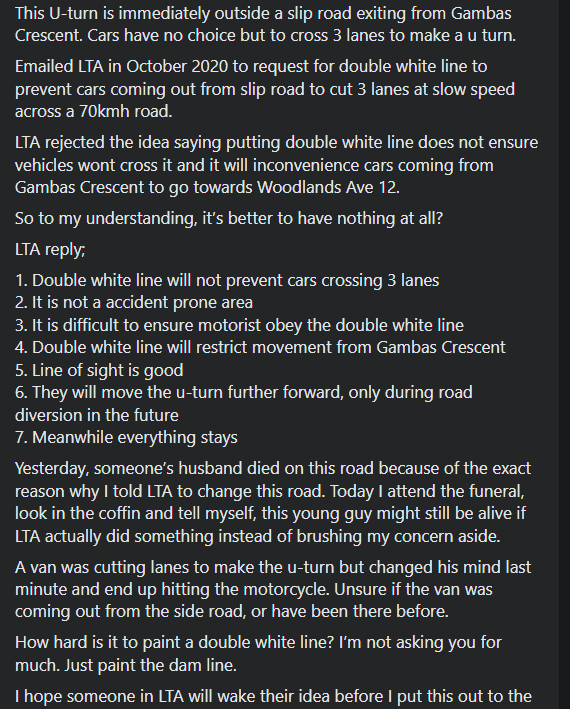 In the Facebook post, which was posted to the SG Road Vigilante group, Facebook user Syed Al-Qudree claimed that he had spotted various issues with the road in 2020.
In particular, he was concerned about the fact that vehicles had to cut across three lanes if they wanted to make a U-turn, which posed a danger to other motorists on the road.
He also mentioned that he had emailed the Land Transport Authority (LTA) back in 2020 to alert them of this issue, but the response he had gotten was unsatisfactory.
He had allegedly proposed for LTA to mark the area with a double white line, which will prevent cars from "coming out from slip road to cut 3 lanes at slow speed across a 70kmh road".
However, LTA allegedly replied by opposing the suggestions.
It also cited various factors as to why painting a double white line was not feasible, with some reasons including the challenge to get motorists to abide by the double white line and the fact that the area was not accident-prone.
Accident Might Have Been Prevented if Double White Line Was Present
Clearly, with the analysis done, it's believable to say that this tragic incident could have been avoided if more thought was put into managing the road.
"Yesterday, someone's husband died on this road because of the exact reason why I told LTA to change this road. Today I attend the funeral, look in the coffin and tell myself, this young guy might still be alive if LTA actually did something instead of brushing my concern aside," the user reflected.
He also questioned, "How hard is it to paint a double white line? I'm not asking you for much. Just paint the dam (sic) line."
Join our Telegram channel for more entertaining and informative articles at https://t.me/goodyfeedsg or download the Goody Feed app here: https://goodyfeed.com/app/ 
Netizens' Comments
In the comments section of the post that has since garnered over 600 reactions, many of the 280 comments expressed their frustration at the lack of action being taken by LTA.
Most users asked for LTA to step out and take responsibility and demanded to know why action was not taken even when they received feedback from a member of the public.
Others also praised the user for his wisdom, and even said "I'm sorry your voice was hushed by the LTA".
There were also a few netizens who suggested other possible ways to make the road safer, with several suggestions surrounding the idea of installing a traffic light in the area.
Read Also:
Featured Image: YouTube (Vins & Annette Singh) + Facebook (Syed Al-Qudree)

Fresh grads, you don't need any experience to earn up to $4,200 with this "secret":
Read Also: