Tired of just regular ol' crispy or original chicken from KFC?
Well, KFC might just have the type of greasy and delicious food you need for Chinese New Year (CNY)!

Just in time to spice up your Chinese New Celebrations, KFC Singapore has launched their new, indulgent and deliciously golden, KFC Golden Cheesy Crunch.
True to their brand, the new menu item has been all fried up to become finger lickin' good golden creations, which is guaranteed to make you go 'mmmm' at the cheesy goodness.
It's the first of its kind that the franchise has ever created, and if you are a cheese lover, then lucky for you, because KFC is coming at you with a double whammy of cheese, for each piece of crispy chicken is coated with a delicious blend of cheese seasoning and topped off with cheese crumbs to give the fried chicken a bright and golden appearance.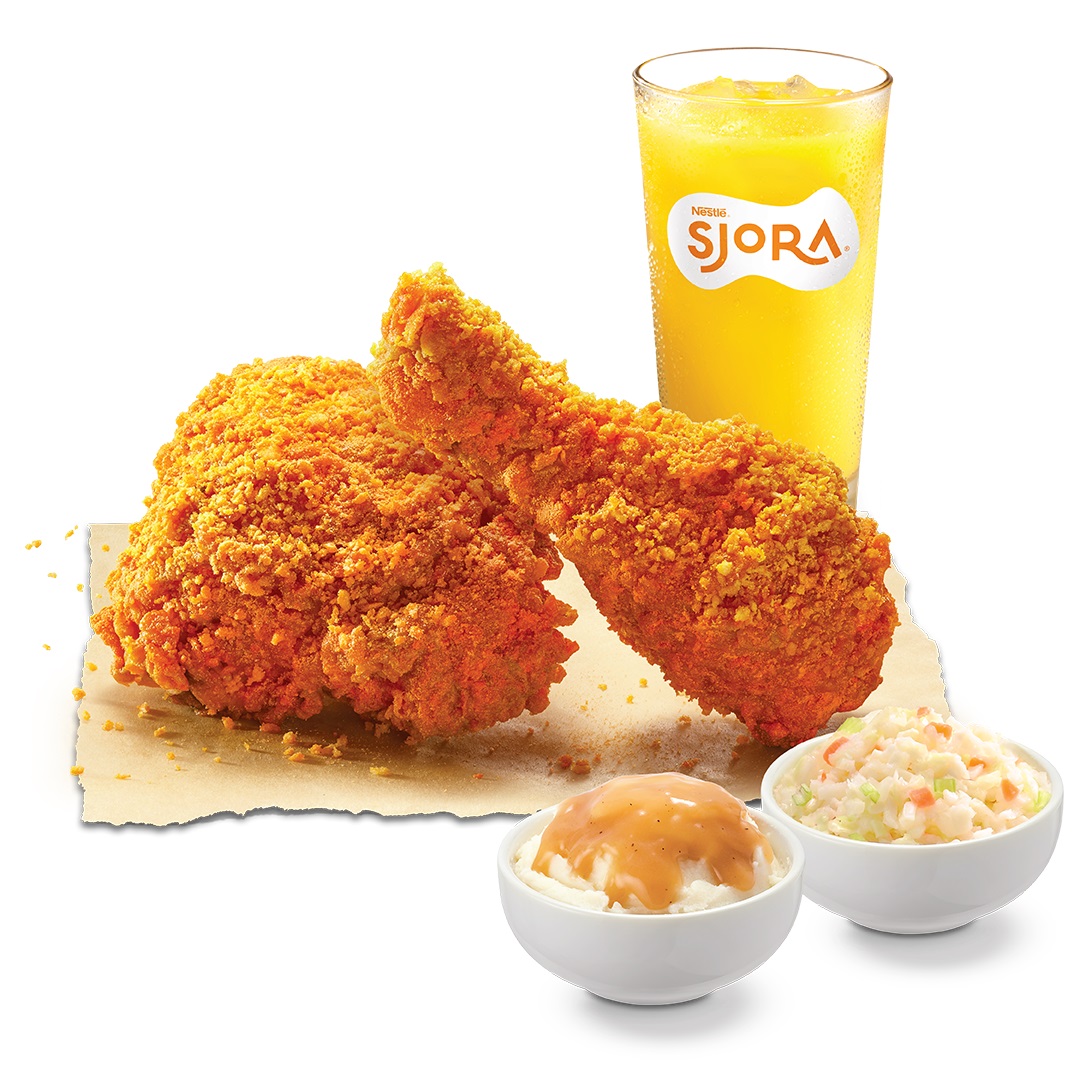 KFC has even taken the special care to ensure that crispiness of the chicken is not compromised, so you can enjoy this crunchy and savoury treat that is sure to leave a burst of flavours alongside the tender chicken on your tongue.
The #KFCGoldenCheesyCrunch will be available for a very limited time starting from today (5 January 2021) onwards.
But that's not all.
KFC Gold Rush 2022
For even more auspiciousness for this Lunar New Year, KFC Singapore has also launched the KFC Gold Rush, with up to $388,000 worth of gold and prizes!
That's right, KFC going out with a big bang to start the Chinese New Year.
There are literally GOLDEN prizes such as daily food & E-vouchers, with daily draws for 5g gold bars worth a total of $460 each and a grand draw of a 100g gold bar worth $9,200!
Strike for the gold and try to win it big with the 'KFC Gold Rush'!
All gold prizes are custom-made pure 999 gold with a luxurious KFC design, and it's a  limited-edition creation too.
While it's all gold and shiny, drawing your eyes to the prize like magpies, don't go too crazy over it; we don't need another Hello Kitty rampage on our hands, people.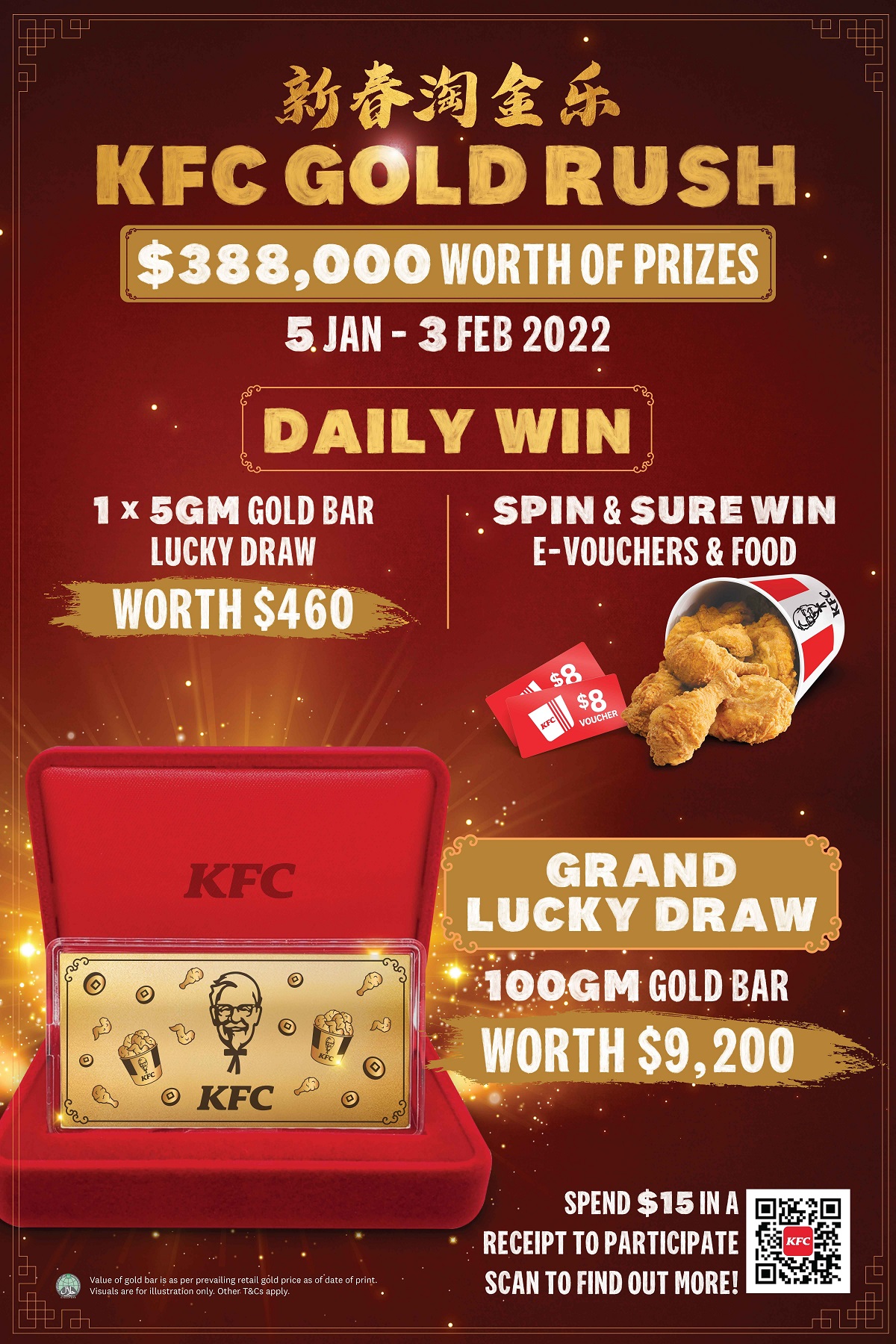 All you have to do is to spend $15 in a receipt to paricipate.
The KFC Chicken is back…Golden and Better than ever
And if you think that is all that KFC has in store for this Chinese New Year, there's more:
---
Advertisements
---
Making a triumphant return this season since its last appearance in 2020, is the KFC Chicken Skin—now, with a bit of a twist, since it has a Goldspice flavour, at just $3.70 per box.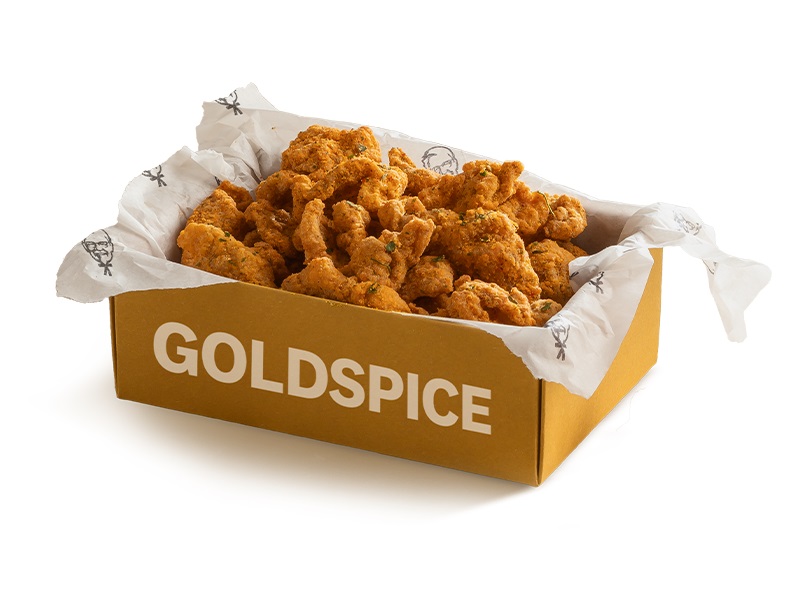 It was first introduced in November 2019 and after numerous demands were made by social media fans, this definitely meant that KFC Singapore had to bring it back to meet demands…
But this time, the fried chicken experts have made it GOLDEN.
So, McDonald's…when are you dropping the Prosperity Burger?
Read Also:
Featured Image: KFC Singapore
---
A new virus has been identified in China, and it's infected 35 people. Would it be the next COVID-19? Watch this and you'd know: