---
Advertisements

---
For those with blue-collar jobs, it is inevitable that they will sweat throughout the day. This is due to the physical and taxing nature of their work.
This is something that an aircon technician in Malaysia, Mr Tan, has to go through every day.
One day, he decided to go for a haircut at a salon, thinking that it will be hassle-free.
However, upon reaching the salon, the hairdresser in charge of cutting his hair complained that he smelled of sweat while giving him a disgusted look.
Hairdresser Refused to Serve Him
Mr Tan took to Facebook to share his experience at the salon. In the post that he posted on 23 Oct, he mentioned that he works as an aircon technician and decided to go for a haircut after work that day.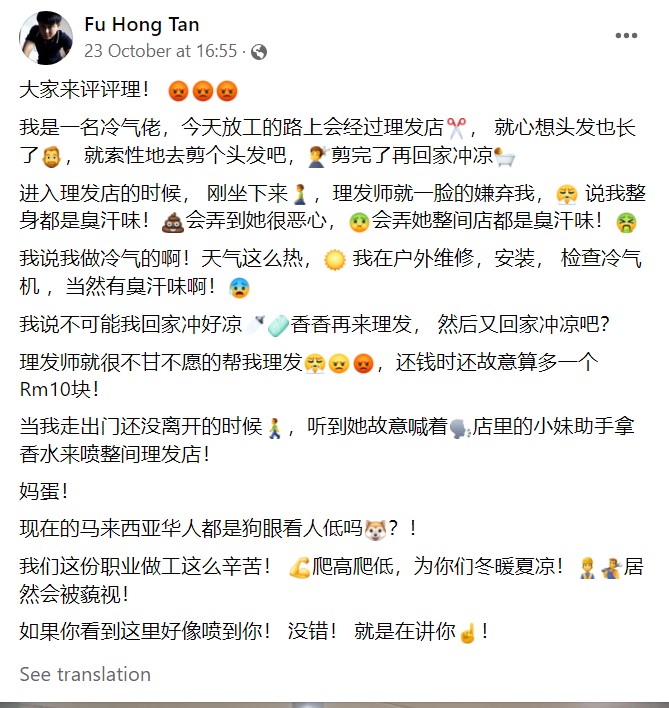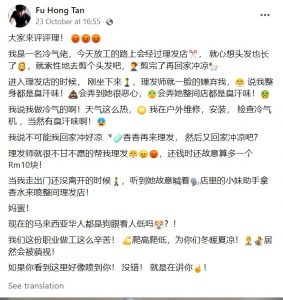 Just as he managed to sit down, the hairdresser complained about the stench, which was stinking up her salon and gave him a disturbed look.
In response, the man nicely told the hairdresser that he works as an aircon technician and that it is a job that requires taxing manual labour, hence why he smells funny.
He goes on to share that he feels that it is not logical for him to go home, shower and then head back to the salon for a haircut as he would have to shower again after reaching home.
Upon hearing his response, the hairdresser allegedly did not want to cut his hair.
However, despite complaining about the stench and feeling disgusted, she eventually cut his hair.
Charged $3 More Compared to Others
After the cut was complete, Mr Tan proceeded to make payment for the haircut, but he realised that something was off, that the price was not right.
That was when he realised that he was charged an additional 10RM (S$3) for the haircut.
To add salt to the wound, he mentions that as he walked out, the hairdresser that cut his hair can be heard shouting to another staff to spray the salon with an air freshener.
He then goes on to say that being an aircon technician is tough work. He needs to climb up and down in the hot weather to ensure people can remain comfortable, yet he is being unfairly treated.
Looking at the Situation from Both Sides
Since the upload of the post, there have been 2,000 comments and 705 shares. Many of the comments have polarizing views on the situation.
Some mentioned that they understand how Mr Tan felt and that the hairdresser should have been more sensitive and understanding towards him.
However, there were others who mentioned that Mr Tan should have gone to the salon on his off day knowing that he would stink.
They further go on to mention that the hairdresser had the right to have her opinion because the smell could lead the other customers in the salon to feel uncomfortable as well, and might even scare them away.
Read Also:
Featured Image: Shutterstock (@gbbot) Facebook (@Fu Hong Tan)

Fresh grads, you don't need any experience to earn up to $4,200 with this "secret":
Read Also: