---
Advertisements

---
Migrant rights groups are crucial pillars of support for migrant workers.
As migrant workers are a vulnerable group who often travel to Singapore alone to work, these organisations help them integrate into an unfamiliar society and help them when they are in need.
Usually, the work that these organisations do is good.
However, there have been accusations that Ms Deshi Gill, the executive director of the Humanitarian Organisation for Migration Economics (HOME), has been misappropriating funds.
Here's what happened.
Suspension
There were online allegations accusing Ms Gill of making thousands of dollars of claims from HOME.
Allegedly, there was no documentary proof of expenses.
While the online allegations were not substantiated, HOME has since suspended Ms Gill.
On 17 January 2023, HOME released a statement on its Facebook and Instagram regarding the situation.
View this post on Instagram
The statement announced that after preliminary investigations, HOME had a reason to believe there was a basis for suspected misconduct.
---
Advertisements

---
HOME cited its need to conduct its internal inquiry as the reason for Ms Gill's suspension. 
In addition, the group has since notified the relevant authorities and is currently reviewing its internal processes to ensure that such an incident will not occur again. 
HOME stated, "as the matter is now with the authorities, we are unable to comment further."
"We would like to sincerely thank all members of the public and donors who have supported us over the years."
Who is Ms Deshi Gill?
Ms Gill has been working with HOME since 2017.
She was appointed the executive director of HOME on 1 July 2021.
According to HOME in a Facebook post, Ms Gill had developed the necessary leadership skills and experience to support the organisation as an executive director. 

How HOME Helps Migrant Workers
Founded in 2004, HOME is dedicated to supporting migrant workers who are victims of abuse and exploitation.
Believing in welfare, empowerment and advocacy, the organisation strives to help migrant workers in need. They work with corporations, government agencies and community partners to get the necessary resources. 
Besides providing employment advice and legal aid to migrant workers in Singapore, HOME also offers direct assistance, shelter and food for domestic workers who have experienced abuse and exploitation. 
---
Advertisements

---
HOME also trains migrant workers in skills such as speaking English and caregiving to aid them in finding sustainable jobs.
Previous Instances of HOME's Help
The organisation was previously involved in a high-profile case where it enlisted the help of defence counsel Anil Balchandani to represent Indonesian domestic worker Ms Parti Liyani.
She was a domestic worker accused of theft by her former employer, former Changi Airport Group (CAG) chairman Liew Mun Leong.
Though she was initially found guilty and sentenced to 26 months imprisonment, she was acquitted by the High Court in 2020 after an appeal.
She was eventually cleared of all charges. However, Karl Liew, the son of the former CAG chairman, was charged with giving false evidence and information.
The case made such waves that Prime Minister Lee Hsien Loong commented on it, pledging to "protect and improve" the Singapore justice system. 

---
Advertisements

---
Another notable instance of HOME's aid was in 2021 when Myanmar maid Ms Piang Ngaih Don was tortured to death by her employers. HOME organised a fundraiser for the victim's family to help with some of their finances. 
In HOME's statement regarding the suspension of Ms Gill, they assured the public that they would continue fighting for migrant rights.
It added, "During this time, all our operations and services continue to function, and we will continue to strive to improve the well-being and dignity of migrant workers in Singapore."
Join our Telegram channel for more entertaining and informative articles at https://t.me/goodyfeedsg or follow us on Twitter : https://twitter.com/goodyfeed
Registered as an Institution of Public Character
HOME is a registered charity and an institution of public character (IPC). 
If you didn't know, it means that the organisation is tax-exempt.
---
Advertisements

---
Moreover, it can also issue tax-deductible receipts for donors.
According to a HOME's Facebook post regarding the fundraising for Ms Piang's family in 2021, Ms Gill was listed as the point of contact.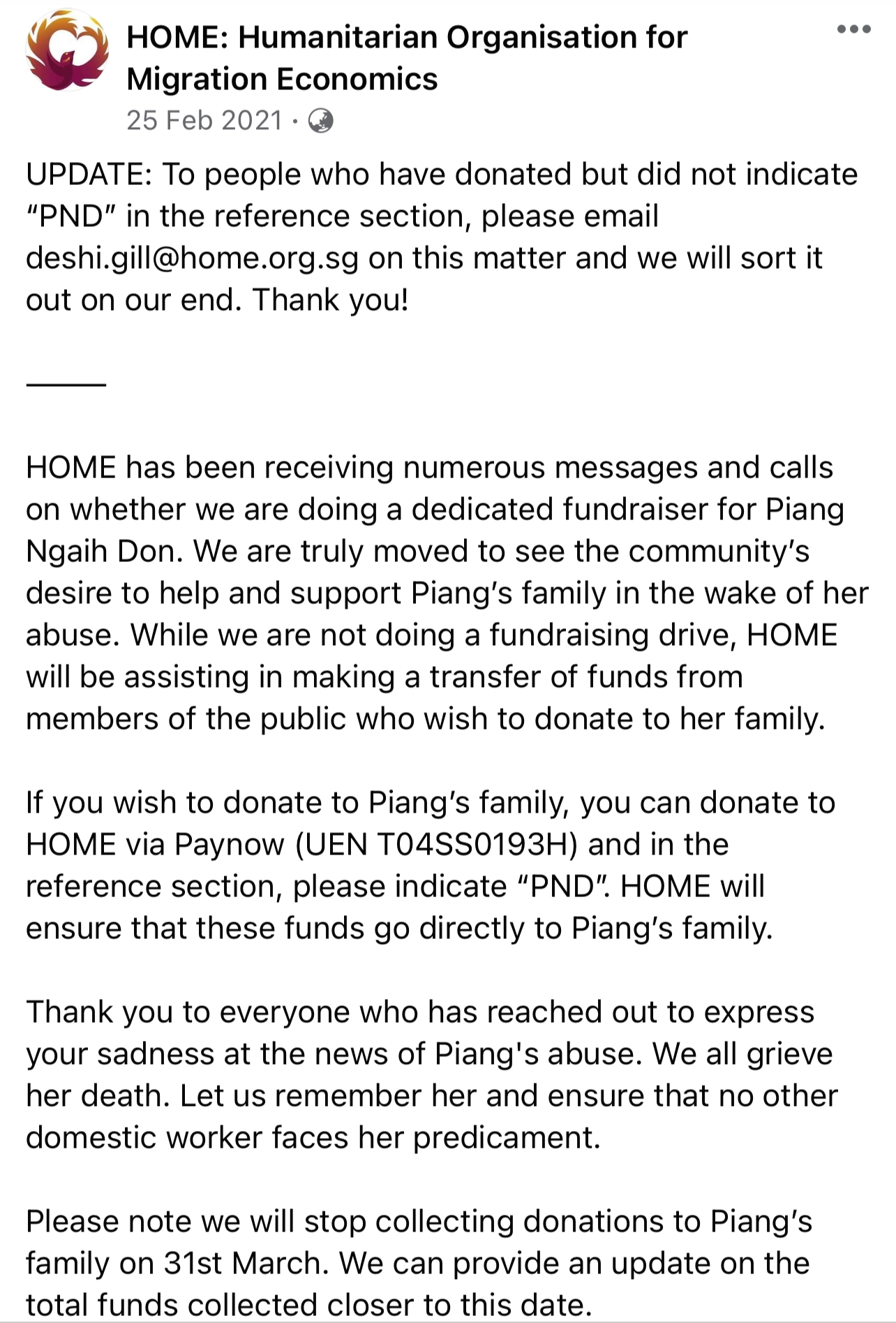 The organisation's 2021 annual report stated that the organisation raised $1.87 million in funds and spent $1.86 million.
The remaining $1.71 million went towards its charitable activities.
HOME also stated that its IPC status was slated to expire in 2023 in its 2021 financial statement.
The group had applied to renew their IPC status for another five years at the time of the report. 
Read Also:
Featured Image: Facebook (@HOME: Humanitarian Organisation for Migration Economics)

Here's why a 4-day workweek might finally really be possible in Singapore soon:
Read Also: