---
Advertisements

---
When it comes to Jay Chou's concert, there are many similarities between Singapore and Malaysia. Most notably, people aren't happy with it. 
The only difference is that Malaysia's people are angry even before the concert. 
Some M'sians Triggered That Jay Chou's Concert is Held at Stadium Meant for AFF Match
With last year's Malaysia GE15 seeing a chaotic outcome, it'd be an understatement to say the country isn't politically united. 
Apparently, that same spirit has manifested in light of Jay Chou's concert. 
Set to take place on 15 January at Kuala Lumpur's Bukit Jalil National Stadium, Jay's concert will be part of his Carnival World Tour. 
The catch? Setting up will be on the same day as the ASEAN Football Federation (AAF) Cup semi-finals. 
As the Malaysian national football team's home ground, the Bukit Jalil National Stadium was set to host the semi-finals between Malaysia and Thailand. 
However, because of the unfortunate clash, the stadium can sell only a portion of the football match tickets because the concert's stage setup will block some seats. 
To be exact, only 59,000 of the 87,411 seats will be made available. In other words, more than 28,000 Malaysians would be deprived of the opportunity to cheer their nation on at the stadium. 
Because of this, Malaysia's football fanatics are seeing red, taking to Jay's Instagram to unload the salvo of criticisms.
Many called on others to support football and not the concert.

Some approached it with hostility, flooding the comments section with vulgarities and insults. 


The matter spiralled out of control, and many users had to step forward to remind them that their words equated to Malaysia's image. 

It seems like the fissure between the Malays and the Malaysian Chinese is beginning to widen. 
View this post on Instagram
Jay Responds
In a span of two short days, Jay has posted twice, once on 6 January and one on 7 January. Both of which saw many hateful comments about his upcoming concert in Malaysia. 
Typically, his posts would receive around 500 to 1,000 comments. However, these two posts had already received around 6,000 comments at the time of writing. 
And it's only been two days!
To assuage the anger, he issued two stories yesterday (6 January).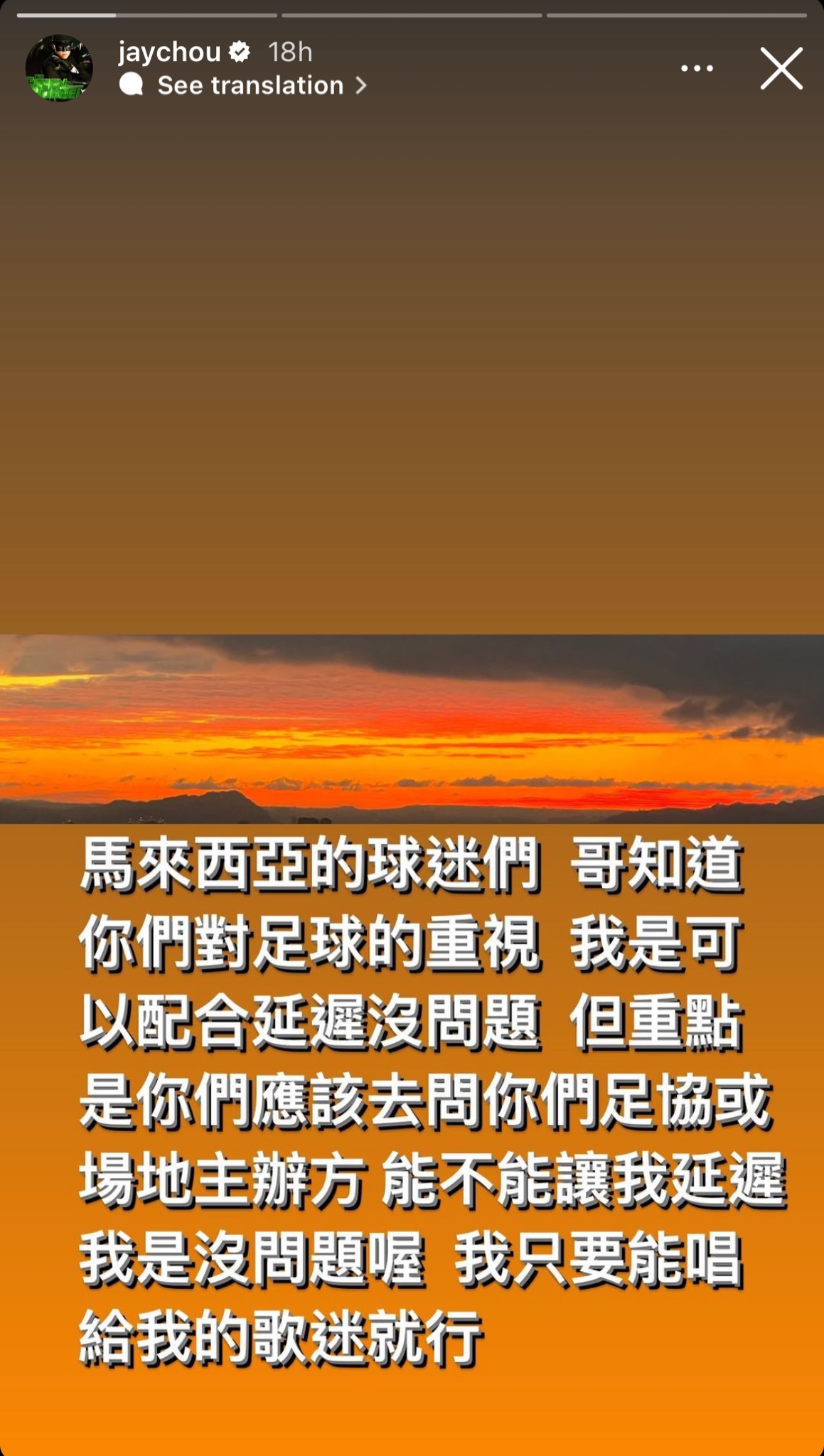 "Malaysian football fans, I know how important football is to you. I can postpone my concert, there's no problem, but what's important is that you go to the football association or the venue management and see if they allow me to postpone the concert. I'll be fine as long as I can sing for my fans."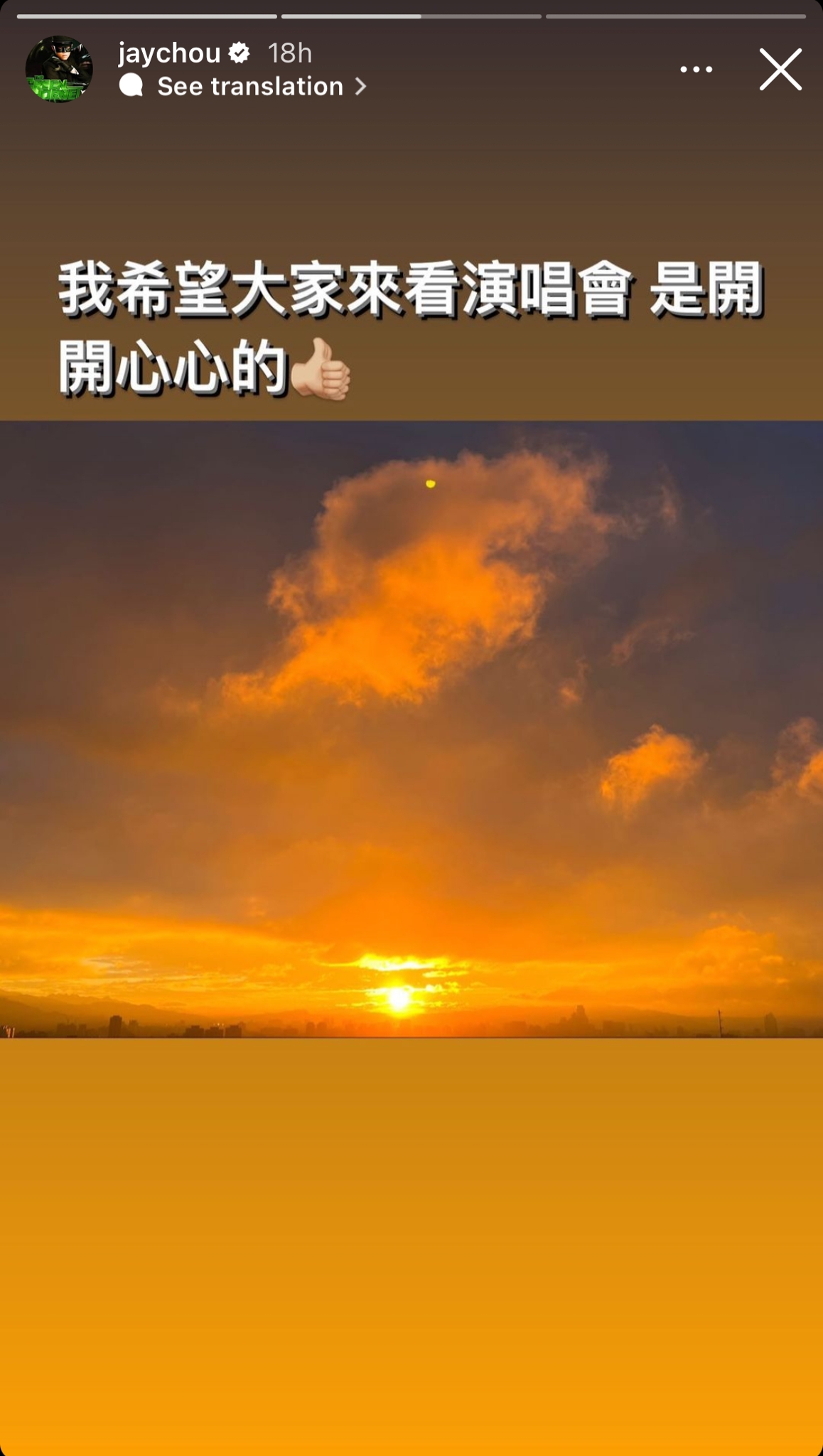 "I hope you all will be happy when you come to my concert."
---
Advertisements

---
Couldn't say the same thing about Singapore's concert ahem.
Jay Booked It First?
Upon further digging, jay's not even in the wrong!
Jay already booked the venue years before the concert, in 2019, to be exact. However, because of COVID-19, the show had to be postponed to 2023. 
On the contrary, the Football Association of Malaysia only booked it in August 2022. 
But, what's the worry if the concert was booked for the 15th and the football match will be on the 7th? 
Since setting up takes a long time, the stage would have to be made days in advance. As such, it would occupy the stadium space and disrupt tonight's (7 January) soccer match. 
---
Advertisements

---
Join our Telegram channel for more entertaining and informative articles at https://t.me/goodyfeedsg or download the Goody Feed app here: https://goodyfeed.com/app/
Jay's Singapore Concert
As previously mentioned, Singaporeans weren't happy with his performance as well. But at least our worries were actually related to the concert quality. 
After years of waiting for the mandopop King's return, many were hyped, and the National Stadium saw thousands of people crowding to watch the concert on 17 and 18 December 2022. 
Unfortunately, it was a bummer. 
Fans' bubbles burst, and the anti-climatic performance let them down.
Why? 
Firstly, the short duration. For context, regular concerts last around three hours. In Jay's case, his concert was a mere two hours. 
---
Advertisements

---
To put things into perspective, cutting the time by an hour means that fans miss out on 15 to 20 songs. 
Because the time was cut short, he had only briefly sung many of his top hits, leaving fans desperate for more.
Secondly, the concert had too many fillers. As if slashing the concert timings by a third wasn't enough, Jay didn't even sing throughout the entire duration. 
Instead, he invited backup singers to sing his songs. While said singers performed well, fans weren't happy he pushed the responsibility away.
After all, they paid money to hear him sing. 
Also, there were unnecessary parts of the show, like a magic trick segment where one of Jay's friends did not one but two tricks. 
In total, people predict that the star sang for less than an hour. 
Moving on, fans were unhappy with his less-than-ideal singing. In the concert, he sang softly, and there were certain parts of the song where he'd gone silent. If it weren't mic issues, the blame would be on his singing. 
---
Advertisements

---
Also, viewers thought his voice could be better; even some backup singers could perform better than him. 
If you didn't know, the original song plays in the background while the artiste sings. Many concertgoers felt that his on-stage singing was incomparable to the original piece. 
Some also noted that he had forgotten the lyrics to his songs. 
Lastly, the concert lightsticks. Some of the complimentary lightsticks provided at the concert were dysfunctional. 
Before the show, the organising team broadcasted a message that the lightsticks weren't working due to "too many rehearsals." They also invited fans to return home and install new batteries personally. 
However, some reports say the lightsticks were reused from his previous concert. Needless to say, fans were dissatisfied with the obvious lack of effort. 
Hopefully, his concert in Malaysia will be better. Aiya, then it'll be the Singaporeans' turn to compare and complain.
Read also:
Featured Image: Instagram (Jay Chou)

Fresh grads, you don't need any experience to earn up to $4,200 with this "secret":
Read Also: