---
Advertisements

---
A picture is worth a thousand words.
If there is one iconic moment that defines what Singaporean pride is, it would be the image of secondary school teacher Azuan Tan, whose tear-stained face was captured live as he sang the National Anthem.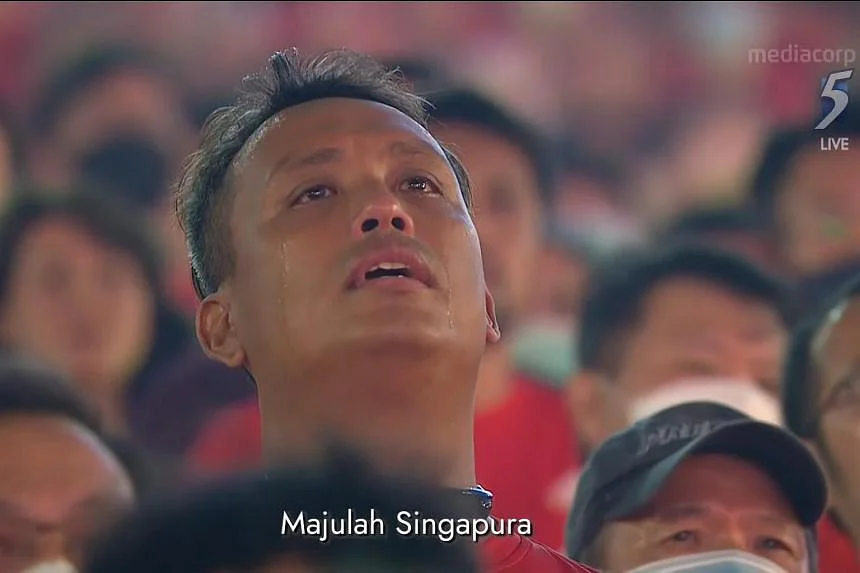 The camera operator responsible for the shot is none other than Ishak Jamid, a camera operator who has shot at least 10 National Day Parades (NDP) throughout his career.
One of his tasks that day was to get crowd shots during the National Anthem, an especially significant segment in the whole parade as it was the first time after two years of pandemic restrictions that people could get together to celebrate Singapore's independence.
On that day, Mr Ishak had a feeling that the 2022 NDP would be slightly different from the rest, that he would capture something beyond the usual happy faces.
He was right, of course.
Finding the Iconic Image
When it comes to taking crowd shots, it typically starts with the cameraman scanning the tiers before him with his own eyes, since his camera's viewfinder only provided a narrow field.
It can be a challenge to find the right shot, especially when you consider the fact that everyone in the audience is wearing red, or their faces might be obstructed with hats.
He was instructed to capture shots of families watching the parade together again after capacity limits and social distancing were scrapped, so Mr Ishak already had a rough idea of who he wanted to film.
Before the cameras rolled, he spotted a few people with temporary tattoos and decorative face paint—a colourful and healthy image of patriotism.
Then, the National Anthem started blaring over the speakers.
Mr Ishak glanced into his viewfinder as he panned the camera slowly.
One face, shiny and reflective underneath the afternoon light, immediately caught his eye.
It cannot be understated that Mr Ishak was at least 15 rows below and away from the 41-year-old teacher from Bukit View Secondary School.
When Mr Ishak finally realised what he was seeing, he thought, "Okay, that's my shot."
He began to slowly zoom in. This created a bokeh effect—a soft out-of-focus background as you are focusing on the subject—for what was already an emotional scene.
"This guy had the mood already," Mr Ishak added.
The Chaos in The Broadcast Truck
After the camera operators take their shot, everything else from what is given priority to what is broadcasted on screen, is in the hands of the TV coverage director in the broadcast truck.
The director Lee Chew Yun and her team were staring at more than 14 screens transmitting back live feeds from the cameras around the venue.
Of course, there is a camera script and brief from the months of planning and rehearsals, so she roughly knew which camera perspective to use at the parade.
But sometimes, Ms Lee might veer off the script to add in something that is impromptu but no less emotionally provocative.
---
Advertisements

---
When the director noticed Ms Ishak's shot on Camera 4, she yelled for it to be picked up.
At this point, the live broadcast was showing Members of the Parliament singing the National Anthem.
Ms Lee remembered that she was "just shouting very loudly".
"I was like, 'Take 4!' I can't really remember exactly what happened, because all our eyes were just on all of the cameras."
When Ms Lee and her team witnessed the shot that Mr Ishak was offering, they knew that was something that they had to display.
For Mr Ishak, who was on the ground, his ears were bombarded by the commotion coming from the broadcast truck that was filtering to his headset.
---
Advertisements

---
Upon being interviewed by CNA, Ms Lee explained that Mr Tan's crying face "spoke to [her]" in a manner in which she could feel his emotions through the shot.
In her eyes, Mr Tan was brimming with emotions, and he was genuinely singing his heart out.
It was the very embodiment of Singaporean pride.
As this scene was broadcasted live on screen, she could also hear the anthem playing and the audience singing along.
It was a very touching moment for her.
---
Advertisements

---
"I can't really explain much—it was just an instinct. I just felt I had to take it," said Ms Lee.
Join our Telegram channel for more entertaining and informative articles at https://t.me/goodyfeedsg or download the Goody Feed app here: https://goodyfeed.com/app/
Although Ms Lee was responsible for ensuring that the emotional scene got the live coverage it deserved, she also praised Mr Ishak for getting the shot.
She stressed that the "director is only as good as the cameraman because the cameraman needs to have the eye for details".
Mr Ishak was equally modest, chalking up the moment to a mix of luck and "good timing" between the crew involved.
He noted that before COVID-19, it would have been much harder to find someone crying.
The pandemic times were possibly the time for the cameramen, as they did not have a crowd to work with, just the performers.
Mr Ishak believes that it was his good fortune that allowed him to get the nice visuals for the nation to witness together.
As hard as a cameraman might try to obtain beautiful and nice shots, his long career has taught him that sometimes it really boils down to luck.
---
Advertisements

---
After seeing the response that people had to Mr Tan's tear-stained visage, Ms Lee remarked that she was glad that his image has garnered such a warm reaction.
Mr Tan felt paiseh about being caught crying live on television, but the embarrassment has faded for the most part.
"I have always been a proud Singaporean," he said.
In the same vein, he hopes that it can inspire more of his countrymen to be proud of their nation and sing their anthem with pride.
If it can resonate with some people—which it has—then the positive effect has been achieved.
Read Also:
Featured Images: MS News & Mediacorp

Fresh grads, you don't need any experience to earn up to $4,200 with this "secret":
Read Also: