---
Advertisements

---
Last Updated on 2023-02-16 , 5:10 pm
Grab is in the news again, and not because of MP Tin Pei Ling.
We're sure all of us have, at some point in time, experienced a Grab driver or taxi uncle who's just slightly too chatty.
From the never-ending questions to the armchair legal advice to commenting on which famous public figure stays in the area, our indispensable private hire drivers know it all.
But moving forward, they may find it more suitable to engage in their chatter over a cup of coffee at the coffee shop, instead of en-route with some passengers in tow.
To all the introverts in Singapore, you'll love this new option that Grab Singapore is offering to its users.
Silence is Golden
Grab users in Singapore will soon be able to enjoy a new "Quiet Ride" option.
If this option is selected, Grab drivers will be notified that their passenger prefers "a ride with minimal conversation".
The "Quiet Ride" option was initially tested in Malaysia before making its way across the Straits to Singapore.
For those thinking that you'll have to pay for this additional feature, the good news is that it is not chargeable (aka completely free).
However, do not expect a completely silent trip from pick-up to drop-off.
---
Advertisements

---
Even if the "Quiet Ride" option is selected, drivers may still communicate with passengers to check on the passenger's identity and trip details. They may also answer phone calls or play music during the ride.
We'll take these if it means that we are no longer obliged to engage in pointless chatter with the drivers.
This new feature comes in the wake of Grab banning drivers for alleged "inappropriate behaviour", when a passenger complained to Grab that the driver had made comments about the passenger's physical appearance and asked overly personal questions which did not relate to the booking.
The driver was eventually banned indefinitely from Grab although there was apparently no indication from the passenger that they were unhappy or uncomfortable during the ride.
While the "Quiet Ride" option is only available for GrabCar at the moment and not GrabShare or GrabHitch, we sure hope this new feature is eventually rolled out across the board if it is well-received in Singapore.
Join our Telegram channel for more entertaining and informative articles at https://t.me/goodyfeedsg or download the Goody Feed app here: https://goodyfeed.com/app/
How to Book a Quiet Ride
The steps to book a "Quiet Ride" are relatively simple.
To enable the "Quiet Ride" feature for your future Grab rides, open the Grab app and on the home screen, select the "Car" title.
Then, add and confirm your pick-up and drop-off points as you would usually do for a regular Grab ride.
Select your GrabCar and tap on the icon with three horizontal circles near the bottom right of the screen.
Tap on the "Quiet Ride" button and ensure that it is green in colour before clicking the "Update" button to save your preferences.
---
Advertisements

---
You may then proceed to confirm your GrabCar booking.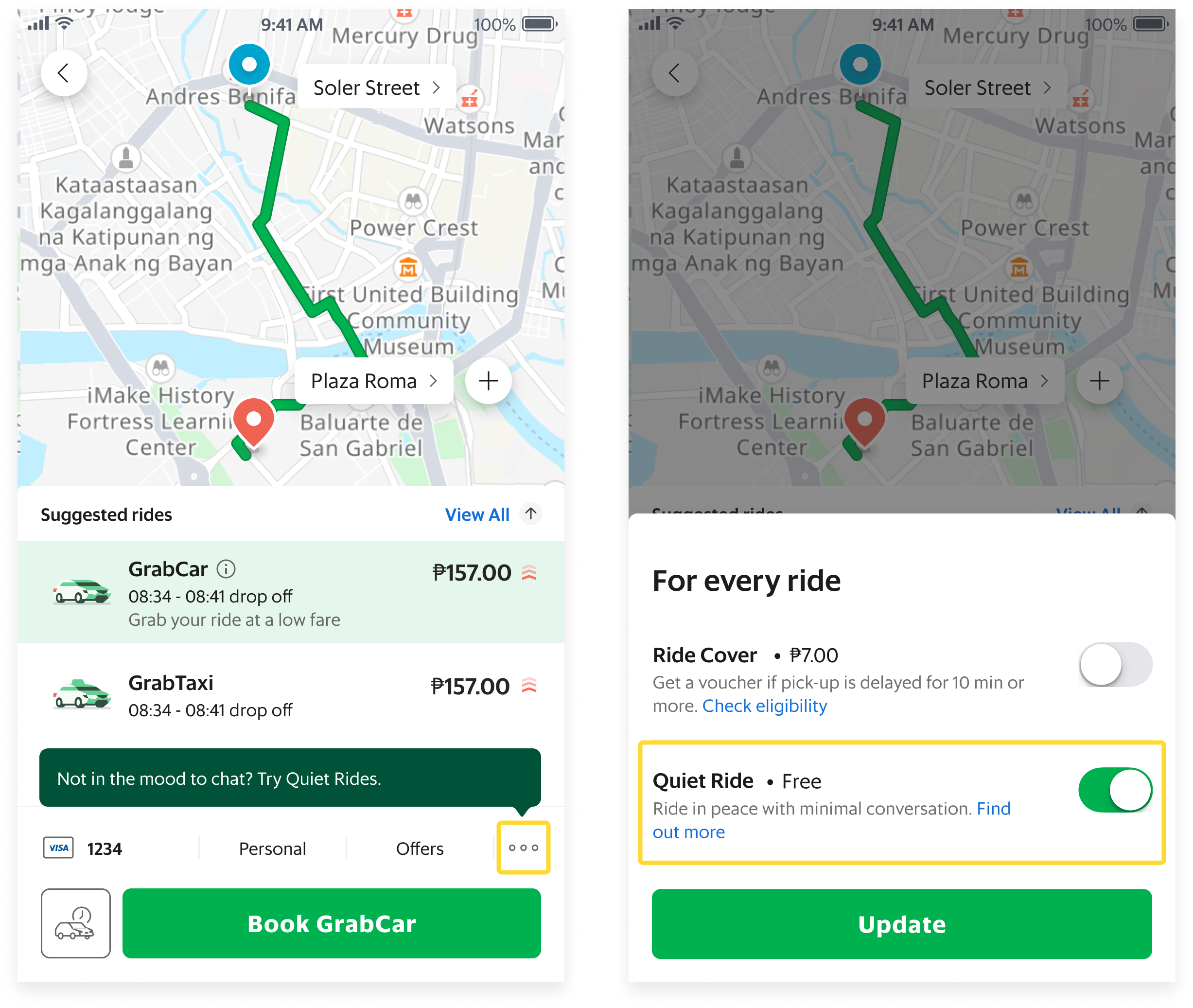 Quiet, comfortable rides have never been easier.
If you want to opt out from the "Quiet Ride" feature in the future, you have to repeat the steps above to toggle off the "Quiet Ride" button.
We can't wait to test out this new feature.
Read Also:
Featured Image: help.grab.com

Worker's Party just agree with PAP on something, but there's another reason why they did that. Watch this to the end and you'll understand:
Read Also: