When Minister for Health Ong Ye Kung was asked about the TraceTogether application by the Members of Parliament (MP) on 4 April, he answered that the Ministry of Health (MOH) will be reviewing the relevance of the app and Vaccination-Differentiated Safe Management Measures as Singapore make progress in living with COVID-19.
The Purpose of TraceTogether
In order to address how relevant TraceTogether is, it's imperative to go back to its roots and understand why it was introduced by MOH at first.
In the past, TraceTogether was used as a means for contact tracing for the general public, and it was what the government used to check for clustered outbreaks or warn its citizens of possible infections if they had incidentally come into close contact with a coronavirus case.
Remember the days where the news would simply release a whole list of malls that were forcibly shut down for two weeks because there were positive COVID-19 cases there? Yeah, that was contact tracing at its work.
But these days, individuals who have self-tested positive just proceed to Protocol 2—either going to a clinic first or choosing to self-isolate immediately—and don't even have to upload or update their TraceTogether data.
More importantly, the government has taken a gradual hands-off approach, where they are making the infected individuals take up the responsibility of warning their close contacts.
This includes having to fill up a form regarding their own close contacts (or family) that MOH will link them to, before the MOH automatically sends out Health Risk Notices (HRN).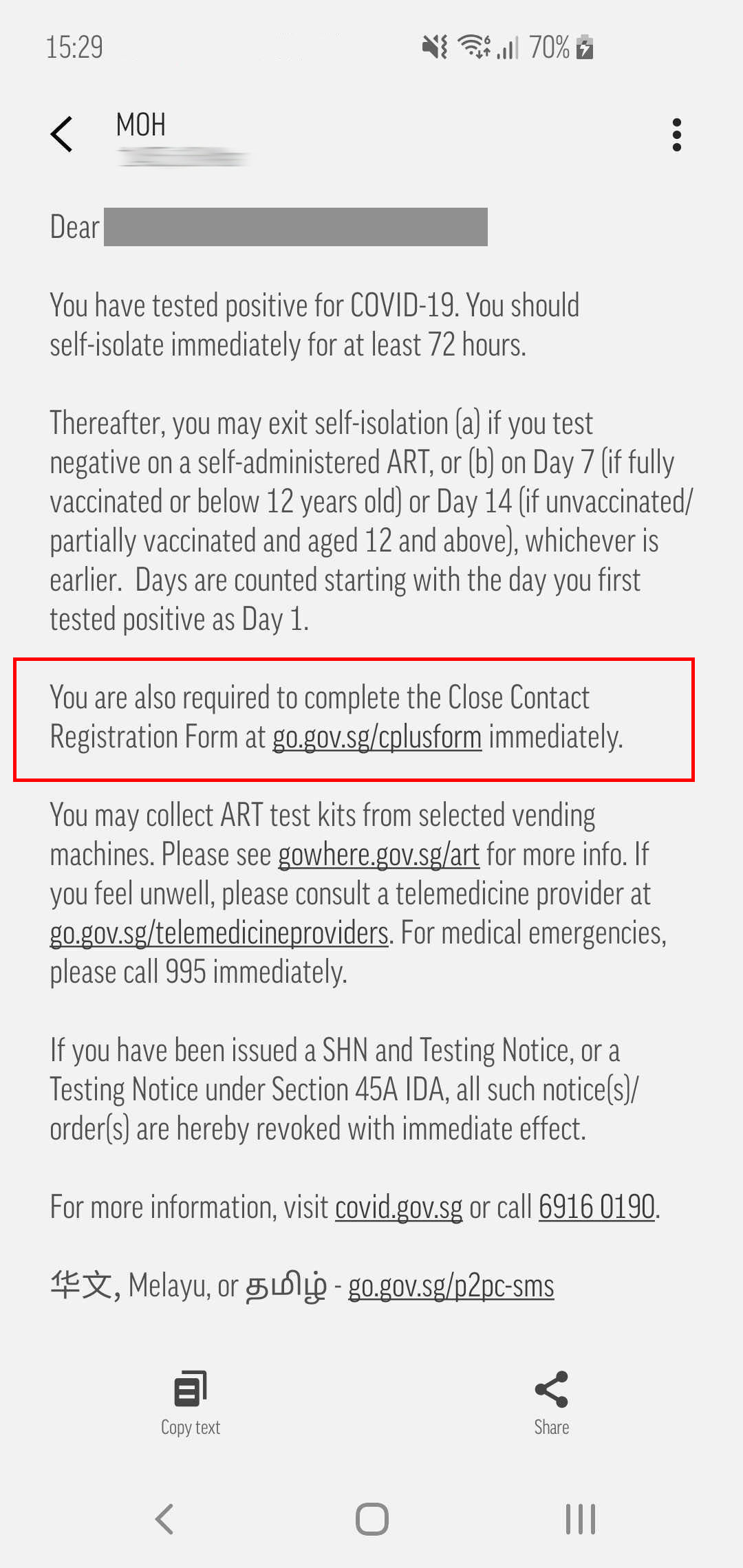 Besides that, infected individuals can also choose to go into self-isolation immediately without approaching a clinic if they feel like their symptoms are manageable, and it's really their choice to self-report or not.
Also, the large majority of the eligible population are already fully vaccinated, so there's no longer a need to contact trace every case.
However, Health Minister Ong acknowledged that the ministries still need to "look after more vulnerable cases" like schools, where TraceTogether is still being used for contact tracing.
Secondly, TraceTogether helps to aggregate data regarding its people's movement throughout the island, and give the government a sense of what kinds of settings are more likely to cause the virus to spread.
It's because of this that mask mandates have been partially slashed: we're not required to wear masks outside, but in indoor settings, where the air is less ventilated and tends to linger, it's easier for the virus to remain airbound and infect an unsuspecting individual.
SafeEntry and Vaccination-Differentiation Safe Management Measures
With regards to TraceTogether, it still serves as the best method to check an individual's vaccination status.
You can also watch this video to understand this concept better:
---
Advertisements
---
But should the safety management measures (SMMs) ever be dismantled in full, then there's no need for SafeEntry any longer.
Plus, SafeEntry is also being phased out, where Food & Beverage outlets are given the right to decide if they still want to conduct entrance checks, though random checks, especially for groups larger than five, are mandatory.
Mr Ong remarks that although Omicron has proven to be milder than Delta, there's still a risk for the unvaccinated and partially infected to fall very ill if they contract the virus.
He adds that roughly 3.5% of the Singaporean adult population aren't fully vaccinated yet—he's talking about you, Iris Koh and husband—but the minority is still significant because they account for more than one-fifth of the Intensive Care Unit (ICU) cases and deaths.
After all, an unvaccinated person's immune system is more susceptible to the disease, and gives the virus more opportunities to multiply and mutate, which could in turn, affect vaccinated individuals well.
If anything, the government probably hopes that the inconvenience caused by SMMs is enough to provoke the partially or not vaccinated individuals to complete their primary regimen at least.
---
Advertisements
---
Having to persuade the unreasonable is terribly annoying, okay?
Moreover, the small minority who choose to remain unvaccinated pose a significant cost to hospitals in terms of patient loads, to businesses in operating SafeEntry checks, as well as enforcement agencies in conducting checks, because they are the ones to look out for.
Join our Telegram channel for more entertaining and informative articles at https://t.me/goodyfeedsg or download the Goody Feed app here: https://goodyfeed.com/app/
A Calibrated Approach to Relaxing the Restrictions
Compared to the other Western countries that have simply undone their safety measures, in spite of being in the middle of their Omicron waves, the Multi-Ministry Taskforce (MTF) would rather take it slow.
For one, the SMMs have not been fully removed because the MOH are still on the lookout for new variants of concern that may arise. If need be, the SMMs can be restarted again if the country is faced with a more dangerous variant of concern.
Thus far, there has been Alpha, Beta, Gamma, Delta, Omicron and its subvariant BA2.
---
Advertisements
---
According to Dr Norman Swan, new versions, variants, or subvariants occur all the time, the only difference between variants of interest and concern, are based on the risks it poses.
For instance, is it more lethal than the original strain—which all of them proved to be, except Omicron—or is it more contagious and has enhanced transmissibility, which is what Omicron is known for.
The peculiar thing about SARS-2-CoV-2 is that its particularly "promiscuous", and it likes exchanging genetic material with other viruses. There has been Deltacron, Florona (influenza and coronavirus), and mostly recently, a merging of Omicron subvariants BA1 and BA2.
Secondly, the MOH is taking the overworked and strained healthcare system into consideration.
If they were to give free reign to allow all kinds of visitors to come and go, it will become more burdensome to the hospitals that are still very busy.
---
Advertisements
---
Hence, only fully vaccinated people are allowed in-person visits, with limited people per admission, while the other category of individuals will only be allowed to visit under exceptional cases.
Mr Ong explains that it's better "not to risk having more non-fully vaccinated patients getting infected and needing hospital care, and adding workload to our health care workers", which is a reasonable move to take.
One less problem is always better than one more problem.
Furthermore, while the MTF have relaxed a great deal of the SMMs on 29 March, and kickstarted the Vaccinated Travel Framework, they are aware that it will cause an uptick of cases, but Singapore should be able to get through the increased caseload without much trouble.
What Does COVID-19 as an Endemic Mean?
Contrary to what the word "Endemic" might seem to suggest, like the end of the pandemic, it's actually anything but the end of the coronavirus.
---
Advertisements
---
In medical terms, endemicity means that the disease still remains present, but it circulates at a more predictable rate and its less likely to disrupt normal lives.
Take the Spanish influenza of 1918 as an example: there are slight historical inaccuracies, but it's speculated/believed that the influenza took away 675,000 lives in between the last four months of 1918 and first six months of 1819.
That was the Spanish influenza at its peak lethality, during its first few waves.
However, the influenza eventually lost its lethality in lieu of contagiousness; for the years and decades that followed, the influenza became akin to a seasonal flu that stuck around, but people lived with it.
The same applies for the coronavirus.
---
Advertisements
---
It might scar our lungs less and leave us with annoying scratchy sore throats and hoarse voices instead, but it's here to stay fore the foreseeable future.
"So while we have eased up the SMMs and reopened our borders, the pandemic is not over," Mr Ong asserts. "We will have to continue to monitor the global situation, do our part to keep our country safe, and continue to work together to tackle whatever challenges that may come our way."
Until there is vaccine equity in the world and the threat of coronavirus fades to the background, the government will continue to take precautions and adopt the appropriate SMMs for the sake of managing the risk and damage from COVID-19.
TraceTogether may stand down one day, but not yet. 
Read Also:
Featured Image: Google Play
---
Advertisements
---
---
OTRO is closing, and this time, it's confirmed. Here's what you need to know: