---
Advertisements

---
Last Updated on 2023-02-18 , 10:26 am
What would you do if someone only gave RM20, or about SGD$6, for your wedding reception?
This Malaysian man's wedding reception was in a Bukit Bintang hotel, and a guest gave a red packet with only one crisp RM20 bill in it.
Naturally, he took to Instagram Stories to publicly slam the friend, much to netizens' disapproval.
RM20 for a RM1,500 Table
In an Instagram story, this man revealed that a friend only gave RM20 for a wedding reception held in a hotel at Bukit Bintang.
Telling the friend to "don't play", he said that the price for a table at the wedding reception is about RM1,500, which equates to about RM150 per person. Without GST. 
"Do you want us to lose so much money by only giving RM20?" complained the man, saying that people should check the prices of a table before deciding on how much to give. He stated that going to a reception necessitates a red packet, which is a "Chinese tradition that has been around for hundreds of years".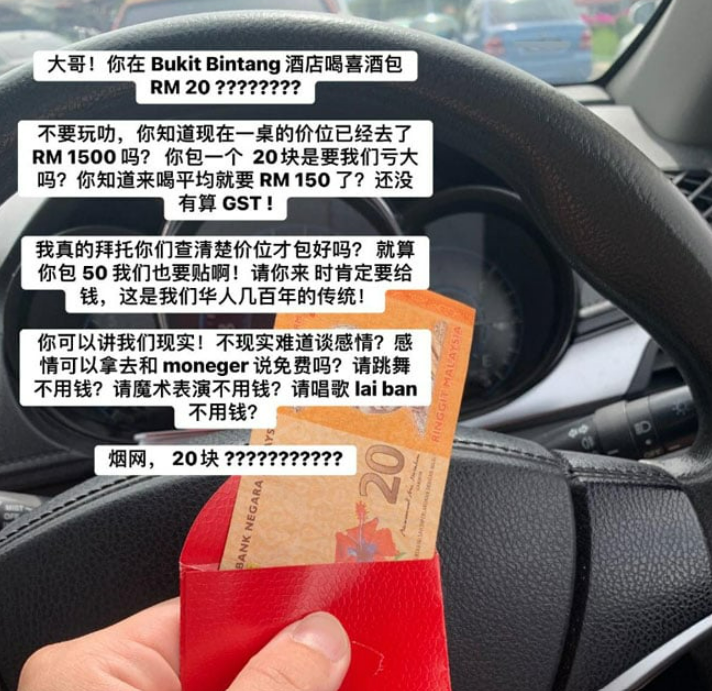 Usually, if a guest comes alone, they would give a red packet with RM100 to RM200.
"Isn't RM20 the appropriate price 20 years ago?"
Acknowledging that he may seem too realistic, the man posed this question: "If we don't discuss this realistically, should we discuss this emotionally? Can we pay for the reception using our relationship as friends?"
He then points out that most newlyweds depend on the red packet money to pay for the reception, which is why RM20 isn't acceptable to him.
Identify Friend Even Without Name on Red Packet
In an additional post, the man then said that the RM20 red packet had no name written on it, and was given "secretly" while the couple was busy.
Despite being busy during the reception, the newlyweds were still able to identify the person who gave them the RM20 red packet.
"Do you think attending a reception is like buying cai png? Would you be happy if somebody did this at your wedding?" the man said, telling the friend to go buy Starbucks with that RM20 instead.
"I wouldn't believe that this isn't deliberately done even if you hit me to death," the man ended his post.
Join our Telegram channel for more entertaining and informative articles at https://t.me/goodyfeedsg or download the Goody Feed app here: https://goodyfeed.com/app/ 
Netizens Disapprove: "Don't Be So Calculative"
Under a China Press article about the man's posts, netizens commented on their disapproval of this man's attitude.
"Since you invited them, then don't be so calculate with how much red packet money you receive," said one commenter with 40 likes.

Other commenters also said that maybe that friend was struggling financially and that they've already tried their best to give as much as possible. "Everyone has times where they're struggling, and they don't have to tell you about it."
Another popular comment with almost 300 likes said that sincerity is more important than gifts.
"You seem like you care about money more than friendships… many people are getting married recently, so maybe RM100 is too much for some people. You should be more considerate!"

Other people also said that if the newlyweds don't have money of their own to hold a wedding reception, then perhaps they shouldn't be holding one in the first place.
---
Advertisements

---

Do you think this man should be angry about only receiving RM20?
Read Also:
Featured Image: China Press