---
Advertisements

---
Three weeks ago, you might not have heard of Samantha Tan. But in recent days, she became one of the most-searched people on Google: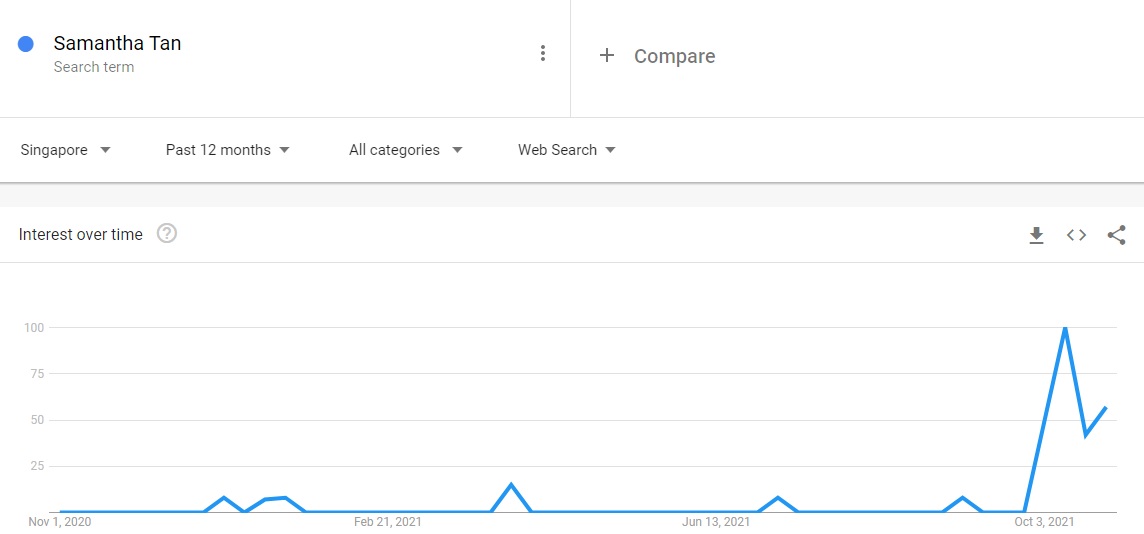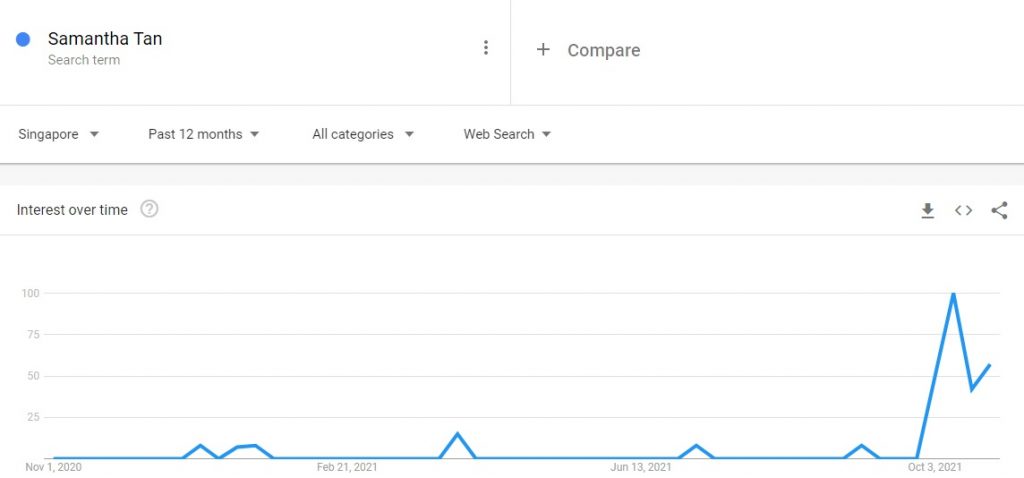 The 30-year-old is embroiled in the first season of The NOC Saga, when the focus was on workplace abuse.
Back then, she was the only person whose name was revealed.
After Sylvia made her first apology, Samantha responded, calling out the apology as there was some discrepancy pertaining to the explanation about her contract.
But soon after, everyone started to know her as the ex-NOC talent who got cast in Jack Neo's next movie, and her engagement.
Today, she posted another response to the NOC saga.
Samantha Tan Releases Long Statement That Looks Like an Assignment for University
Usually, statements made by people involved in the NOC saga are simple to understand (except the first statement by NOC). In fact, some are borderline entertaining—like the Xiaxue interview with Sylvia.
But none look like an essay that's written for a professor to grade.
Newly engaged Samantha just did that.
Yesterday, she made one simple statement on her Instagram Story:
To my dear friends and followers who have been supporting me, thank you for trusting me and for checking in on me. I was never involved with sgcickenrice and I have never once leaked screenshots.
This afternoon, she decided to craft a longer statement on her Instagram Story after people accused her of releasing screenshots, being a cyberbully and had cheated with Ryan.
For brevity's sake, here's her statement in simple point forms:
She never released any screenshot, and clarified that she was just a talent with NOC and not a full-time employee
She has resigned from NOC on 3 October, and will be having her "exit interview" done on 1 November
She had responded to Sylvia's apology publicly because people might think she hide her contract on purpose
The "dinner" mentioned in the Xiaxue interview did occur
She had wanted to post the link of the expose blog post to highlight workplace abuses (but there was an error in the link when she posted it)
She has submitted her case of workplace harassment and delayed payment to TAFEP
She tried to understand why people make baseless comments about her being a cyberbully and that she cheated with Ryan, and that became a PEEL essay: Point, Explanation, Evidence and Link
I felt asleep after that (me, the writer, not Samatha)
Here are the screenshots for you to read through if you're a retired professor who miss grading essays: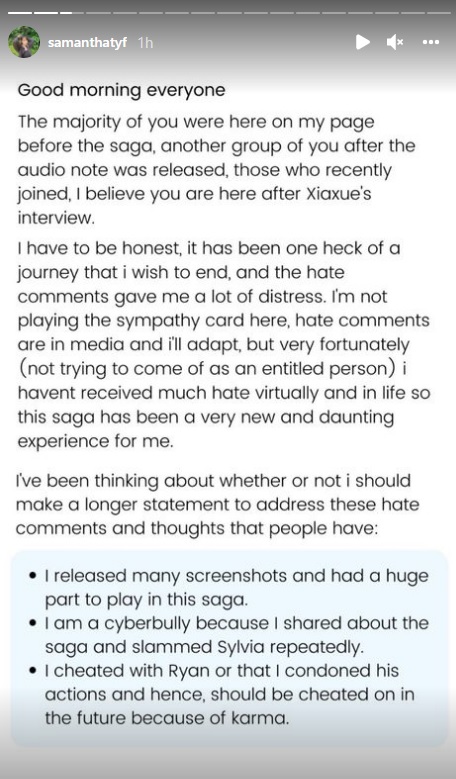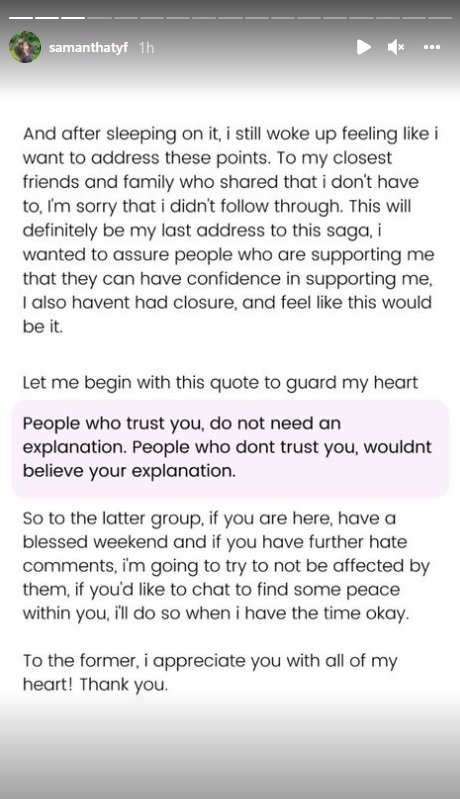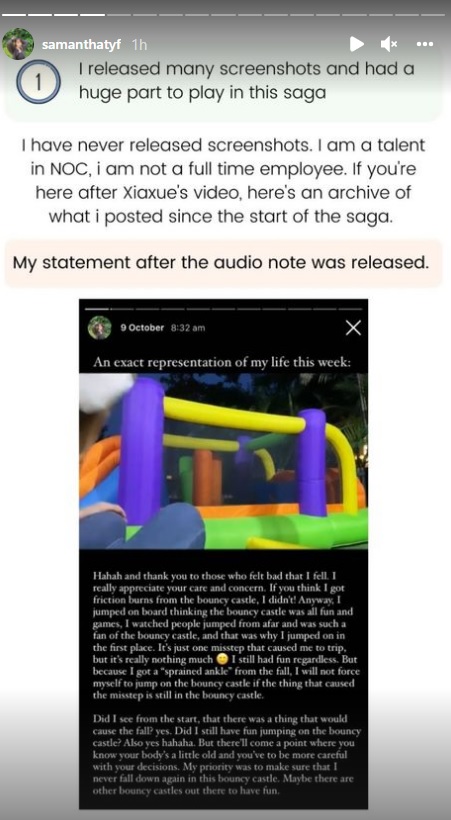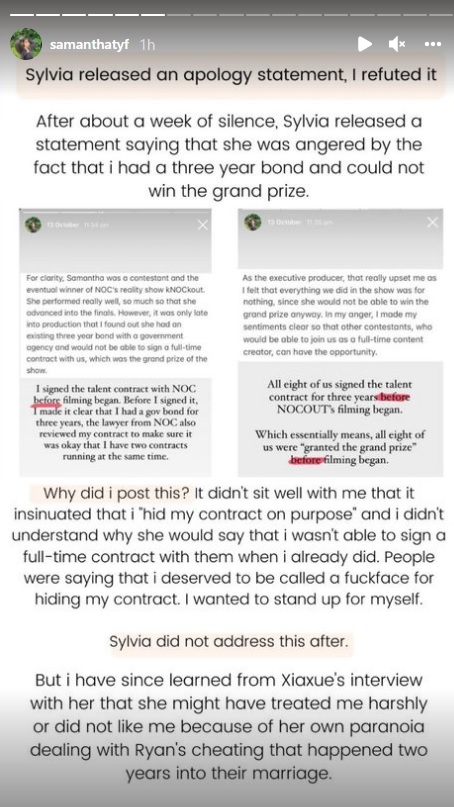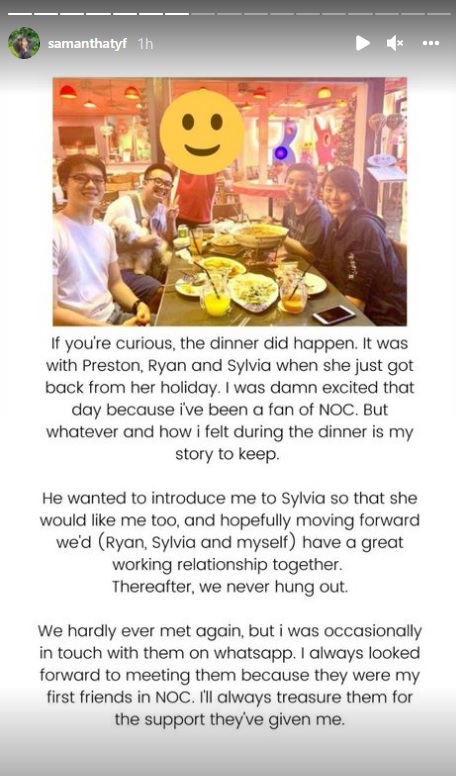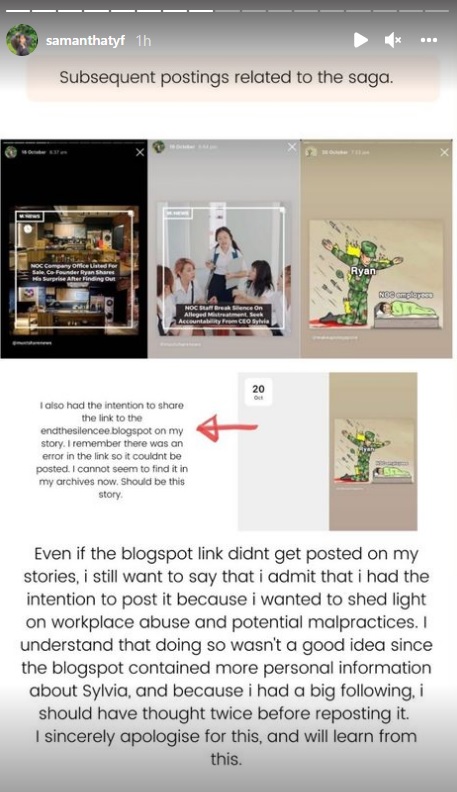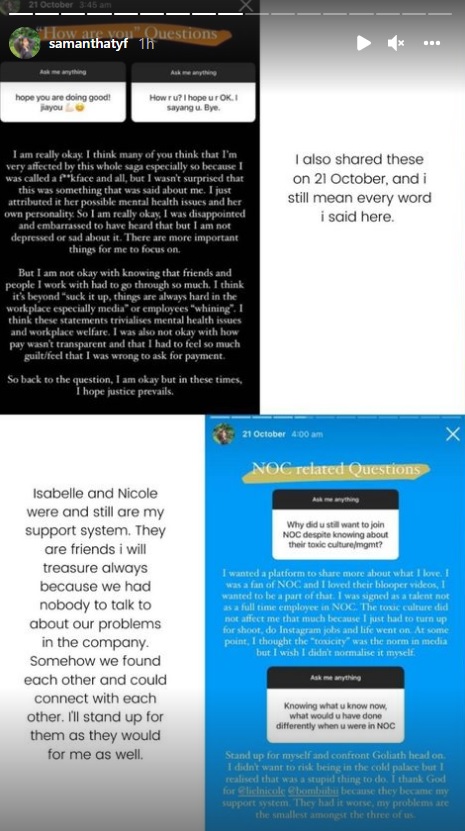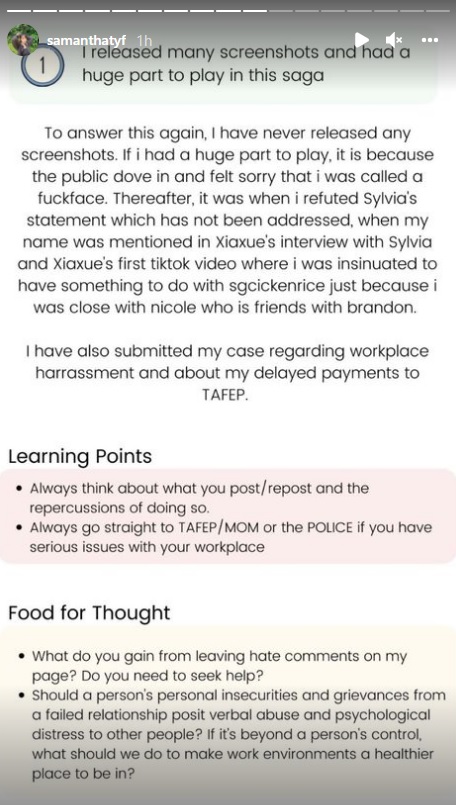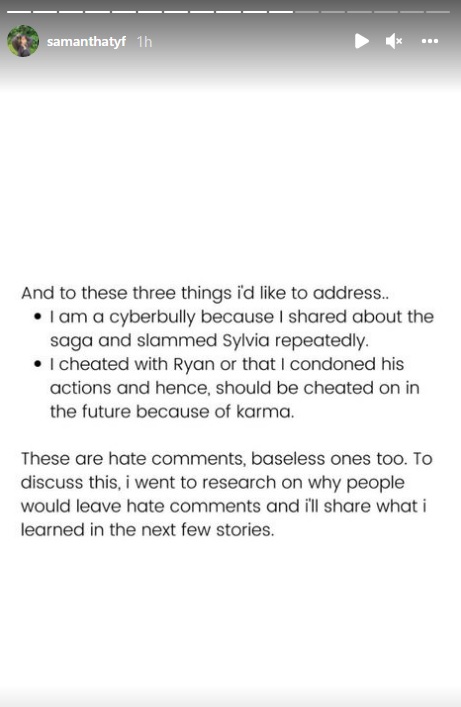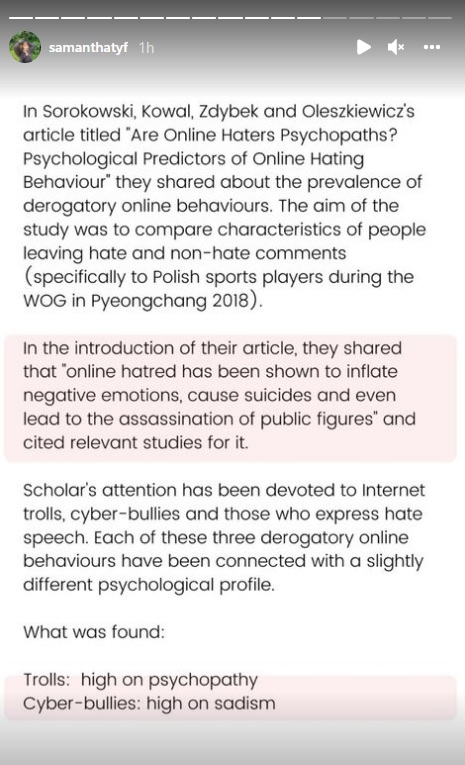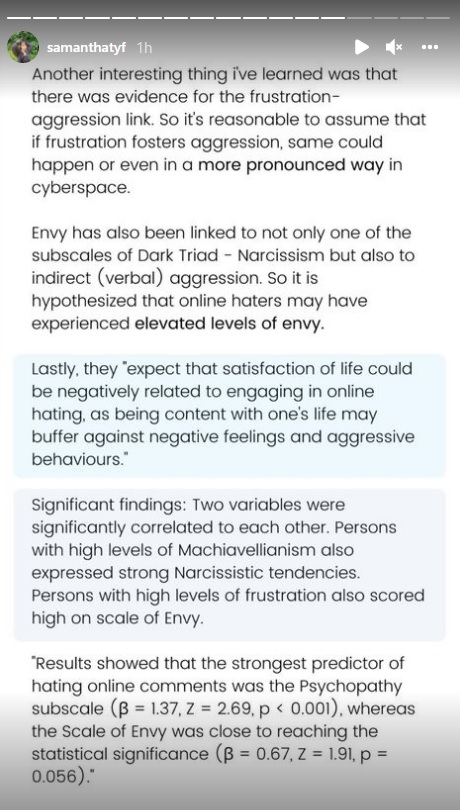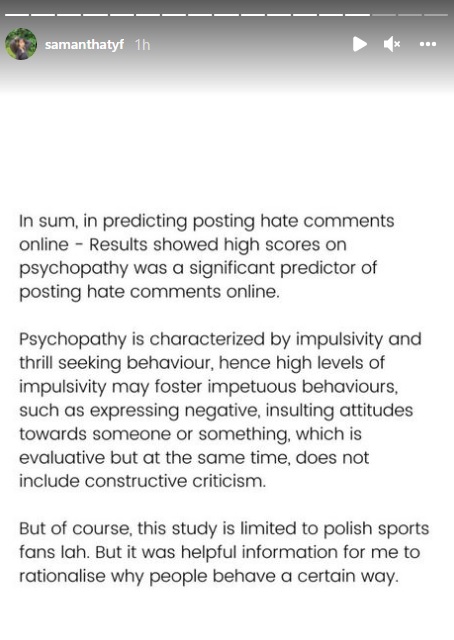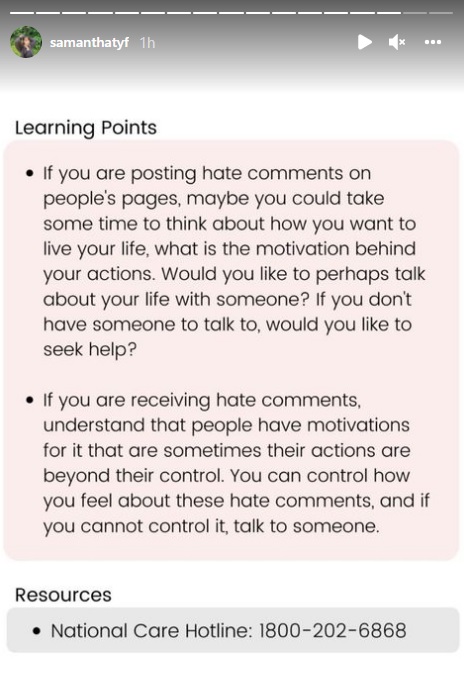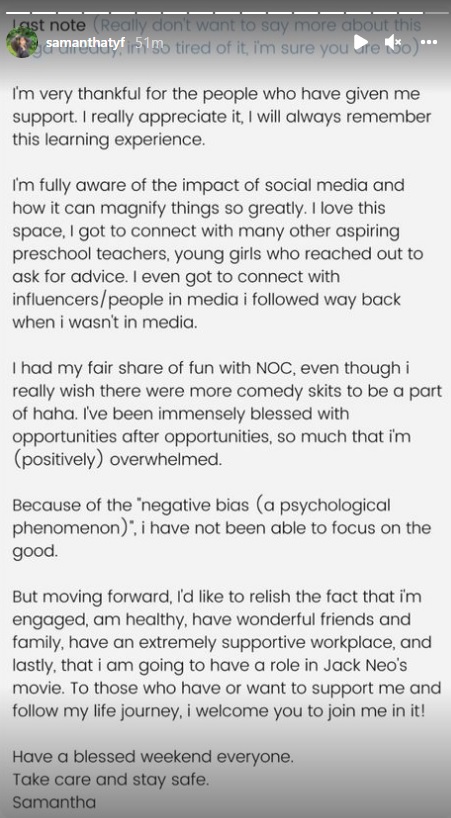 @Sgcickenrice Instagram Account is Gone
If you're interested to see the leak screenshots, you're too late.
@Sgcickenrice, which is managed by a 20-year-old student Brandon Mah, has removed all screenshots earlier this week, and now, the account is gone, too: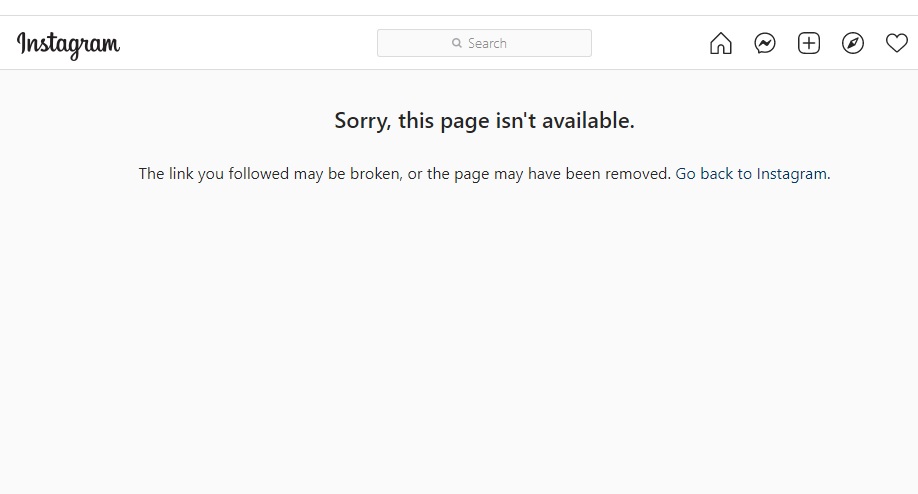 In addition, the blog post has been removed, too. Now we can only wonder: when is the next season dropping?
Read Also:
Featured Image: Instagram (@samanthatyf)

Fresh grads, you don't need any experience to earn up to $4,200 with this "secret":
Read Also: