---
Advertisements

---
When it comes to running a business, you're bound to find yourself in a situation where you can't please everyone.
And while some may take criticism from customers in an accepting manner and try to see how they can do better, others may…take a different route, I suppose.
Just recently, a Facebook post by Baby Expo caught the eyes of many netizens across Singapore due to the way it responded to a negative review.
They were sharing a post by a Facebook user who claimed that they were "looked down" by the sellers just because they had only one item in their basket as compared to the other buyers who had more items in theirs.
In case you can't see the original post, here it is:
The user, Christabell Chia, also brought up how the staff at Baby Expo were unhelpful in answering her queries regarding baby cots and bassinets after she was told to not touch them, even though her main objective of going to Baby Expo was to buy a baby cot.
Chia then ended off her post by saying, "But now I know she clearly cheery pick to serve and has no intention give the basic treatment to those she deem as non high spender".
Oof.
Baby Expo's Response
In response to Chia, Baby Expo claimed in their post that "Haters are Losers", and proceeded to refute the woman's claims.
Baby Expo also went to the extent of revealing those who had left "angry" reactions on Chia's post, and screenshotted those users' usernames to include in their post.
They even said that "Real Friends will each contribute $10 to buy her a baby cot, not give angry faces".
In their post, Baby Expo explained that the "hair bands are located almost at the end of the shop", and that "baby beds are strategically located in front of cashier & CCTV".
They then pointed out that it would not make sense for her to say that she had walked all the way to the back of the venue to get a hair band first, especially if buying a baby cot was her priority.
They also claimed that they told her multiple times to refrain from touching the bed in a polite manner, but their advice fell on deaf ears as Chia continued to do so. According to them, Chia even said, "Don't touch how to buy?"
They then answered, "No need to wait, the people are here already. These mothers are here to buy. You saw their baskets are full too."
Afterwards, Chia left.
Baby Expo then turned to address her comments regarding how they had "limited stocks", telling her "don't be upset when we answer you that you only have 1 hair band in your basket and other mothers' shopping baskets are full".
They also brought up the fact that their interactions with all their other customers have been positive.
"Even our 1st order yesterday was a mother who came on 12pm sharp and left after buying a baby bed. It is a fact that our customers all buy like this. They see the bed, they like the price, they pay and they go," they recounted.
---
Advertisements

---
They also affirmed the way in which they do their business by saying "Our customers will know we never go out of our way to hard sell or soft sell customers. We posted our promotions on our Facebook."
They then concluded their post by asking Chia, "Why only you can say people and cannot tahan people say you back? High self esteem and fragile ego?" before stating the following:
"We are simple sellers selling simple things. We don't play games. When you want to suan (be annoyed about) seller limited stocks, be ready when others answer you back that others got so much stuff to buy and you saw too right. When you post your angry face here, be ready it will be posted."
Netizens' Reactions
Baby Expo's post has garnered over 60 comments and 300 shares since it was posted on 23 March.
Although the comments have been largely supportive of the company, it seems like the content posted by users who have shared their posts differ quite a bit.
Join our Telegram channel for more entertaining and informative articles at https://t.me/goodyfeedsg or download the Goody Feed app here: https://goodyfeed.com/app/ 
Amongst the 300 users who have shared the post, some of them expressed their support for Chia (and annoyance towards Baby Expo).
---
Advertisements

---
Others also put out the possibility of Baby Expo deleting comments, as the only comments present on the post were positive ones.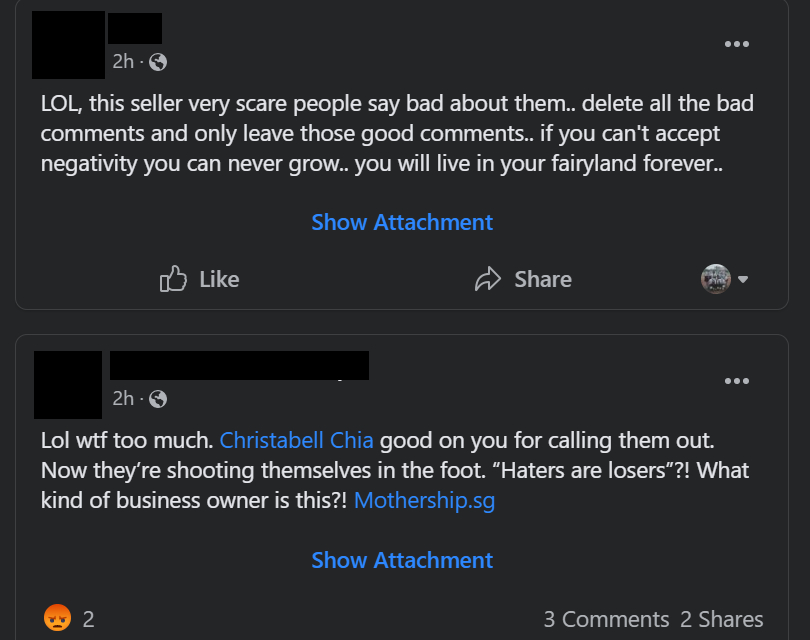 Some other users also took the opportunity to offer their point of view regarding Baby Expo's customer service.
Most of them agreed that even if Chia was in the wrong, they could have offered a more professional reply instead of making a huge ruckus out of the issue and making themselves seem petty and unprofessional.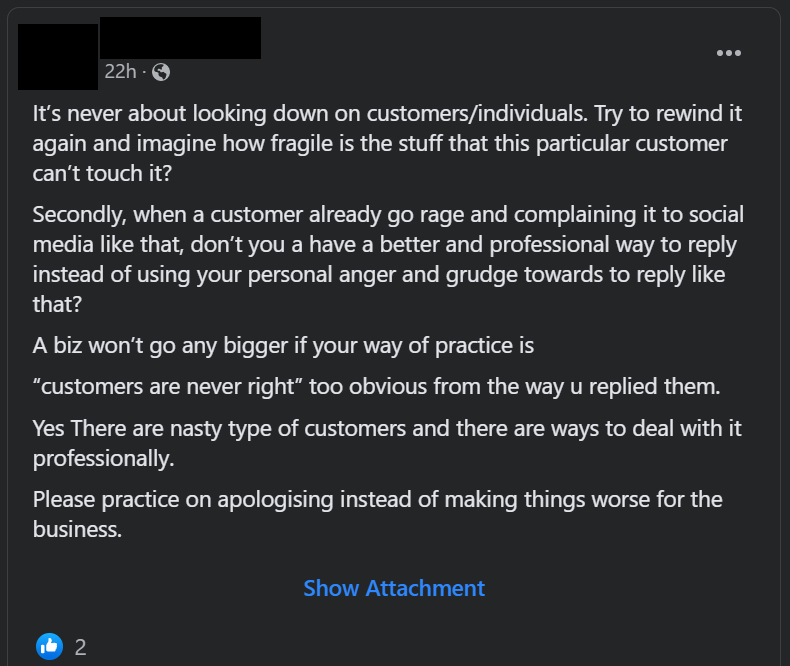 Read Also:
Featured Image: Facebook (Baby Expo)

Fresh grads, you don't need any experience to earn up to $4,200 with this "secret":
Read Also: