---
Advertisements

---
Last Updated on 2022-06-13 , 1:05 pm
Now that the school holidays are officially here and the COVID-19 travel restrictions have been lifted, are you looking for a small getaway to relieve the stress?
Being a student comes with plenty of discount perks, be it F&B establishments, cinema tickets, Spotify Premium, or Microsoft software products.
But did you know that it extends to flight tickets too?
How to Get the 10% Discount As A Student
Thanks to a TikTok user called @lingz, the Singapore Airlines' student perks—which have been around for a fairly long time—has finally been realised by many who might have overlooked it in the pass.
In the first video, @lingz shared her excitement about how she managed to save $206 on her flight tickets and get an extra 23kg baggage allowance on her flight to San Francisco.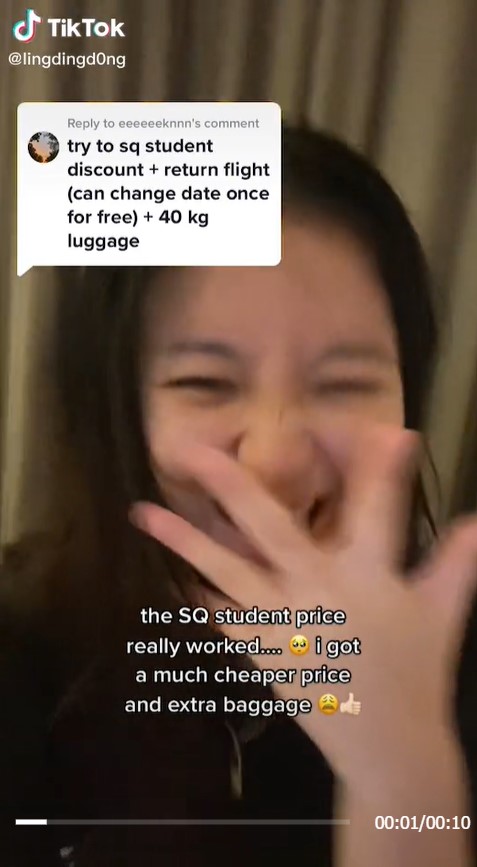 For any student who's running on a limited budget, that honestly sounds like a dream come true, right?
Her video naturally drew a lot of attention, garnering a total of 178,900 views, as of the time of writing this article.
Most of the commenters practically demanded that she shared that life hack, because it was seriously useful, and she had video evidence to prove that this was the real deal and not a scam.
Of course, she was more than happy to share a few tips.
Join our Telegram channel for more entertaining and informative articles at https://t.me/goodyfeedsg or download the Goody Feed app here: https://goodyfeed.com/app/
Most Important Step: Student Verification
First and foremost, you need to find the student privileges page on the Singapore Airlines website.
---
Advertisements

---
Upon clicking on the link, you will see that the 10% student discount extends to economy and premium economy tickets, with 40kg of baggage for flights to and from the United States and Canada, plus a complimentary booking change.
Next, you need to sign up as a KrisFlyer member.
Don't worry, no card details are required on this step, and if you're already a member, you can skip ahead.
The third part is the most important: the student verification process.
You need to select your country and/or region of education and your educational institute.
For Singapore, these privileges only apply to tertiary institutions.
Students studying in over 20 other countries and regions apart from Singapore are also eligible.
Here's the full list, and if you're too lazy to skim read, press Ctrl + F:
Australia

Canada

Denmark

France

Germany

Hong Kong

India

Indonesia

Ireland

Italy

Japan

Malaysia

Netherlands

New Zealand

Philippines

South Korea

Russia

Singapore

Spain

Sweden

Switzerland

Taiwan

Thailand

Türkiye

United Kingdom

United States of America
Once you're done selecting your educational institution, you will be redirected to your school's login page.
Now that you're successfully logged in, you will be brought to the students' fare page.
---
Advertisements

---
In this portion, @lingz stresses the importance of not messing up, because she previously made a mistake here and regrets it. 
Bookings should only be done on this page to get the discount.
There are flights going to multiple countries, including dream destinations such as Tokyo, Seoul, London, Bangkok, and New York.
Please note that you can only book student fares for yourself, and you need to verify your student status yearly.
@lingz also advised the viewers to look for the exact same flight on the Singapore Airlines website before confirming the booked flight, just to ensure that there is a price difference.
For any future student travellers, take note!
---
Advertisements

---
Read Also:
Featured Images: TikTok (@lingz)

Here's why a 4-day workweek might finally really be possible in Singapore soon:
Read Also: