---
Advertisements

---
Last Updated on 2022-08-11 , 2:11 pm
Some people wonder about the role of security guards in condominiums, since it appears that anyone can enter the condo premises just by coming out with a simple excuse.
But it seems like having guards to control access to people entering a flat might be useful after all.
Just ask TikTok user @Katezhuo.
Stranger Kept on Peeping into HDB Flat for 2 Years
A family living in an HDB flat along Ang Mo Kio Avenue 3 often have an unexpected visitor peeping into their flat for the last two years.
And it's not a furry community cat meowing for food.
Instead, it's this: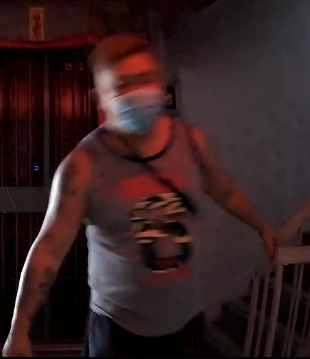 In a series of videos posted on TikTok, @Katezhuo claims that a tattooed man has been peeping into their house for the las two years.
In a few videos, it looks like he was just walking past and taking a quick innocuous glance at the door, which some netizens have pointed out.
However, the TikToker added that on some occasions, he would deliberately stop and stare into the unit for a few seconds, as if he was looking for someone in the house.
She then uploaded two videos of the man looking into the unit from another angle, after her neighbour allowed her to install a camera from their unit.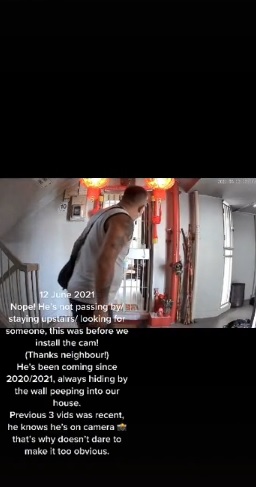 In all her videos, she tagged the Singapore Police Force TikTok account, and had since made a police report, but "police said that they cannot do anything about it."
According to the TikToker, this has happened for two years, but there was a period when he didn't appear often. He only reappeared recently.
The TikToker is also convinced that the stalker doesn't live there as they've been living in the flat for 30 years.
Claimed Man Had Even Hidden Behind a Wall
What's even more disturbing is that the TikToker claims that the man was caught red-handedly before but still continued his acts.
She claimed that once, the family caught him staring in and confronted him, but he "snapped back" and asked the family member why she was questioning him.
There was also once when a relative visited the unit and found him hiding by the wall beside the gate, which the camera could not capture.
Of course, whether he's just a curious neighbour or a stalker, someone posed a legit question: why couldn't the TikToker just close the door?
Read Also:
Featured Image: TikTok (@katezhuo)