---
Advertisements

---
We've seen many types of bus captains: the incredibly sweet drivers that go above and beyond their duty, some that road rage, or just the typical fella who either nods or stares at you as you clamber onto the bus.
Have you ever wondered what the life of a bus captain is like?
Well, you don't have to stretch your imagination too far, since there's a bus captain going by the handle of @yourbuscaptain on TikTok, educating and entertaining people about his work and life since January 2021.
Going Down All Roads of Life
On 20 April, he uploaded a video, showing a particular route that Bus Service 975 has to pass by on the routine basis, regardless of whether it's day or night.
The journey starts out at Bukit Panjang Bus Interchange, travelling all the way to Lim Chu Kang Camp II and then the Chinese Cemetery.
Everything is fine and dandy when it's daytime, but when the sun falls below the horizon, and you only have your trusty headlights to light up stretches of the dark and isolated road?
It feels like a horror movie in the making.
Everything about the bus ride would have been much creepier, had it not been for the bus captain's hilarious but monotonous text-to-speech commentary like "Send help please" and "okay drive faster a bit to the end point cos I scared already".
If anything, it really shows a unique perspective of what bus captains have to go through, especially on odd and isolated roads, in the name of connectivity and accessibility.
Join our Telegram channel for more entertaining and informative articles at https://t.me/goodyfeedsg or download the Goody Feed app here: https://goodyfeed.com/app/
Funny Reactions from the Netizens
The video was met with great reception, garnering more than 523,800 views.
---
Advertisements

---
The commenters were torn between horror and jesting, with the most liked comment saying: "What if there's no one on board but near that empty bus stop you hear someone press the bell?"
The person was met with immediate reprimands from the others, with one of the netizens writing, "Please don't give unnecessary thoughts to the bus driver 😂"
Others just went with a straight-up "NOPE", we're not entertaining that possibility.
Jack Neo retired from the entire ghost movie franchise, True Singapore Ghost Stories and Mr. Midnight have long ended their book runs, we do not need more fodder for thought.
Among the comments, it can be seen that the bus captain is rather emphatic, recalling or confirming instances where he had to drop off passengers at their camps during the late night, or waiting when he saw a possible passenger running up to the bus stop from the Sungei Gedong traffic light ahead.
Sometimes, having the comfort of a trustworthy bus captain is all someone needs to feel safe on a quiet road.
Other Interesting Videos
Apart from his late night runs on the Bus 975 route, the bus captain shares other interesting insights into the inner workings of the entire bus transit system.
For example, he showcases that the buses are always installed with an accurate GPS map that the drivers can refer to whenever they're in doubt.
Sometimes, his videos are just about the simple but frustrating situations he gets thrown into, like passengers dumping a whole bunch of 10 cent or 20 cent coins into the coin box, and expecting him to count.
---
Advertisements

---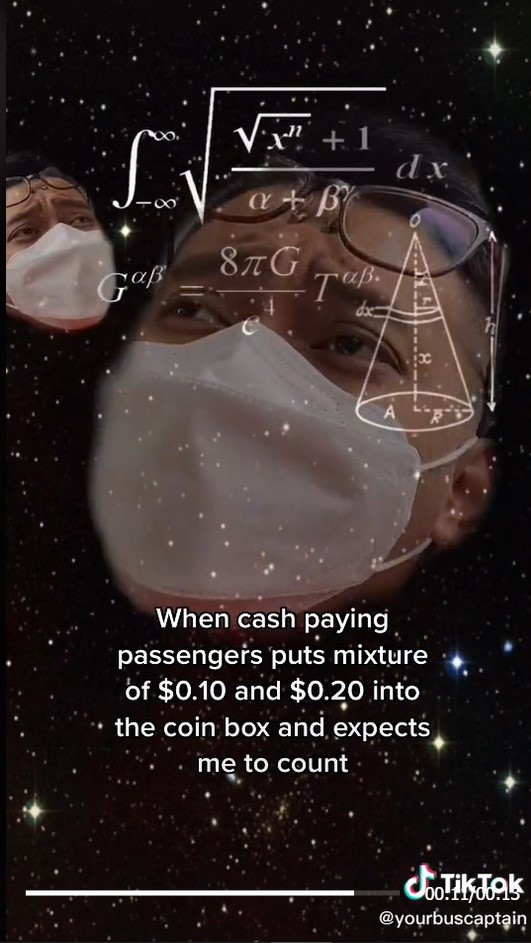 It doesn't help that different distances have different prices too.
And contrary to popular belief, the bus captains do have to count the money manually, since there isn't an automatic coin counting machine. Yet.
So if these types of slice-of-life and comedic videos fit your fancy, go ahead and follow him on TikTok at @yourbuscaptain.
Read Also:
Featured Image: TikTok (@yourbuscaptain)

Your parents are wrong: MSG (Monosodium Glutamate) is good for you (sort of). Here's the truth:
Read Also: