---
Advertisements

---
2022 has been an interesting year for OnlyFans creator Titus Low Kaide.
The 22-year-old got in trouble with the law for transmitting obscene materials online and for defying police orders, became an internet sensation for the wrong reasons (but publicity is still publicity), opened an ice cream parlour, had a flash marriage with Malaysian influencer Cheryl Chin, and now the couple are expecting a baby.
Although Titus Low has been sentenced to three weeks in jail and a fine of $3,000, the news comes as a form of relief to the content creator.
Because after ten anxiety-riddled months, the other shoe has finally dropped.
For more details about Titus Low's recent scandals, watch this video until the end:
The TikTok Video
On Thursday (13 Oct), Low made a TikTok video to talk about his court sentence.
He began by frankly admitting that yes, the headlines are all true; he has been convicted for posting explicit content online and for repeatedly breaching police orders to not access his OnlyFans account during investigation.
It appears that the official date for his imprisonment is not in stone yet, and he only knows that his prison sentence will begin in a few weeks.
Low then expresses his regret, though he did not elaborate if it was for getting caught, what he has done, or how it went down.
"I'm just glad that it's finally over, and I can finally have a peace of mind," Low said. "For the past year, not gonna lie, it's been very tough on me, mentally. I haven't been showing it, I'm not doing okay, and I'm just glad that it's over."
Before the short video ends, Low promises that he will give his fans a YouTube update video after he serves his time in prison.
---
Advertisements

---
@tituslow

Replying to @Prrrth *turn on captions* Case closed now 🙏 will share more on my YT channel! Link in bio
Netizens' Response
For the most part, the TikTok comment section appears to be sympathetic to his situation.
One commenter finds humour in the situation by cracking a stereotypical prison joke, "What ever happens bro, do not drop the soap."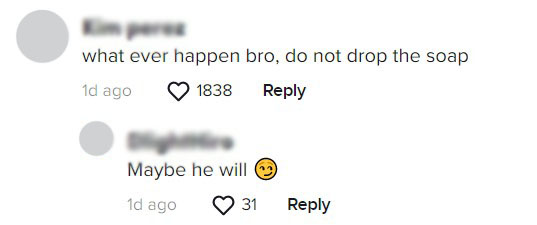 Another netizen reminds Low that he's not the only social media influencer in trouble with the law, saying, "Foodking with Dee Kosh (Prison Edition)?"
The OnlyFans creator is apparently down to make some money off his prison stay too, as he says "Lyk (let you know) if I see him there."

Truth to be told, Titus Low could write a book about his prison stay and make it a Singapore bestseller or something.
Afterall, Iris Koh, founder of anti-vaxxer group Healing the Divide, wrote a book about her surviving 15 days in remand called "Into the Lion's Den".
Some fans empathise with Cheryl and wonder how she is coping with the whole thing, considering how she is his wife and the mother of his future child.
Thankfully, the prison sentence is less than a month, and Titus Low has his own business and YouTube channel to fall back on, even with the black stain on his record.
By law, this is one chapter closed for Titus Low.
---
Advertisements

---
Let's hope he doesn't make headlines for the wrong reasons again. 
Oh, who are we kidding?
Read Also:
Featured Image: Instagram (@titusslow)

Here's why a 4-day workweek might finally really be possible in Singapore soon:
Read Also: