Wikipedia is the free encyclopedia that lecturers urged students not to reference because the information there was deemed to be inaccurate despite thousands of moderators monitoring and editing the content constantly.
However, do you know that aside from telling you the dating history of your Oppa, Wikipedia also has a featured article section?
This time, Singapore's most complicated MRT station is being featured.
Article About Dhoby Ghaut MRT station Become Today's Featured Article in Wikipedia
Dhoby Ghaut MRT station, the home to lost souls who could not make their way out because changing from one MRT line to another is too confusing for them, is today's (12 Dec) Wikipedia featured article.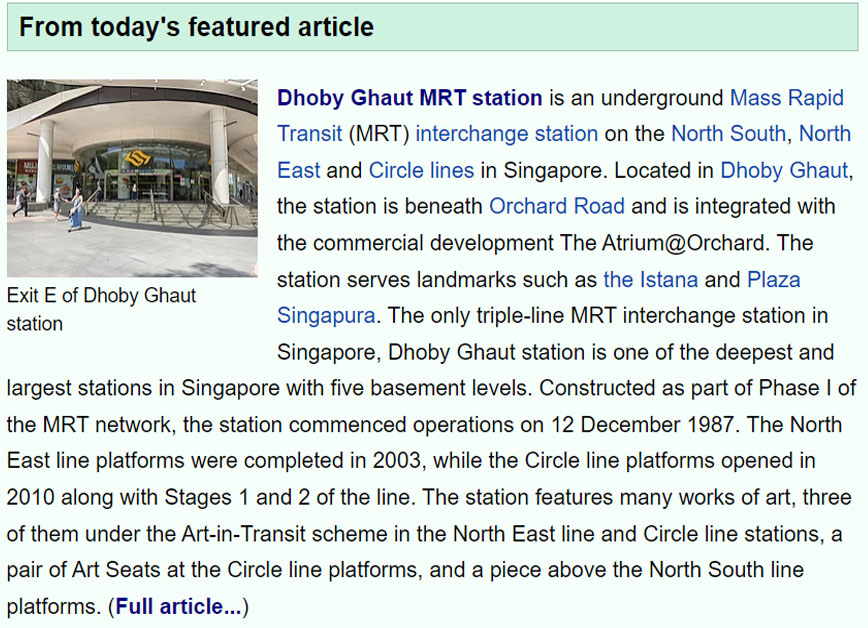 The article describes the history of the station, its design and even the public art in the station.
Netizens: Proud of Singapore
Just like how the Singaporeans on TikTok felt when they spot a US animated sitcom referencing Singapore, netizens on Reddit felt a sudden sense of patriotism when they realised Singapore was featured on an international website.
A netizen even said they were on the thread while taking the MRT in that area.
A Reddit user also found the reason why this particular Wikipedia article was featured today: it's all due to the efforts of various Wikipedia contributors including a particular hardworking train enthusiast.
This rapid transit enthusiast helps improve articles about Singapore's MRT and LRT system, and that includes capturing updated photos of the stations and trains and editing the current Wikipedia pages.
Wikipedia Featured Article 
In case, you're still thinking, there's a featured article section on Wikipedia?
Yes and that's the section on the top left-hand corner if you go to Wikipedia main page. Aside from the featured article, you can also see the featured picture of the day and some news as well.
For an article to be featured, the article has to be one of the best articles Wikipedia has to offer. This is determined by Wikipedia's editors. Out of all the articles on Wikipedia, only 0.09% of them were featured. So it's a huge deal.
In order to see if an article is featured, all you have to do is to refer to the top right-hand side of the article to see a tiny gold star. That star meant the article that you're currently on is part of the 0.09%.
Read Also: 
Featured Image: Wikipedia
---
A new virus has been identified in China, and it's infected 35 people. Would it be the next COVID-19? Watch this and you'd know: