The question of whether we can gather in bigger groups—or if we can even gather in the first place—for this year's Chinese New Year has been answered.
Sort of.
Today (5 January), the multi-ministry task force tackling COVID-19 in Singapore held their first press conference in 2022, and here are the key facts you need to know.
All About Omicron
It's a COVID-19 update, so we've to have to talk about Omicron.
Currently, our local COVID-19 situation remains within control but we are seeing a growing number of confirmed Omicron cases even as the Delta wave subsides.
Over the past week, MOH  have detected 1,281 confirmed Omicron cases, comprising 1,048 imported cases and 233 local cases. This makes up around 18% of our local cases in the last week.
Current Measures Will Most Probably Persist Even During Chinese New Year
Finance Minister and Co-Chair of the MTF said that with an impending wave of infections due to the Omicron variant, group sizes for gathering and dine-in will most probably remain at the current five as he could not imagine the wave to be over by then.
In fact, that might be the period when the Omicron cases are rising.
…But Why New Year Can Have Party at Clarke Quay?
Of course, Mr Wong goes to TikTok every hour and knows about the massive countdown party.
As for that, it was obviously not planned, and the authorities are now working to identify the offenders. He said, "Such actions are not acceptable, especially when we are still in the midst of a pandemic… We are reviewing CCTV footage to identify the culprits. These people will be called in for interviews, and enforcement action will be taken against those who have breached the rules."
Changes in 1-2-3 Health Protocol for Low-Risk Individuals
Lest you're unaware, this is the current arrangement should you be tested positive for COVID-19 with an Antigen Rapid Test (ART) Kit.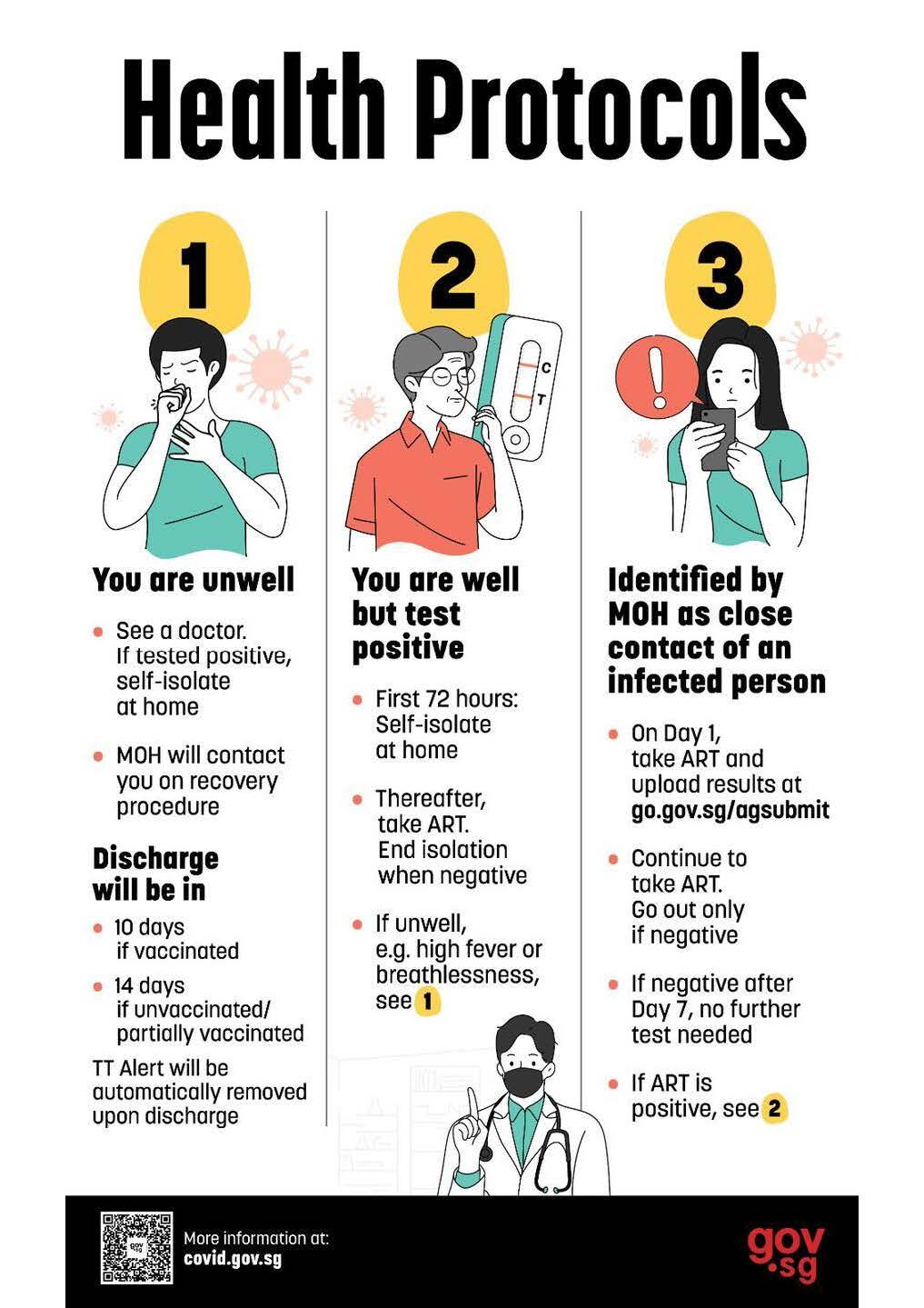 This applies even to Omicron cases.
From tomorrow (6 January) onwards, there will be a slight change.
From tomorrow onwards, doctors can make an immediate diagnosis via a healthcare-administered antigen rapid test (ART) and continue to care for them under Protocol 2 for low-risk individuals with mild symptom.
The patient will be given a 5-day Medical Certificate (or longer, depending on clinical discretion) to cover the expected period of rest needed for the symptoms to resolve. If symptoms worsen or do not improve with time, the individual is advised to return to the doctor or call 995 in emergency situations.
---
Advertisements
---
In addition, the patient will be required to self-isolate at home for at least 72 hours. Following which, if they feel well, they may exit self-isolation and resume normal activities upon a negative self-administered ART, similar to Protocol 2. Those who continue to test ART positive should continue to self-isolate and self-test daily until they obtain a negative ART result, or until Day 10 for vaccinated individuals or Day 14 for unvaccinated or partially vaccinated individuals, whichever is earlier.
Their close contacts will also receive a Health Risk Warnings (HRW).
Individuals who are assessed by their doctors as high risk (e.g. elderly, pregnant, immunocompromised status) or with significant symptoms (e.g. chest pain, shortness of breath, prolonged fever) will continue to be managed under Protocol 1 where they are required to undergo both ART and polymerase chain reaction (PCR) swabs and, if tested positive, will be issued an Isolation Order (IO) for 10 or 14 days, depending on their vaccination status.
Simply put, you can expect more people to stay home to recover.
Join our Telegram channel for more entertaining and informative articles at https://t.me/goodyfeedsg or download the Goody Feed app here: https://goodyfeed.com/app/
Three Vaccine Shots to be Considered Fully Vaccinated from 14 February
If you've booked a fancy restaurant for a Valentine's Day dinner, make sure you've taken your booster jab, too.
From 14 February onwards, to be considered fully vaccinated, you need to have taken your booster shot if it has been more than 270 days since your initial jabs. And this isn't a recommendation: it's a law, so if you've been procrastinating about the third shot, it's time to book your slot.
---
Advertisements
---
Read Also:
Featured Image: YouTube (CNA)
---
Gong Cha and Heinz have collaborated to come out with a Tomato Bubble Tea series. We tried them and died. Here's why: