---
Advertisements

---
Thailand boasts a variety of exotic foods, and you're free to eat whatever you want without people batting an eye.
Eating a bat, however, is not something that can go unnoticed. 
Thai Woman Arrested After She Livestreamed Herself Eating Bat Soup
It's not uncommon to see many turning to the internet for online fame, and eating on camera has made many mukbang stars blow up. Unfortunately, it blew up in one Thai woman's face after she consumed a bat on a YouTube live stream. 
Phonchanok Srisunaklua, a teacher, had filmed the epicurean adventures on her YouTube channel, Gin Zap Bep Nua Nua.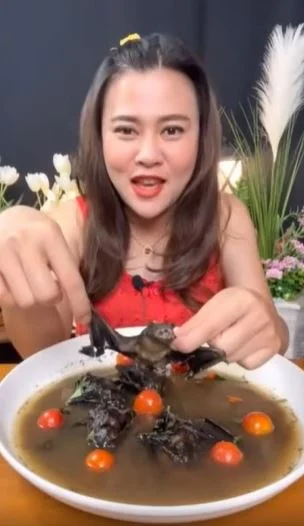 In the video, she is seen taking the bats from the soup containing bats and cherry tomatoes, and then ripping the bats apart and dipping it into a dipping sauce.
The video has already been deleted but was reposted to Facebook. 
She deems bat meat akin to rat meat and calls on her viewers to try, saying that it was delicious.
After finishing the flesh, she moved on to the bones and said they were "so soft".
Food that Makes you Brood
By consuming the bat, she unknowingly broke the wildlife protection law and Computer Crimes Act. 
She was suspected of possessing protected wildlife carcasses in violation of the nation's Wildlife Conservation and Protection Act (2019), and has since been arrested by the local authorities from the Phon Kaew station in the Sakhon Nakhon province in northeast Thailand. 
Additionally, for violation of the Computer Crimes act, she is liable to face up to five years in prison and/or a fine of up to 500,000 baht (S$19,181). 
On the internet front, she has received much backlash, not only for consuming the protected animal, but also for putting her health at risk. Many criticised her for being a potential burden to the doctors and the nurses just by putting herself at risk.
"If you get sick, don't bother burdening doctors and nurses," a user commented. 
Bats are infamous for sparking the COVID-19 pandemic and where she resides, the bats carry the closest relative to the virus that caused the pandemic (Sars-Cov-2-Virus). 
Her Apology
In response to the public's heat she has posted another video on Facebook issuing an apology to "society, doctors, journalists, colleagues, family, and friends."
Owing to the fact that she was "not thinking" enough, she has clarified that she had no ill intentions when doing this and has promised to not consume bats again in future. 
Read Also:
Featured Image: Gin Zap Bep Nua Nua

Fresh grads, you don't need any experience to earn up to $4,200 with this "secret":
Read Also: