---
Advertisements

---
If BeReal was about having a realistic glimpse into your friends' daily lives, then this new app, Bondee, takes it up a notch.
So you've been reading about Bondee and are wondering what is Bondee?
If you've only 30 seconds, you can watch this video instead:
If not, here are five facts about this app.
Bondee is Made in Singapore
Here's a shocker: Bondee's actually made in Singapore. It was launched by a Singapore-based tech startup, Metadream.
Just like how Bytedance took Musica.ly and rebranded it, Bondee follows Metadream's acquisition of complete intellectual property rights to True.ly last year.
The game presented a simulated virtual world with customizable avatars, much like the metaverse, except on phone.
Decorate Everything  
The Avatar outfits selection goes hard, and I meant it's fashionably up-to-date with current trends, especially among the younger generation.
But the decoration doesn't stop at your avatars. You'll have to also decorate your virtual living space, which is essentially just a cube size room. It's a great extension for your personality to shine through, beyond a simple get-up.
I mean, how is that sufficient enough for the whole world to know that your personality trait is worshipping Jesus 24/7?
Hang out with Friends in Real Time 
So, what is it really about?
Simple: the app encourages friends to hang out in their rooms with their avatars.
In fact, you can even leave some Post-it notes on their wall if you want to compliment their decorations. Or call out questionable decorations.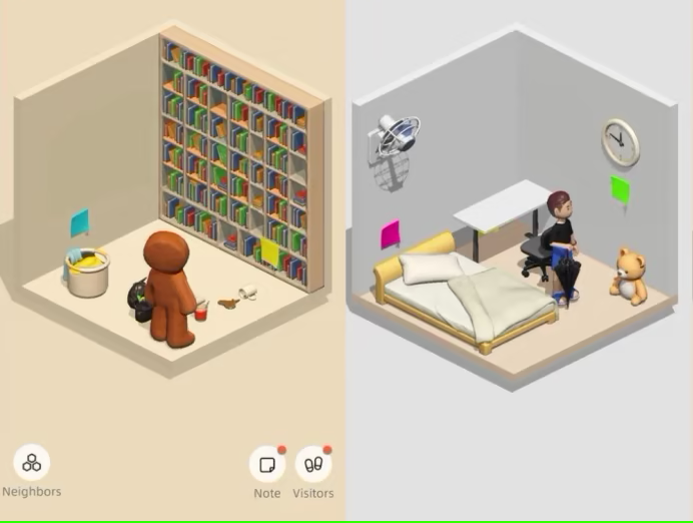 And there's more.
Set Sail and Explore
Called Bondee floating in-game, the function provides users a chance to set sail on a boat and throw drift bottles, and in turn receive bottles thrown by others. Users can explore numerous uncharted areas and even take part in distant faraway events.
Sometimes, you might even meet a random person while floating around. Go ahead and explore a whole new world for a new fantastic point of view. No one to tell you "No", or where to go, or say you're only dreaming.
Met a random person last midnight on Bondee while floating and we floated together. So cute! Same pa kami ng hair (except the color). ☺️ pic.twitter.com/0T6tIRqiVv

— Hannah 🌸 (@ShineHanChanAh) January 30, 2023
Pay For Features Soon
Currently, the app is free of charge, though users may notice that some of the outfits and accessories within the app are labeled with "limited free trial". It could hint at the app's plans to roll out premium paid features further down the line.
Relating to the paid features, just last month the app was hit with allegations that it leaked its user's credit card information, despite not collecting any financial details at the moment.
Metadream has since refuted those claims on its Instagram and reassured its users that the allegations are false and untrue since Metadream does not presently collect any financial information from its user, including their credit card details.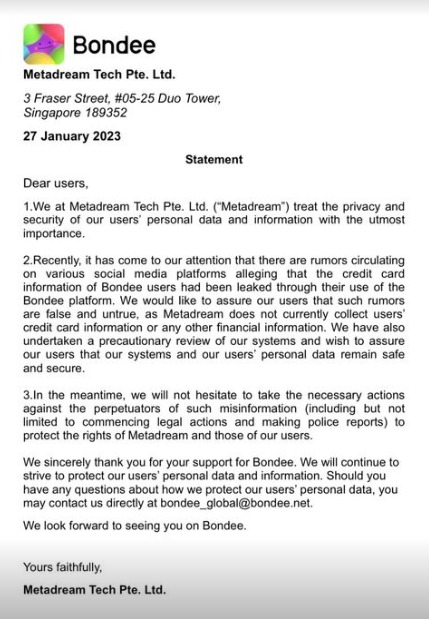 Join our Telegram channel for more entertaining and informative articles at https://t.me/goodyfeedsg or download the Goody Feed app here: https://goodyfeed.com/app/
Possible NFTs
Do you personally read the privacy policy when you tick the Agree box? Me neither, but thankfully, others do. Some eagle-eyed users have read Bondee's privacy policy and noticed Metadream's plans for NFT integrations sometime in the future.
It is mentioned that users would be able to buy B-beans using fiat money and exchange them for NFTs.
---
Advertisements

---
For reference, Bondee's own Privacy Policy page states that B-Beans will be used to purchase NFT products.https://t.co/e6NDOddX5K pic.twitter.com/qGT0HrZG9g

— Burhan (@BurhanPlays) January 26, 2023
In case you're missing out on why NFTs are heavily frowned upon, large protests against their usage stem from criticism of how NFTs have to rely on mining the blockchain.
This generates a significant amount of energy, which is obviously bad for the environment and especially so with climate change.
With Bondee being relatively new in the market, it's hard to determine what direction the app will go from here.
For now, let's enjoy pestering and stalking what your friends are up to.
Read Also:
Featured Image: Bondee / Tiktok (@vivianvj_)

Fresh grads, you don't need any experience to earn up to $4,200 with this "secret":
Read Also: