---
Advertisements

---
Lest you're not aware, while parents' wallets got lighter during the Chinese New Year period, PHV drivers' wallets got heavier.
Since Singapore's reopening, demand for private-hire transport has soared, and as many drivers have left the industry since COVID-19 hit, there's now a lack of drivers.
With high demand and low supply, prices of private-hire have increased drastically.
You can watch this video to understand more:
View this post on Instagram
And when the first CNY without restrictions fell during this period, you can bet that prices would rise even more.
With the non-stop rain, it's no surprise that a trip in the last few days could cost three times more—throughout the day. You'd agree if you've tried to call for one during the first days of CNY.
It's therefore no surprise to hear that private-hire drivers are earning big bucks.
But over $5,000 in seven days?
That seemed too far-fetched.
How about $5,000 in seven days before the CNY period?
That seemed like a fantasy.
However, a Facebook post appears to suggest that it's possible, and other drivers are chiming in, with some saying that it is, indeed, possible.
Here's what happened.
Grab Driver Allegedly Earned $5,227 in 7 Days & Here's The Secret
About two days ago, an image showing a Grab driver's earnings in seven days, from 9 January to 15 January, went viral.
The image shows that the driver earned a whopping $5,227.82 after deducting Grab's commission.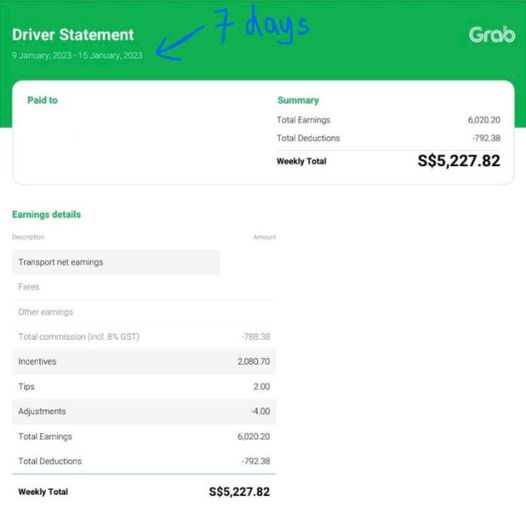 For some reason, the total fare earning is missing in the image, but with a commission of $788, his total fare earning is probably at $3,940 or more, as he might be getting the Streak Bonus, whereby the commission payable to Grab is much lower.
This means he's clocking at least $562.85 in fare earnings (before commission) per day—which, actually, is pretty doable.
But how did he get a whopping $5,227.82 in seven days?
An incentive of $2,080—which is rare.
But still, possible.
---
Advertisements

---
Other Drivers Explained How He Did It
According to a Facebook user, it's possible to get that incentive through an incentive program whereby drivers will get 1.x times the amount for the previous week's earnings.
Based on his calculation, the driver would need to drive 10 hours a day during the weekdays, and 12.5 hours a day during the weekend to get a $2,000 incentive, provided that he must have driven over 800 trips the previous month.

Driving over 800 trips the previous month would also entitle him to pay a much lower commission.
In other words, the driver is probably driving a lot, and Grab is incentivizing him to drive more.
Some other drivers agree since, based on maths, it's humanly possible.

The question is…are you willing to do it at the expense of your health and your family time?
---
Advertisements

---
To know more about the dangers of being a private-hire driver, watch this to the end:
Read Also:
Featured Image: Shutterstock / Yaoinlove & Facebook

Fresh grads, you don't need any experience to earn up to $4,200 with this "secret":
Read Also: