---
Advertisements

---
Last Updated on 2023-03-07 , 11:09 am
If there's one thing no one wants to find in their furniture, it's bugs.
Unfortunately, it seems like multiple customers of the Swedish furniture brand IKEA have ended up with a few extra unwelcome visitors in their houses after purchasing various items from the brand.
Most recently, a woman found black bugs in a grey sofa she bought from IKEA and uploaded a video showcasing her experience to video sharing platform TikTok.
Yup, I can already feel most of us starting to feel like we've got bugs in our stomachs now.
Here's what happened.
What Happened
On Monday (6 February), TikTok user @qierrachoo uploaded a video to TikTok, exposing the creepy crawlies that were hidden within her IKEA sofa.
In the video, she showed the sofa that she bought before moving to show the bugs that had emerged from the sofa.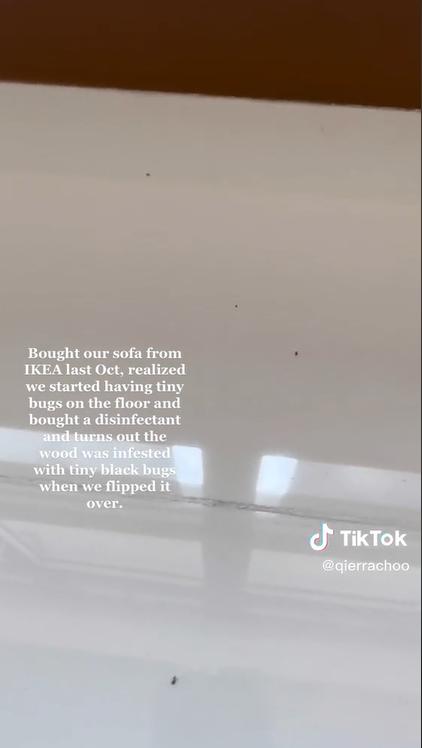 Nope, that's not specks of black dust on your phone screen.
According to @qierrachoo, she bought the sofa in October of last year.
She added that she bought a disinfectant but later found out that "the wood was infested with tiny black bugs" after flipping the sofa over.
Additionally, she mentioned that the bugs have since spread "all around [her] house and to [her] other wood [furniture]" and that she has called IKEA thrice to try and resolve the issue.
However, IKEA told her that they could only collect the sofa from her in two weeks.
IKEA's Response
When responding to The Straits Times yesterday (8 February), a spokesperson from IKEA reassured customers that all of the brand's natural products undergo treatment before they are packaged and distributed.
That said, "bug issues" may still arise from various steps of the manufacturing or packaging process and can be hard to track.
Various factors that might contribute to the bug issues include "supplier or manufacturer premises, shipping containers, ports, external warehousing or other areas".
The spokesperson added that the supplier may have caused the issue, but the brand has nonetheless started an internal investigation.
The internal investigation will include a review of the sofa range's packaging.
Issue With @QierraChoo Settled
As for the issue with @qierrachoo, the spokesperson revealed that IKEA has since settled the issue with her after contacting her on Tuesday (7 February).
According to the spokesperson, she first contacted IKEA on 30 January.
Apart from that, the spokesperson also mentioned that the sofa that @qierrachoo bought was the Parup sofa, which has two- and three-seater models.
---
Advertisements

---
If other customers who have purchased the same sofa model have experienced insect infestations, they can bring the affected pieces to an IKEA store for a full refund.
Alternatively, these customers may also contact the company's customer service.
No Insect Infestation at Stores
As for IKEA stores, the spokesperson confirmed that the company carries out checks and audits every month.
Pest control protocols are also conducted in their retail floors, warehouses, restaurants and bistros.
According to the spokesperson, no insect infestation incidents were reported in IKEA's stores.
Since the incident, IKEA Singapore has also contacted IKEA Global for support.
---
Advertisements

---
Join our Telegram channel for more entertaining and informative articles at https://t.me/goodyfeedsg or download the Goody Feed app here: https://goodyfeed.com/app/
Not the First Time that Bugs Have Been Found in IKEA Furniture
And it seems like this isn't the first time that IKEA customers have found unwanted surprises in their furniture.
Just last December, a customer found out that the Knipsa storage baskets that she bought were infested with insects.
After being told by IKEA that the insects "came from her house", she decided to film a TikTok video of herself knocking the baskets against the floor of IKEA's showroom.
Insects scurried out of the basket afterwards, proving her point that the insects came from the basket and not her home.
Other netizens also shared their experiences of finding bugs in other IKEA furniture items, such as bed frames.
---
Advertisements

---
After the incident, IKEA Singapore removed the Knipsa basket, which is made of woven seagrass, from its outlets and online store.
Read Also:
Featured Image: TikTok (@qierrachoo) + IKEA Singapore

Fresh grads, you don't need any experience to earn up to $4,200 with this "secret":
Read Also: