---
Advertisements

---
You may have heard of the survey ruse that a man in Singapore has been using for almost a decade, to collect the information of schoolgirls under the guise of an "educational survey".
He would wait outside schools and ask girls who were usually in their teens to participate in his survey, only to stalk and harass them over text subsequently using the contact number he collected from them.
This time, a TikTok user alerted others about a man she spotted along near Potong Pasir MRT, preying on girls who were returning their graduation gowns at Serangoon Broadway located along Serangoon Road.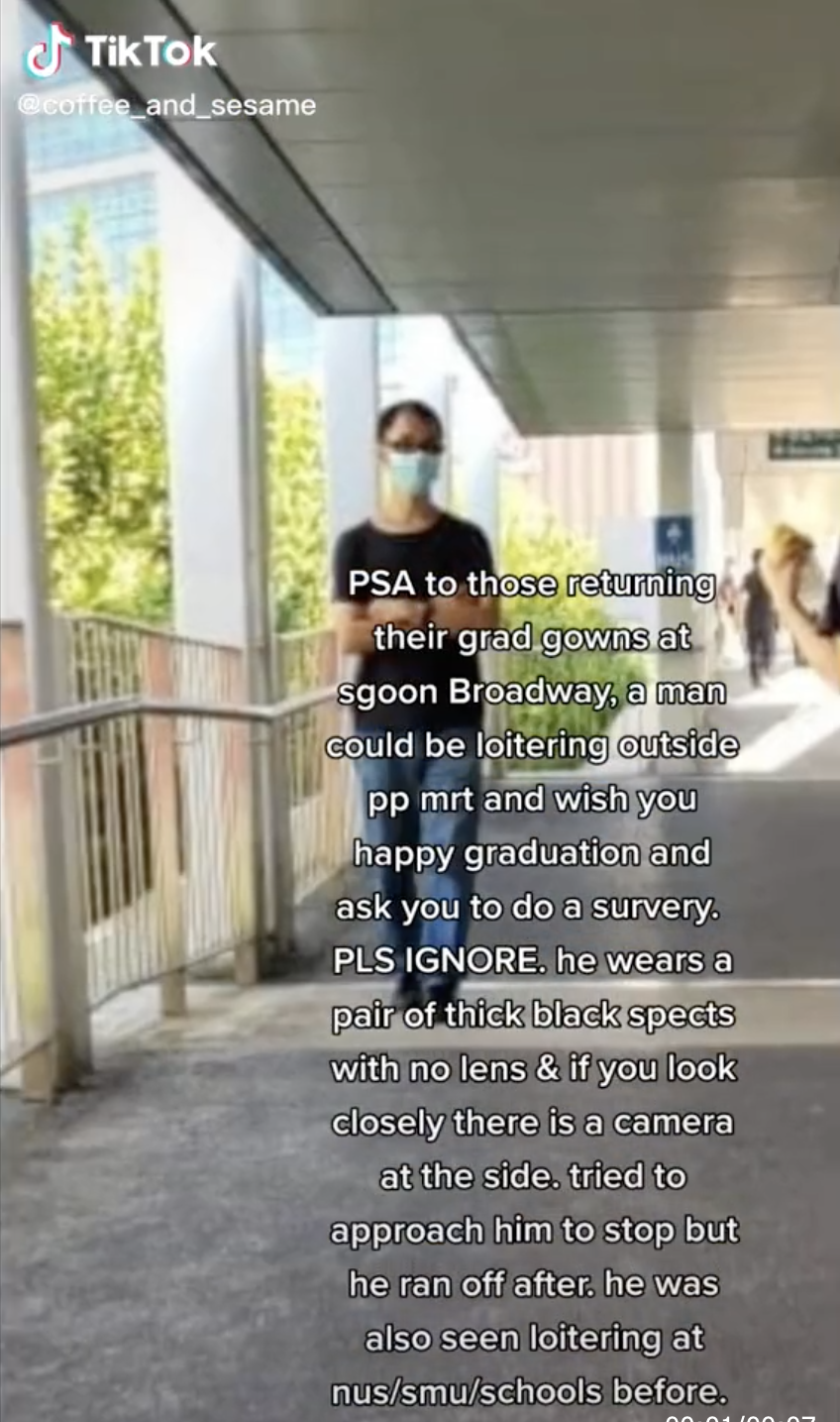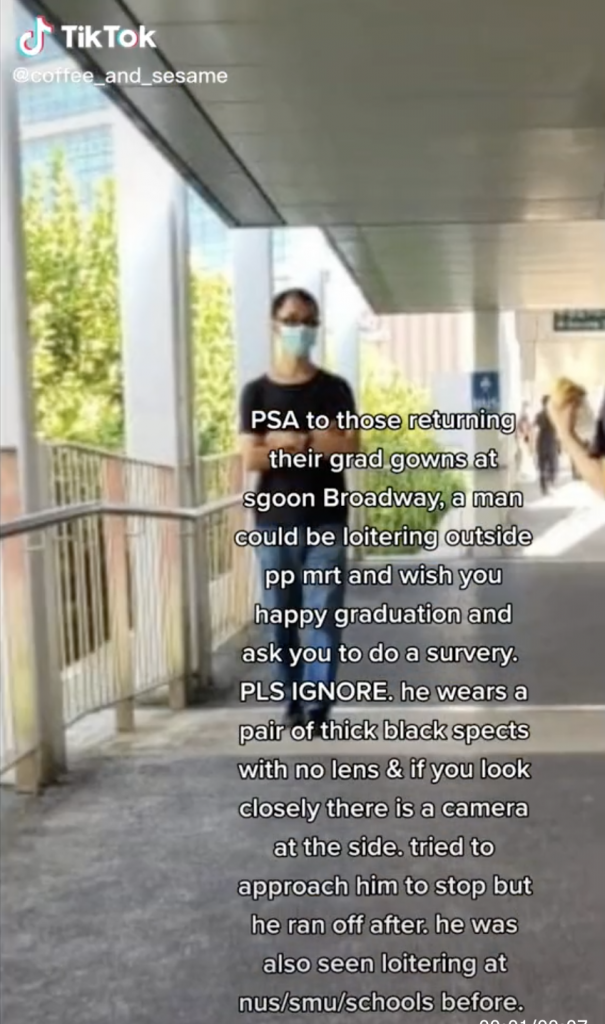 The video, posted four days ago (21 August), has received over 151k views and dozens of comments from girls sharing their similar experience with the man.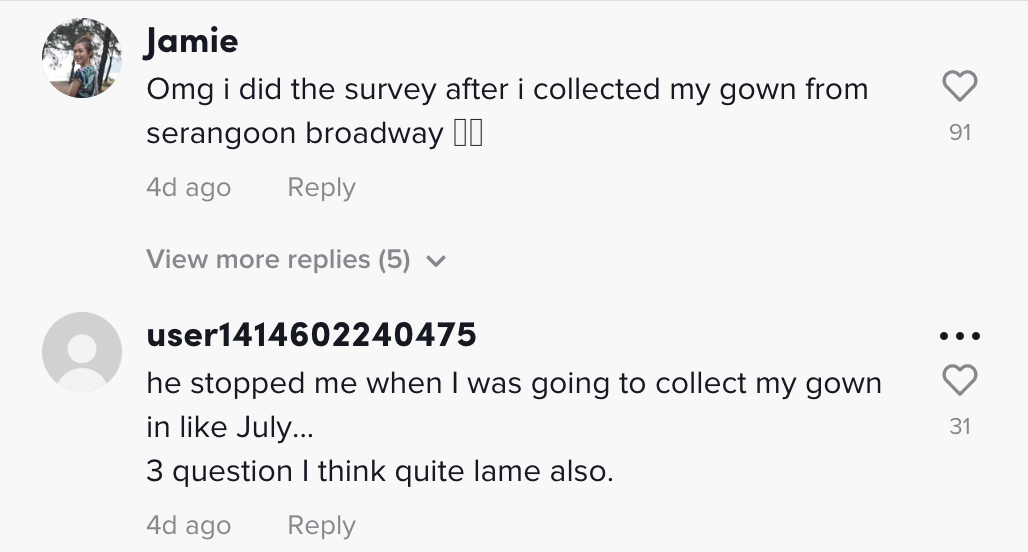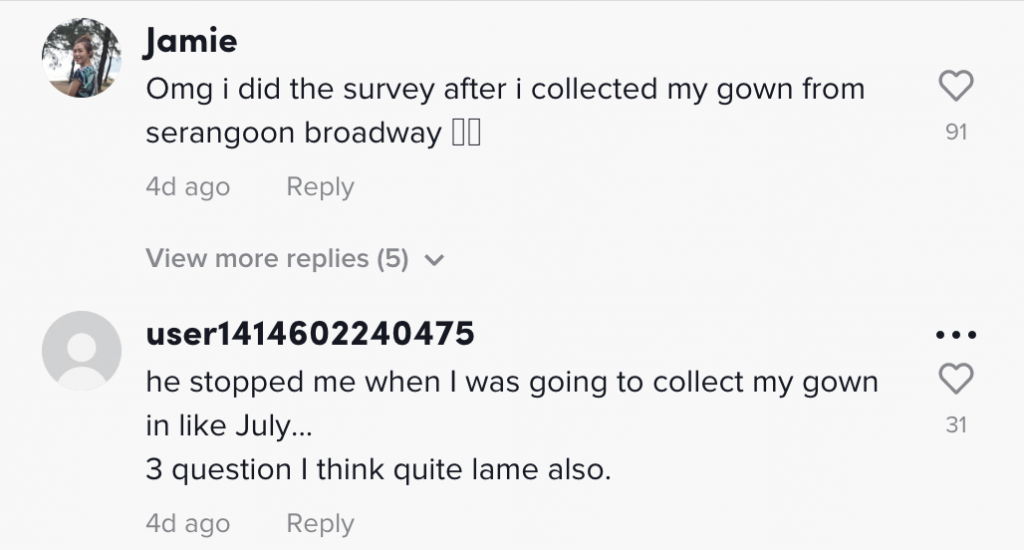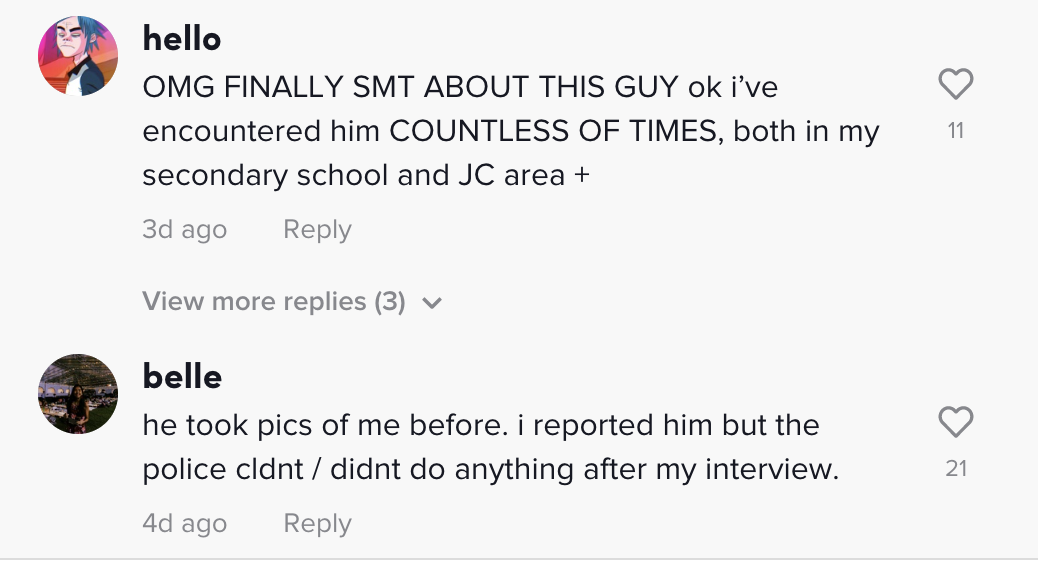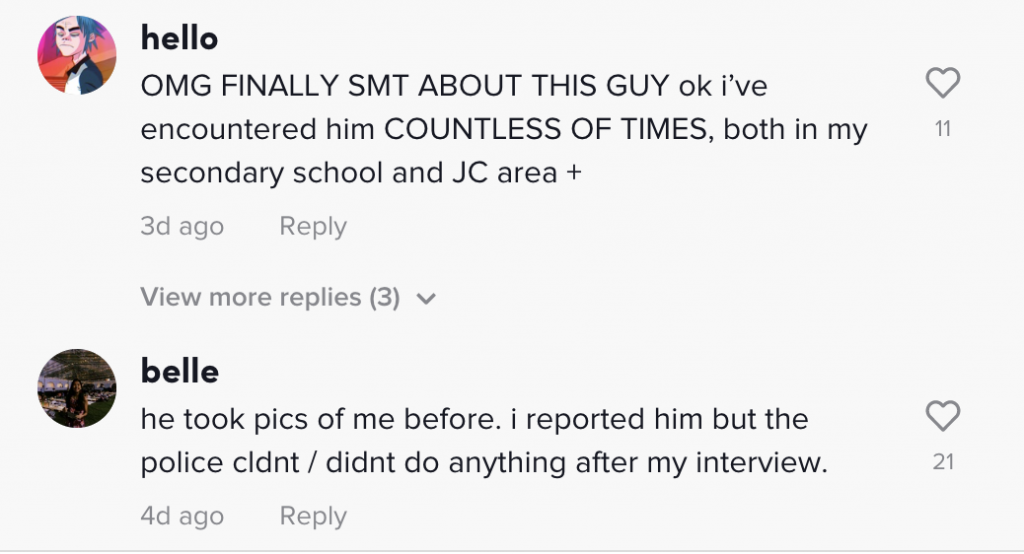 Apparently, girls have encountered him from all over the island at various schools, but nothing productive seems to have been done to put a stop to the man's predatory actions.
The video even attracted the attention of one user, who made a response video recalling her experience with a man two or three years ago outside her university, whom she thinks might be the same person.
The man had reportedly been waiting outside for female NUS freshmen who were doing their pre-matriculation health checkup.
He asked her (lame) questions like "Are you planning on joining an orientation camp?" or "are you planning on becoming an Orientation Group Leader?" in which she answered unsuspectingly, thinking it was part of an official school-related survey.
A few months after, she received a text from the stranger: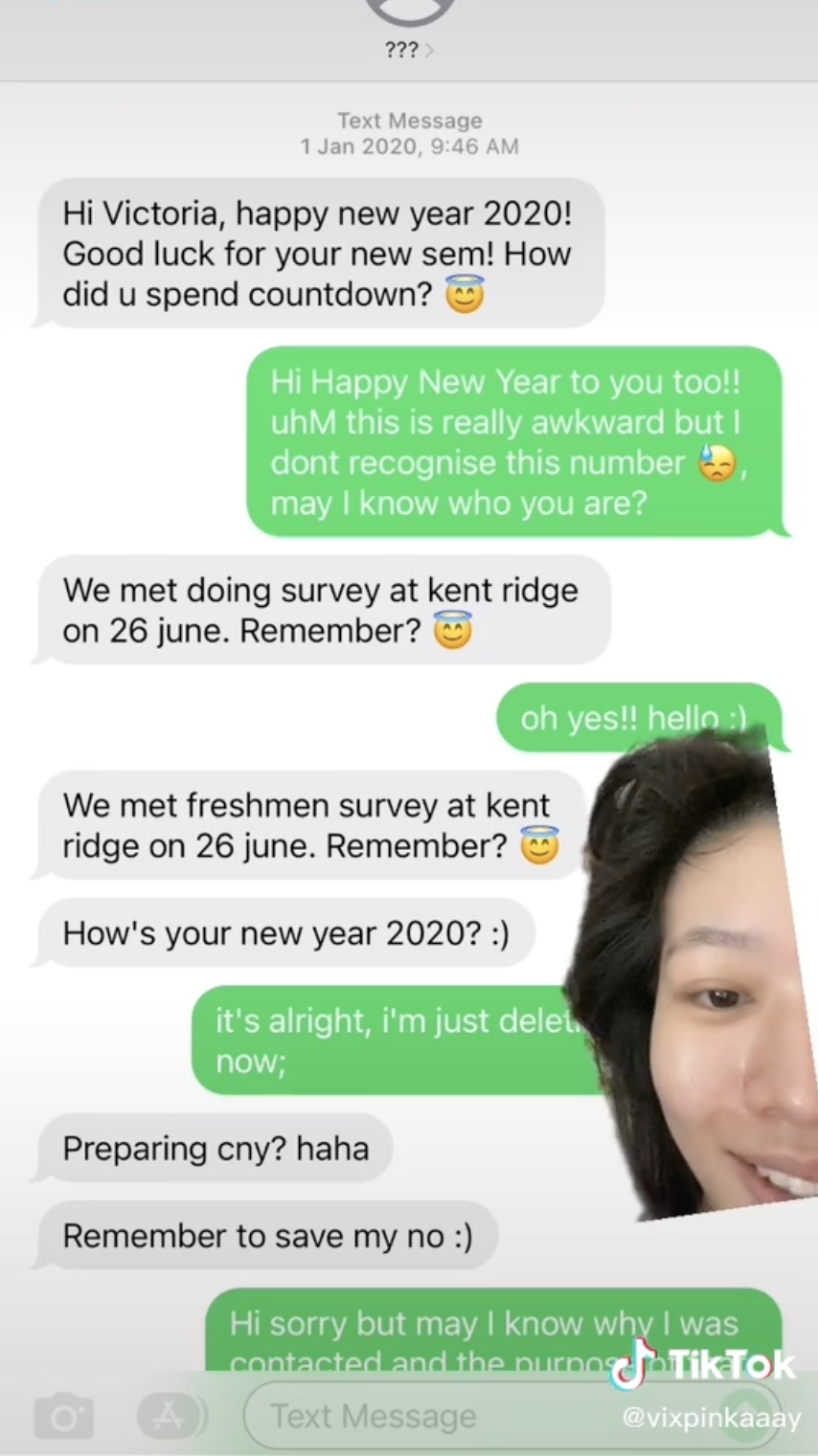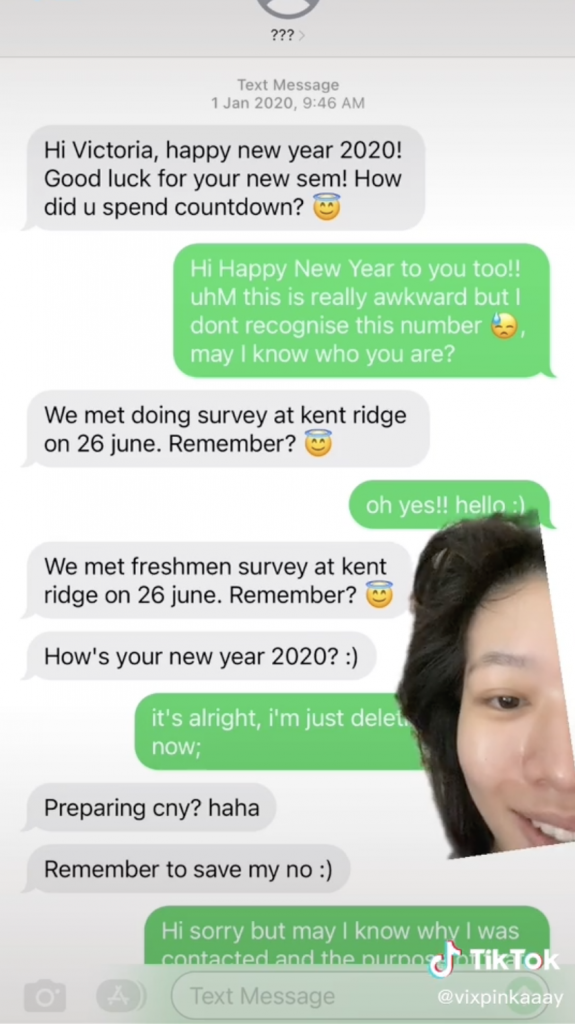 I'm sorry he really just remind her to save his number after not having any contact for six months?
Also, since the fella didn't even provide a fake name, what was she supposed to save it as?
---
Advertisements

---
"Kent ridge Creep"?
"Random Survey Uncle – Don't Answer"?
The possibilities are endless.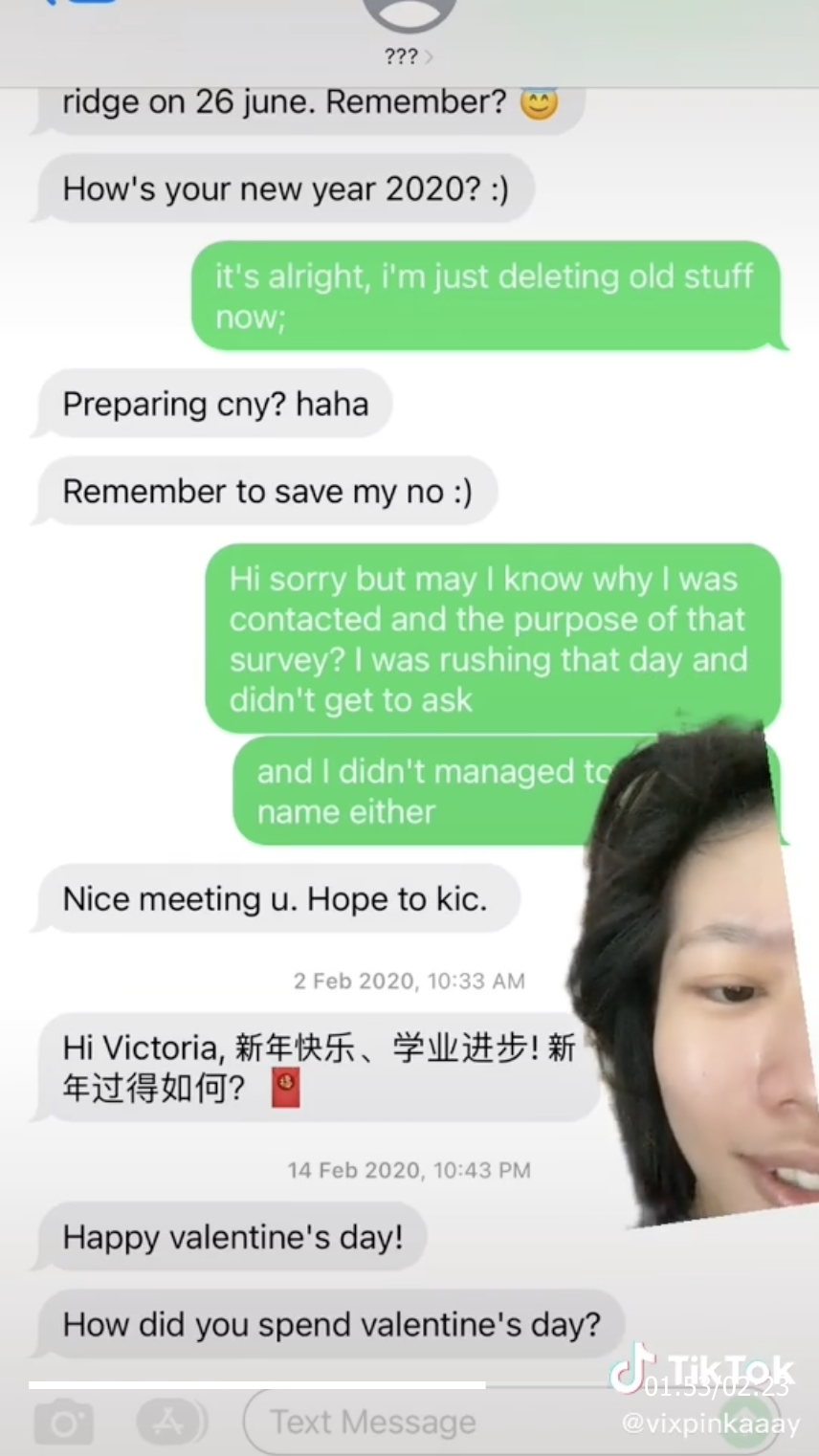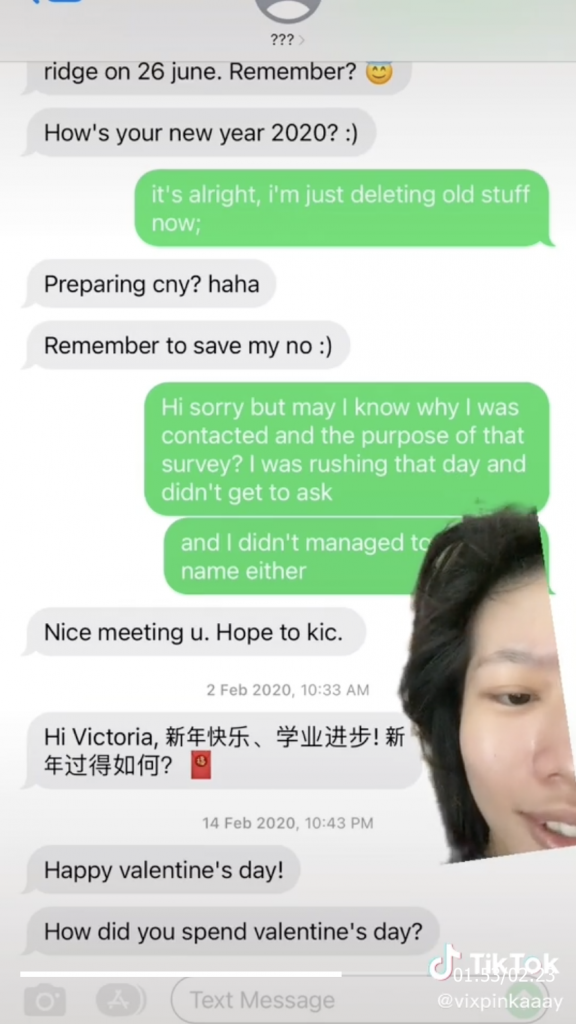 After growing suspicious from his random questions and occasion-related well wishes, the user, Victoria then asked for the man's name and his purpose of doing the survey. He then replied that it was nice meeting her and that he hoped to keep in contact.
C-R-E-E-P.
Not His First Rodeo?
While it is unclear if the man in the video is the same as the one that girls have reported in the past, this predatory scam has definitely been making circles for awhile now.
Back in 2019, a former insurance agent was jailed for his stalking behaviour, that was carried out in a similar way. He would approach female students outside multiple secondary schools and junior colleges to get their names, contact numbers and even home addresses.
The 43-year-old male, named Fong Poh Kuen, would then tail some of these students and take photos of them, even following one onto the bus and to her destination, unbeknownst to the victim. This led to her being unable to go home alone for fear of her own safety
At one point he even monitored a student who "caught his eye" from the time she was in Secondary 1 all the way until she went to junior college.
As a result, he was sentenced in the State Courts for three months in jail and fined $8,000.
---
Advertisements

---
If you see or know anyone that has come into contact with strangers operating this scam, please contact your local authorities accordingly. Or film a TikTok on it. I guess they both work.
Read More:
Featured Image: TikTok (@coffee_and_sesame, @vixpinkaay)

Here's why a 4-day workweek might finally really be possible in Singapore soon:
Read Also: