---
Advertisements

---
It has more twists and turns than a crank course in a driving test and is juicier than an uncooked tomato. Yes, I'm talking, of course, about the NOC saga.
With more allegations about Sylvia Chan's misconduct at NOC than stars in the sky, it was only a matter of time before she responded to each and every one of them, just as she said she'd do.
In case you missed it, Xiaxue, another influencer who's not exactly a stranger to controversy, uploaded a two-hour interview last night (24 Oct) with Sylvia on YouTube, where the NOC co-founder responded to the allegations levelled at her by former employees.
If you missed the video and don't have two hours to spare, you can read our summary of what was said here.
If you just came back from a holiday in Germany (without having to quarantine) and have no idea what I'm talking about, you should start here, move on to here, then come back here.
A few people formerly affiliated with NOC have responded to Sylvia's explosive interview last night, but before that, here's a brief recap of what was said.
What Sylvia Said
In the two-hour interview, Sylvia not only responded to some allegations, but made allegations of her own, mostly against her ex-husband and NOC co-founder Ryan Tan.
This included:
that she was hacked
that both she and Ryan took money from NOC for personal expenses, but aim to return the money by the end of this year
speculating that this NOC saga is linked to a legal dispute between the embittered divorced couple; she believes Ryan might want to exit NOC by letting her buy over his shares
that Ryan cheated on her one or two years after their marriage
that she has never cheated on Ryan during their marriage
that he would "consistently" send some NOC employees home, and allegedly confessed that he had crushes on a few of them
that Ryan sometimes records meetings (but she doesn't know if Ryan is the one who leaked the footage that is now online)
that the long working hours could be attributed to her having high expectations of her employees, as she's the one who has to answer to clients and that hours in the media industry is flexible
that the rental payment (funds which she allegedly took from NOC) for her "house" was not for her house per se, as the house functions as an office for NOC
that the reason her brother gets paid is that he has been working in NOC since its founding (she did not address the question of why she requested a pay raise for him so he could get a Singapore PR)
that the incident where a "talent" whom she supposedly set up intimately with a man in exchange for free courier services had nothing to do with her
At this point, your eyes must be falling out of your sockets. Well, keep them in for a little while longer, because some people formerly affiliated with NOC have responded to the interview.
Let's go through them one by one:
Edmond Ng
In the blog where a group of former and current NOC employees details all their troubling workplace encounters with Sylvia, one post alleged that Sylvia contacted a man named Edmond Ng (supposedly NOC's accountant at the time) privately with intentions to start her own brand of chilli sauces, "yet fronted and endorsed by NOC's Food King brand."
---
Advertisements

---
Screenshots of a conversation between the two were posted, allegedly showing that Sylvia purportedly had plans to use the company's funds for her own personal ventures.
The venture didn't go according to plan and Ng was allegedly not paid for his time. However, after having watched Sylvia's interview, Ng seemingly has other concerns.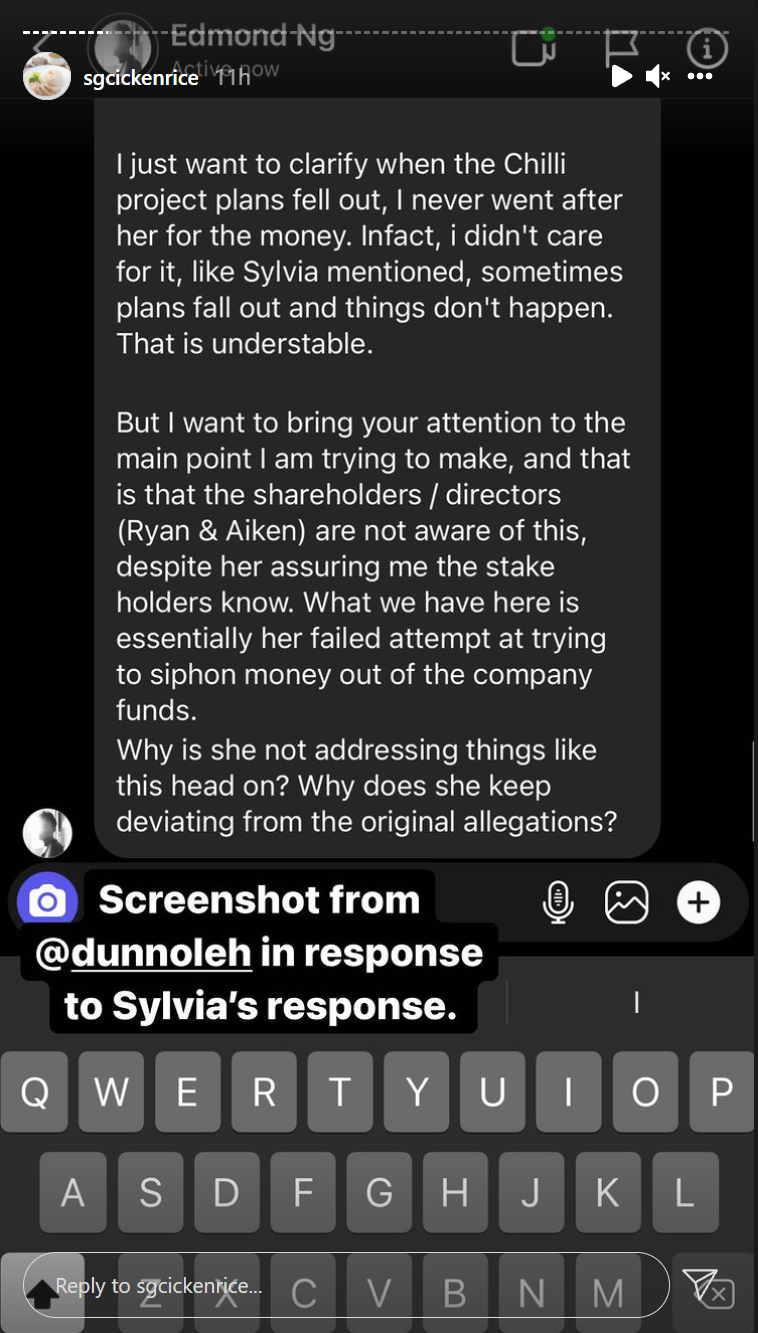 As you can see, Ng understands that business plans sometimes fall through. What irked him was that the shareholders and directors of NOC weren't aware of Sylvia's intention to use company funds for her personal venture.
"Why is she not addressing things like this had on? Why does she keep deviating from the original allegations?" he said.
As for Sylvia's revelation that Ryan often sent NOC female employees home, with the suggestion being that there may have been some romantic involvement, Ng noted that Ryan used to send him home all the time too.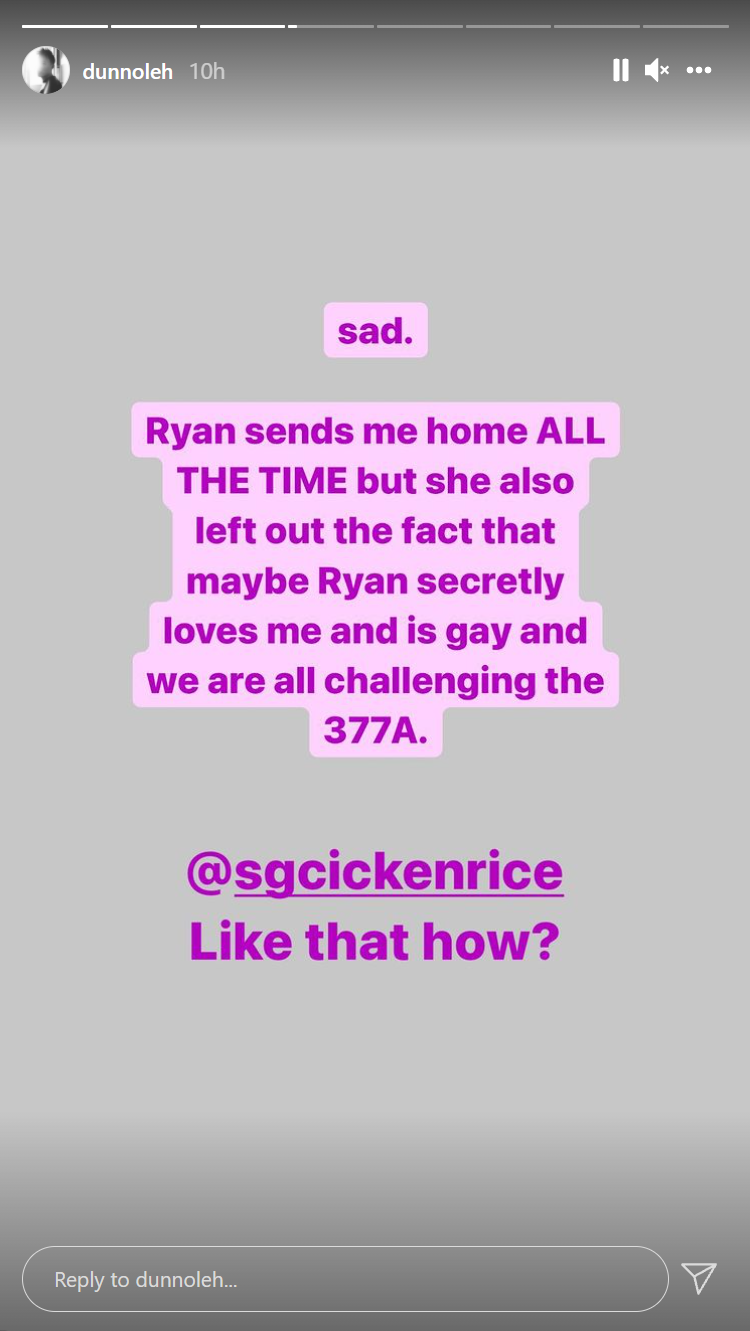 Felica Tung
In an exposé published by MS News just before the End the Silence blog, former lead executive producer of NOC Felicia Tung said there was a great deal of pressure on employees to deliver, and that there was bullying in the workplace that caused psychological distress.
She also added that Ryan used to be the mediator who kept the peace between Sylvia and their employees.
Around the time Sylvia's interview went out, Tung made the following comment on her Instagram stories: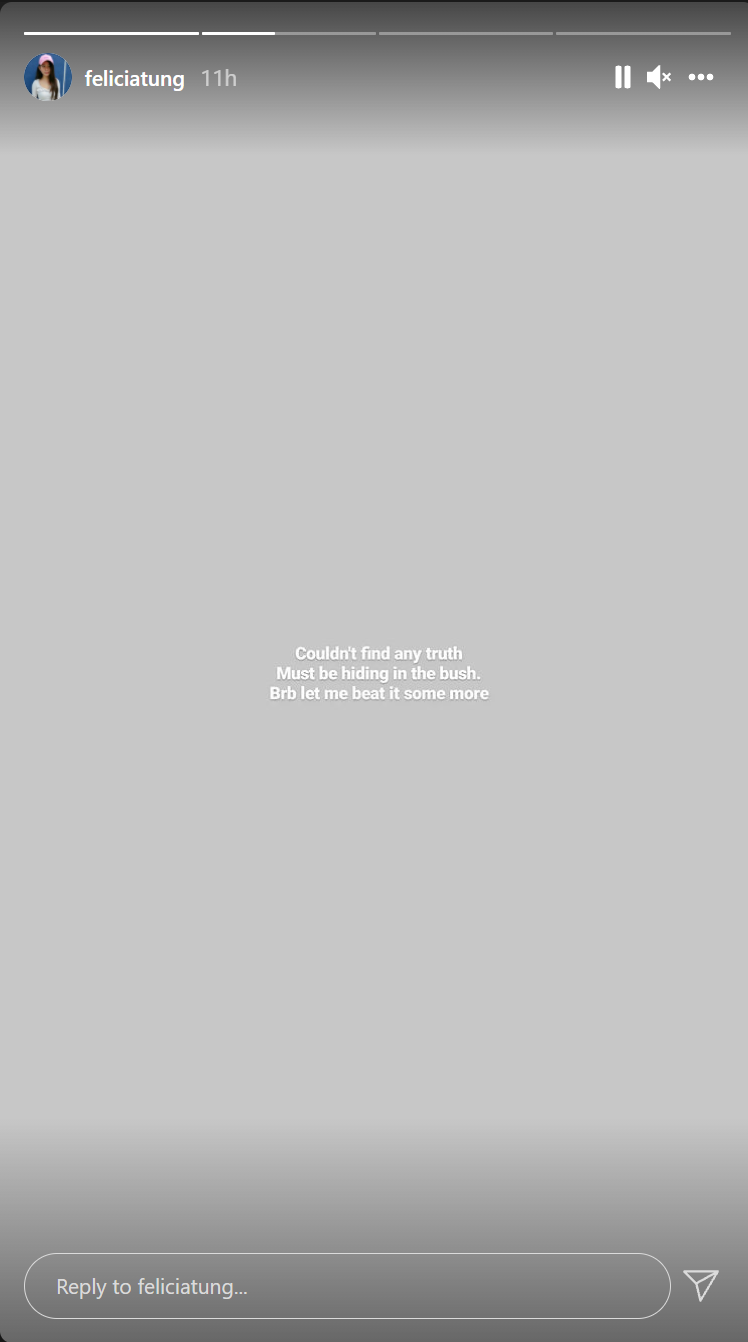 "Couldn't find any truth. Must be hiding in the bush. Brb let me beat it some more," she wrote. The lack of truthfulness is presumably in reference to Sylvia's responses in her interview with Xiaxue.
This was confirmed by a more direct story which soon followed:
---
Advertisements

---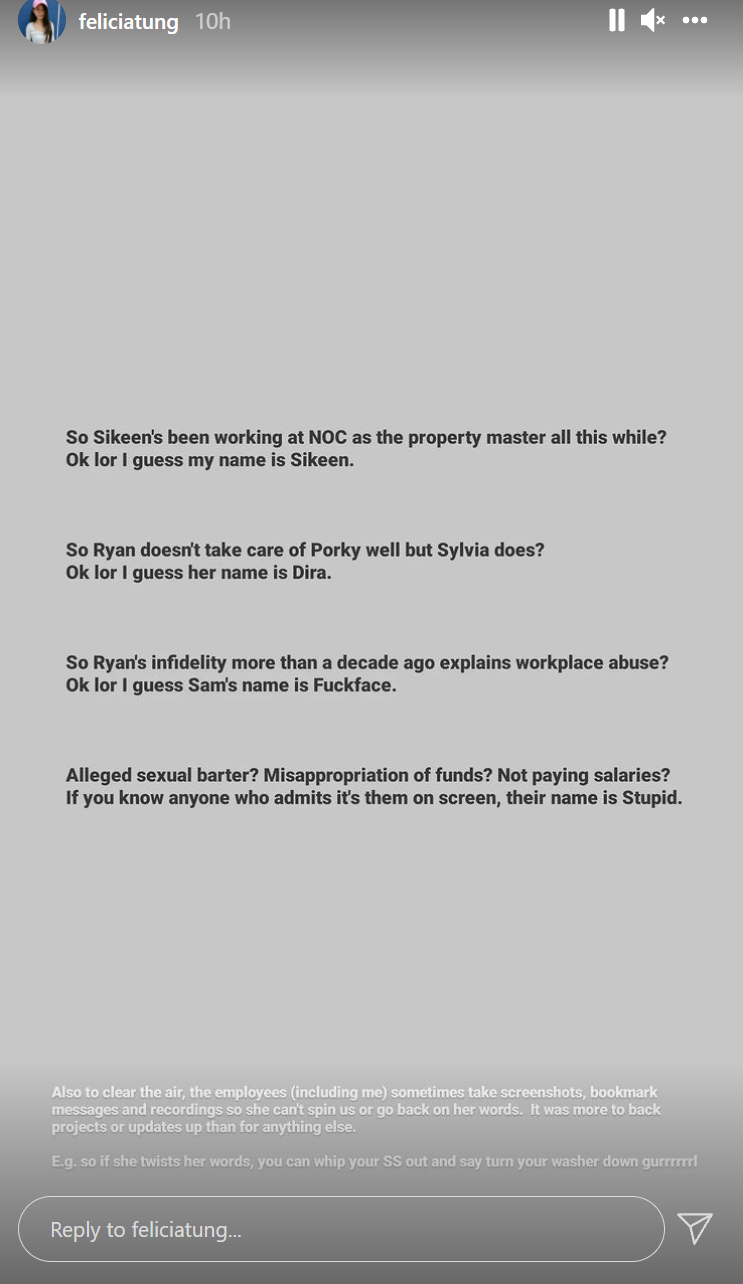 Aurelia
Aurelia, an NOC employee, also made her feelings clear on the way Sylvia responded to the allegations when speaking to Xiaxue.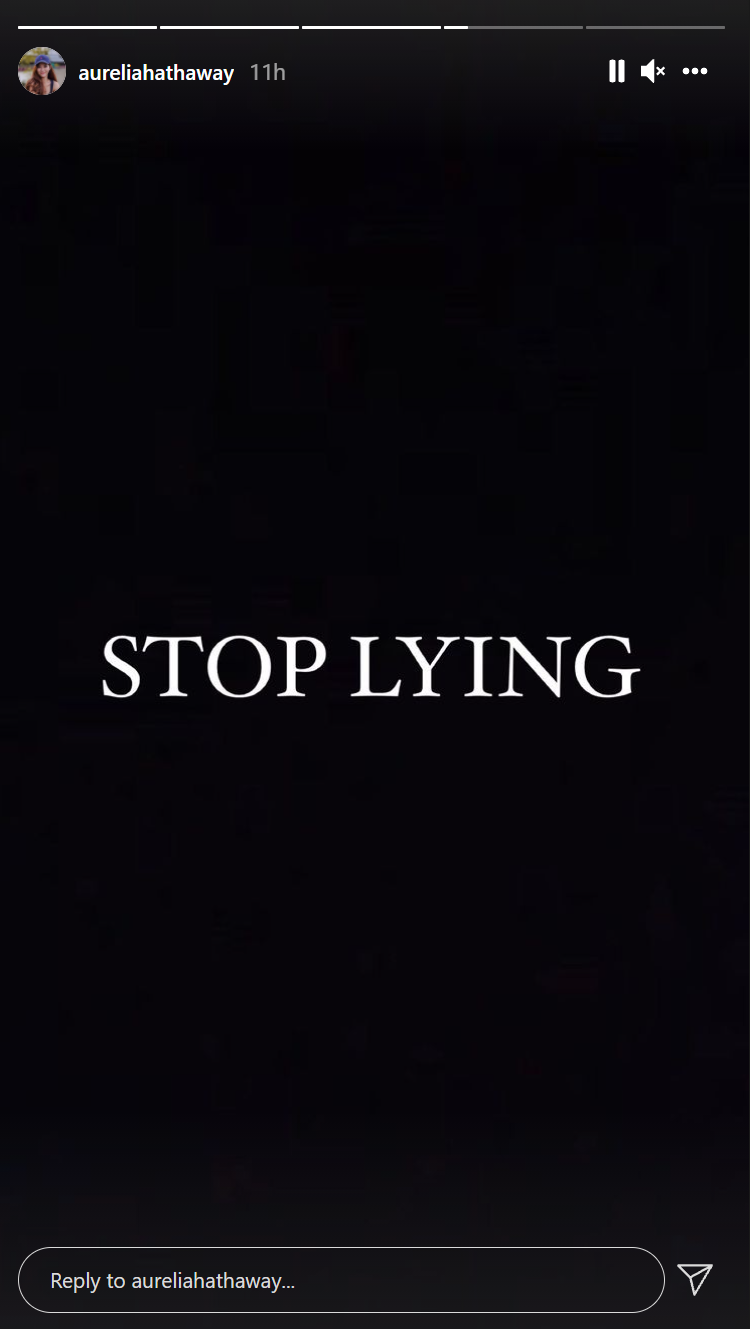 Rachel Wan
Rachel Wan, another NOC talent, said that Ryan has never made her or other girls at NOC uncomfortable.
"We are old enough to know if a man is trying to be funny with us, but not once did I ever feel uncomfortable with Ryan."
She also thanked Ryan for driving NOC employees – both boys and girls – home on some occasions.
As for her experience of working under Sylvia, Wan said she's still "traumatised" by it. However, she added that she's glad Sylvia got help.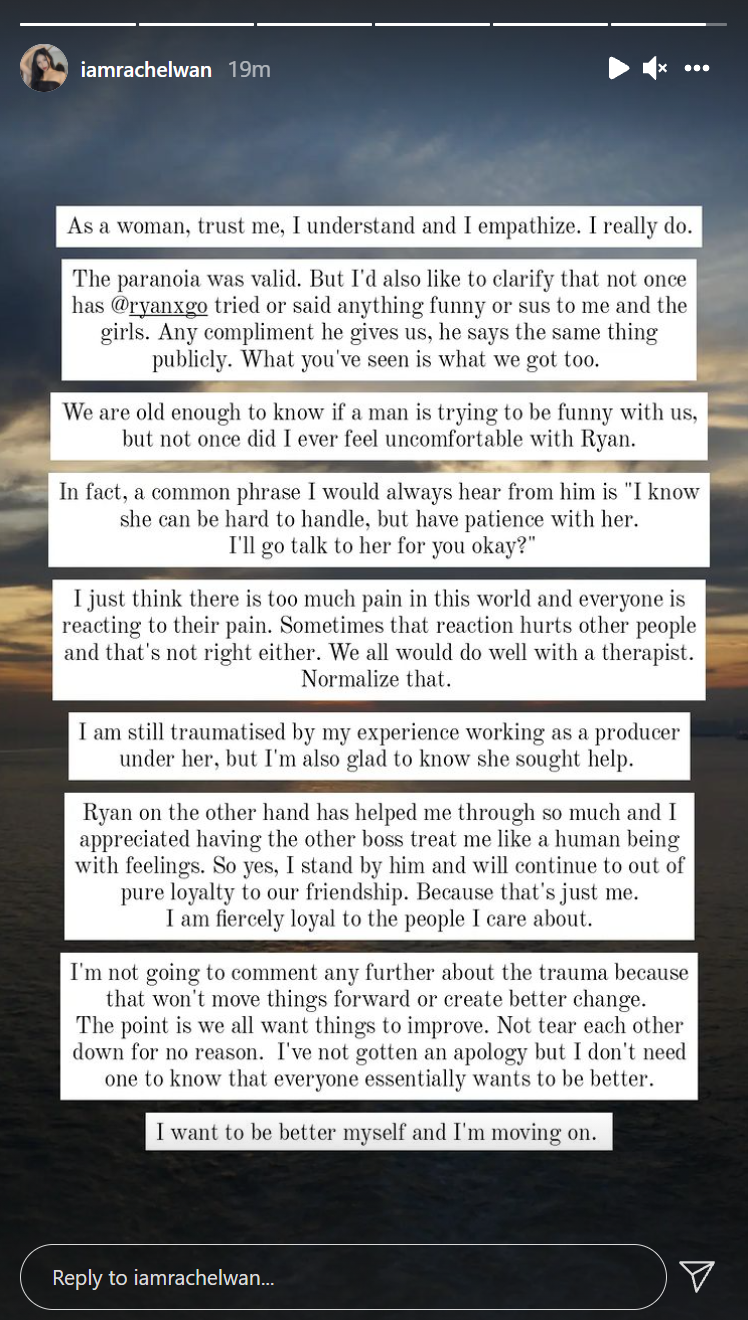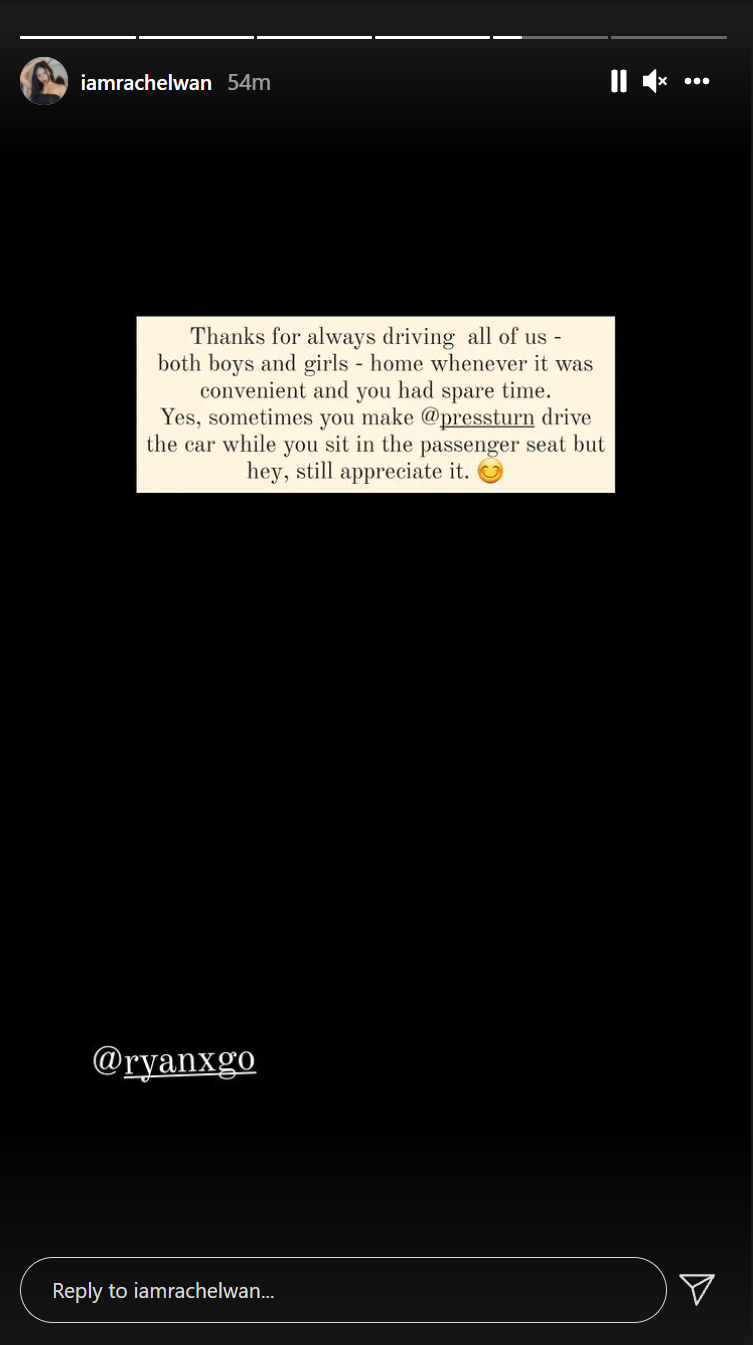 Isabelle Quek
A producer at NOC, Isabelle Quek, uploaded a story on her Instagram asserting that she's "not a homewrecker", presumably in response to allegations over Ryan's supposed romantic involvement with NOC employees.
---
Advertisements

---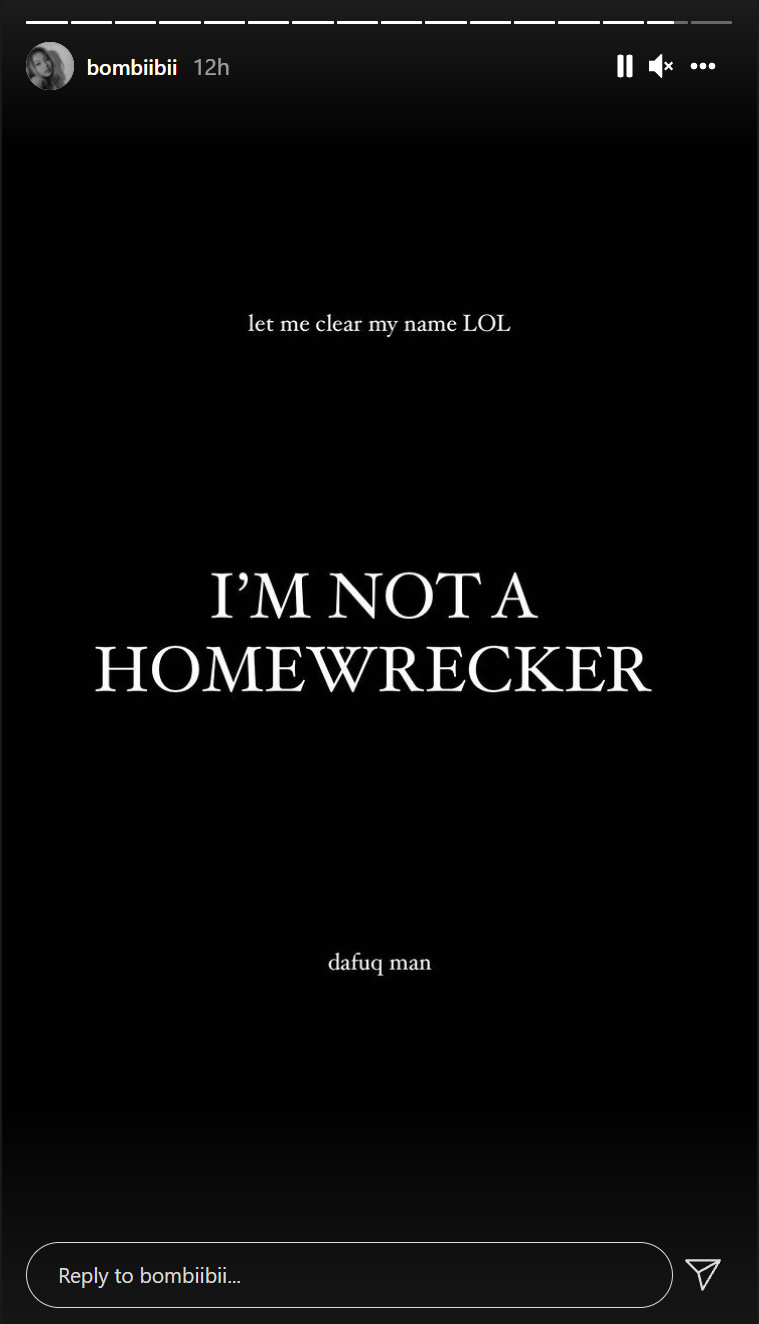 Other NOC empoyees had similar views on the matter: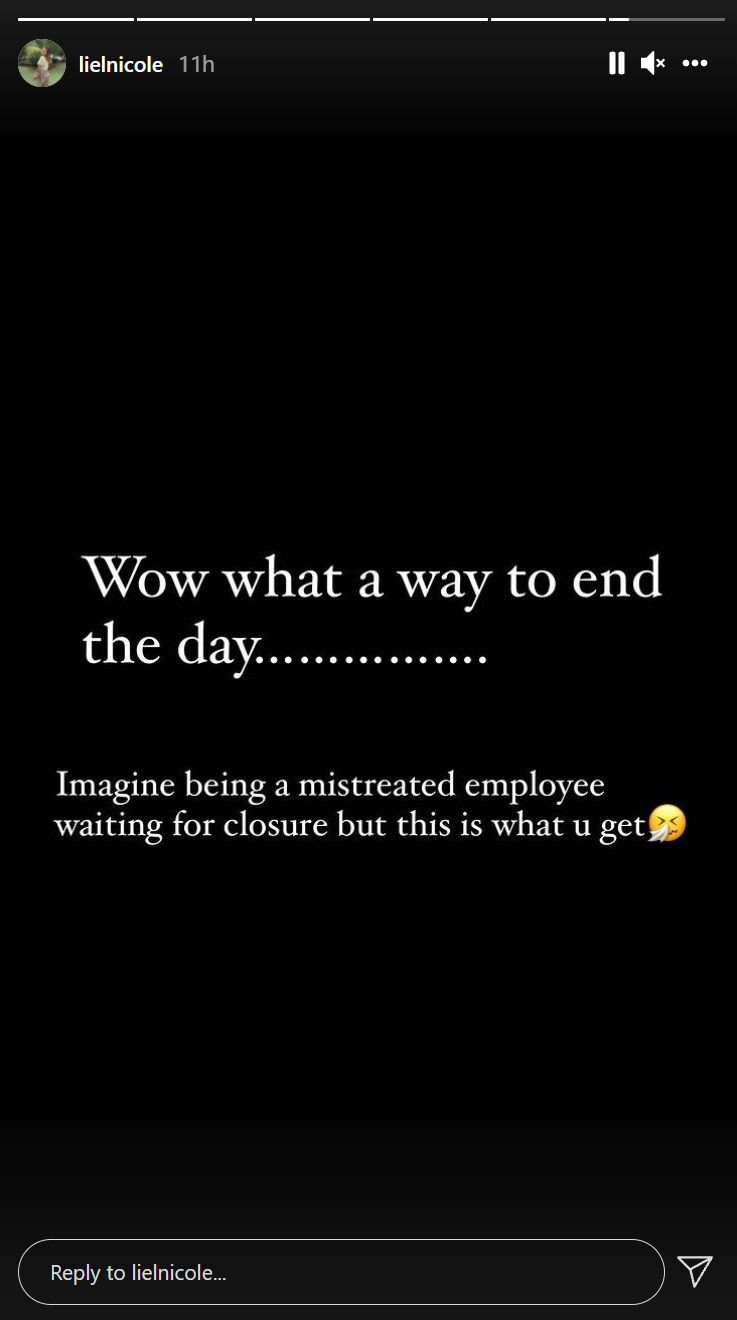 Ryan's purported girlfriend also chimed in: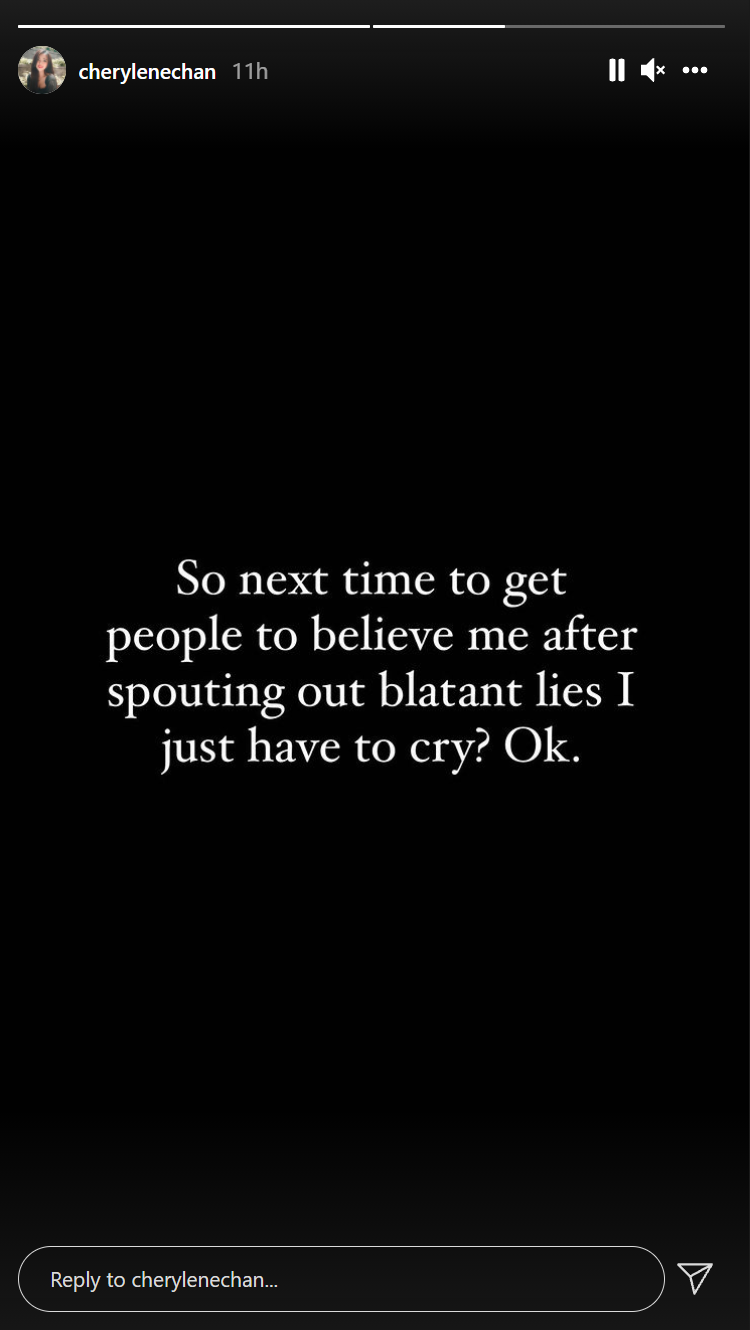 Xiaxue to Interview Ryan Next?
In one of her Instagram stories, Xiaxue addressed criticism that she only presented one side of the story in her interview with Sylvia.
"I've reached out to Ryan and told him I'm open to an interview," she said, though there's been no response so far from Ryan.
She also rubbished claims that the interview was skewed in any way to "save Sylvia".
---
Advertisements

---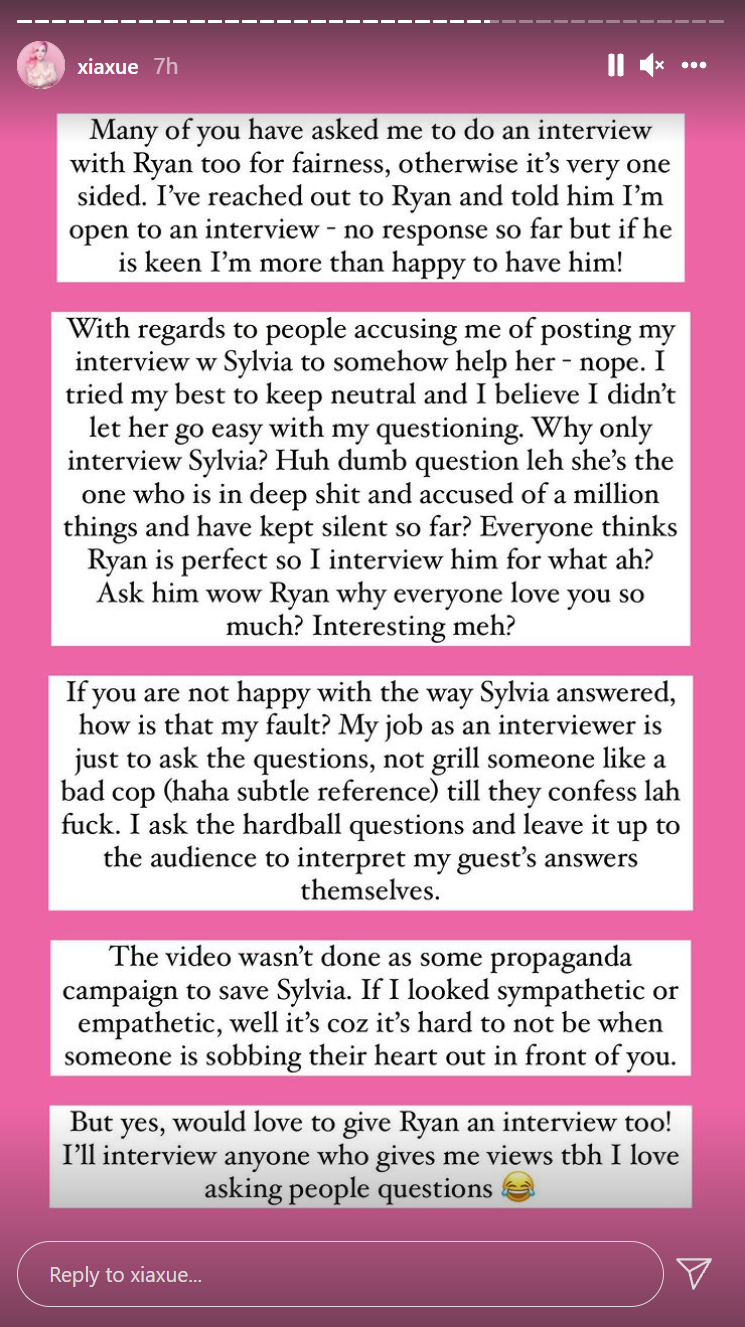 This was a rather long episode of the NOC saga, but if you still have popcorn left in your house, I'd advise you to keep some for later, because this saga has clearly only just begun.
Read Also:
Featured Image: YouTube (Xiaxue) & Instagram Stories

Singapore has nearly 6 million people now,and there's a big problem. It's not about overcrowding; it's something more serious:
Read Also: