---
Advertisements

---
Ask anyone these days, and they'll be able to tell you about the saga involving certain night owls that's been abuzz here.
With more seasons and episodes than a Netflix series, including a movie-length interview with Xiaxue, the public remains awaiting how this ongoing story will turn out eventually.
Many have been at the forefront of the saga besides the two main characters, Sylvia Chan and Ryan Tan, including ex-employees of the company who have stood out to speak against the alleged mistreatment and accusations they faced.
As for Samantha Tan, the winner of NOC's KNOCkout reality program who was caught up in the earlier fray of Sylvia's purported verbal abuse, all she wants is closure and systematic change.
And thankfully, only good news after good news have followed in her wake.
The Reasons She Left NOC
On 25 October, Samantha took to her Instagram stories to comment on the saga's latest development following Xiaxue's interview with Sylvia, hopefully for the last time, she wrote.
"I watched the video. I empathise with Sylvia. I can see and understand why she felt that way," she responded.
Samantha also hoped for Sylvia to receive the help she needs, saying that she also had good memories with her and wishes the best to her in resolving their personal issues.
She also shut down the allegations that Ryan acted "inappropriately" towards talents like herself, hoping he finds closure as well.
As for the reasons behind her departure, Samantha stated that it was the late and missing payouts, lack of transparency, and the loss of job opportunities and support that drove her to resign from NOC.
"We need to change things for the better, and I hope this is the start of it," she penned.
---
Advertisements

---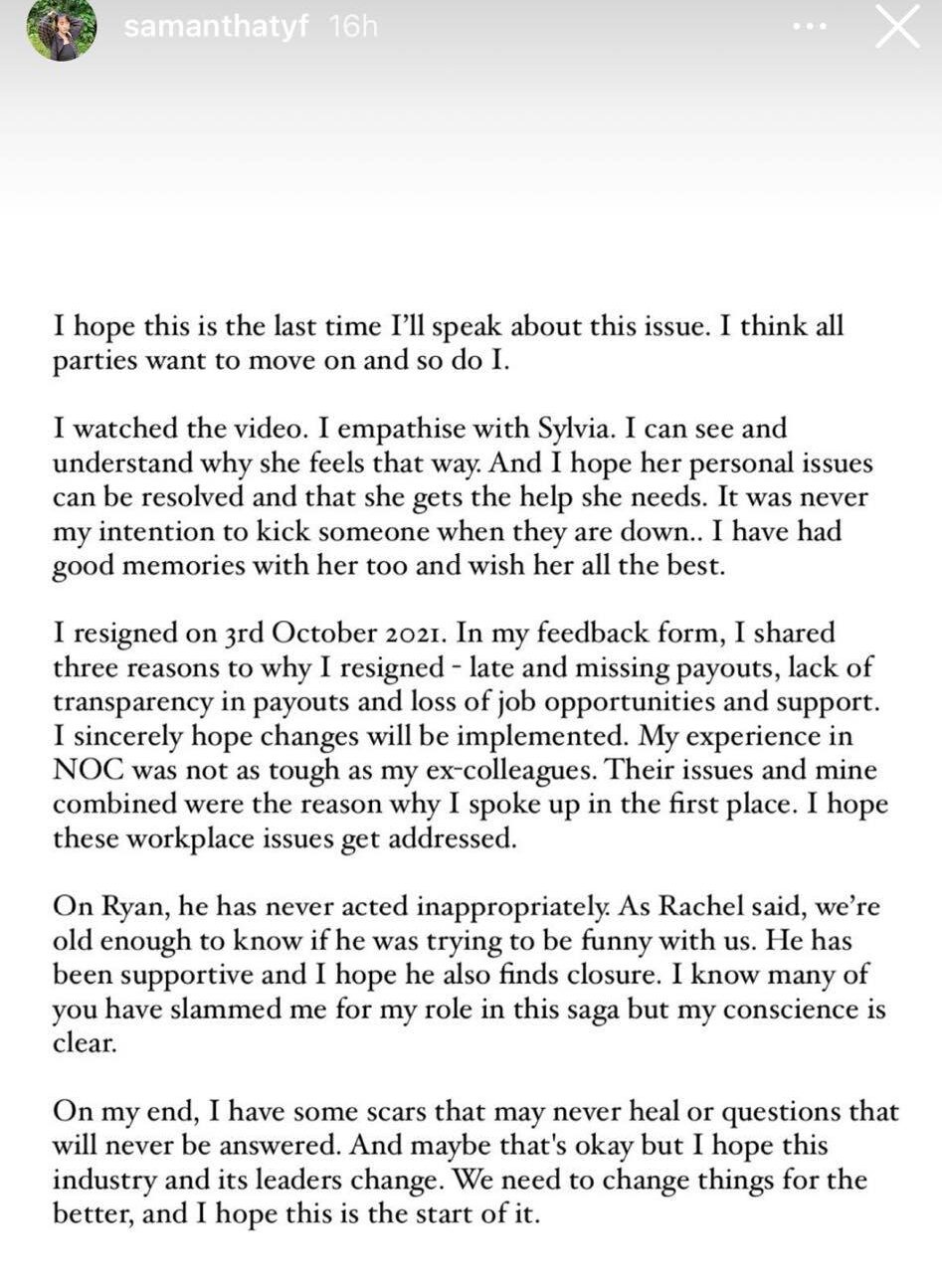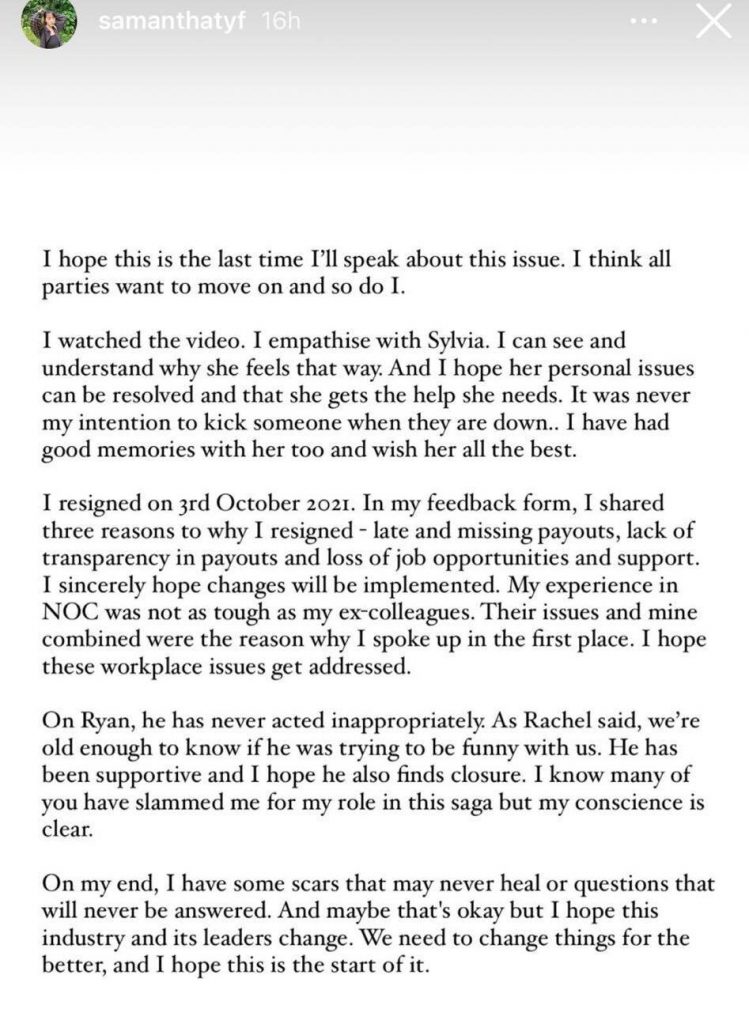 Samantha Tan Gets Engaged
Not in more drama, thankfully, but to her boyfriend of five years!
You may have also heard that Samantha was just recently cast in Jack Neo's upcoming film Ah Girls Go Army, following her online audition submissions.
When the director called her to convey the good news, Samantha was actually in the middle of the seas, having a well-deserved getaway on a cruise.
It seems like she received more than one piece of good news on the cruise – for her boyfriend Julius Ong also proposed to her then, photos of which she shared on Instagram.
According to her, Jack Neo had called right after it happened.
The couple sweetly posed on the bed of their room on the ship, alongside a board asking for her hand in marriage, surrounded by a flower bed and photos of them.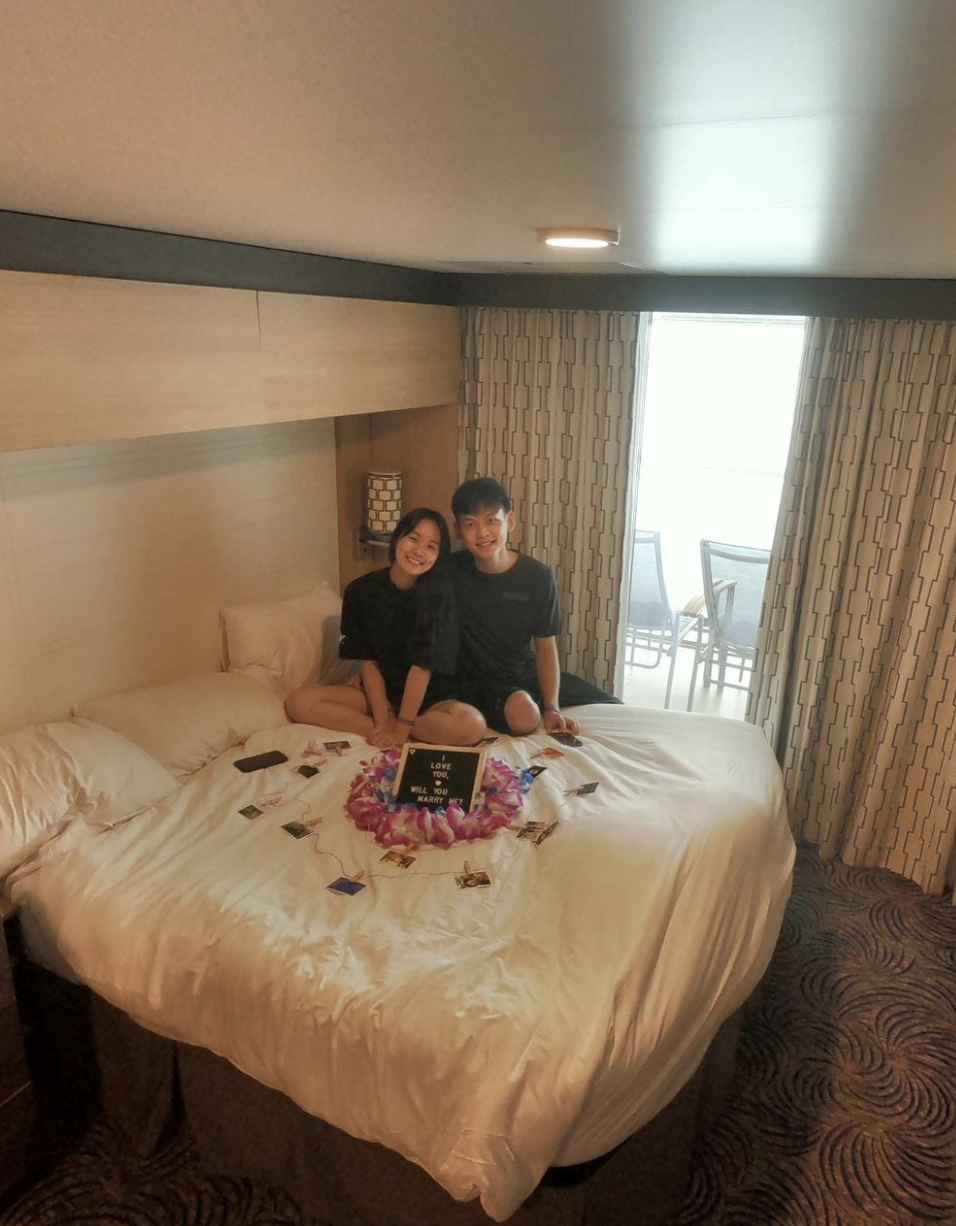 They reportedly met about five years ago and bonded over ramen, which they had for their first date, and the restaurant still remains their favourite.
Well, it's nice to see her thriving, and we're also likely to be seeing more of her in future following her acting breakthrough as well.
Moral of the story?
When NOC closes a door, it opens another two more doors.
---
Advertisements

---
Read Also:
Featured Image: Instagram (@samanthatyf)

Your parents are wrong: MSG (Monosodium Glutamate) is good for you (sort of). Here's the truth:
Read Also: