---
Advertisements

---
The NOC saga might have moved on from a bad-tempered boss to potential criminal investigations, but it had all started from someone being called a "f***face".
Back when an apology note would suffice, it's revealed that NOC co-founder Sylvia Chan had used disparaging language to describe one of their talents, Samantha Tan.
Samantha is the winner of a talent show produced by NOC, kNOCkout.
In a series of leaked audio and screenshots, Sylvia was seen (and heard) asking for an "exit strategy" for Samantha, with one of the reasons being that she has a "three-year bond."
In Sylvia's initial apology note posted on 13 Oct, she clarified that she knew about Samantha's three-year bond with a government agency late in the contest, which means she won't be able to sign a full-time contract with NOC even if she wins.
The full-time contract is the grand prize of the show.
Later, Samantha clarified on her own Instagram that she "signed the talent contract with NOC before filming began. Before I signed it, I made it clear that I had a gov bond for three years."
She added that a lawyer from NOC had also reviewed her contract to ensure that she was allowed to have "two contracts running at the same time".
She also revealed that all eight contestants of NOC's reality show KNOCkout had signed a talent contract with NOC before filming for the show began.
If that were the case, the "grand prize" of a full-time contract with NOC which Chan mentioned in her apology, would have been given to all eight contestants.
Of course, the conflicting part is the contract: is the "talent contract" similar to "full-time contract"?
Nevertheless, it appears that Samantha might not need those contracts anymore, because she's going to the army.
Samantha Tan, The Victim in NOC Saga, Cast for Jack Neo's Ah Girls Go Army
No, she's not signing on as a regular in SAF.
The full-time preschool teacher, who has a degree in Early Childhood Education with Psychology from Singapore University of Social Sciences (SUSS), was revealed to be one of the cast in Jack Neo's next film, Ah Girls Go Army.
Late last month, Jack Neo held a casting call for minor roles in the movie that is open to every female in Singapore.
One simply need to upload a 1 to 3 minutes video of her acting out a suitable character—any character will suffice—and use a hashtag so that Jack Neo's team can find them.
And by the way, this is exactly the reason why you've been seeing so many female "recruits" on social media—it's not a new trend but an audition for the role.
Samantha filmed some videos with her fellow (former?) NOC talents Isabelle Quek and Nicole Liel, and they were so serious about it, they were even wearing the real No. 4 and admin tee.
View this post on Instagram
The deadline for the casting call ended on 10 October, and yesterday, Jack Neo live-streamed the results whereby they call the people whom they've selected.
And of course, one of them is Samantha.
---
Advertisements

---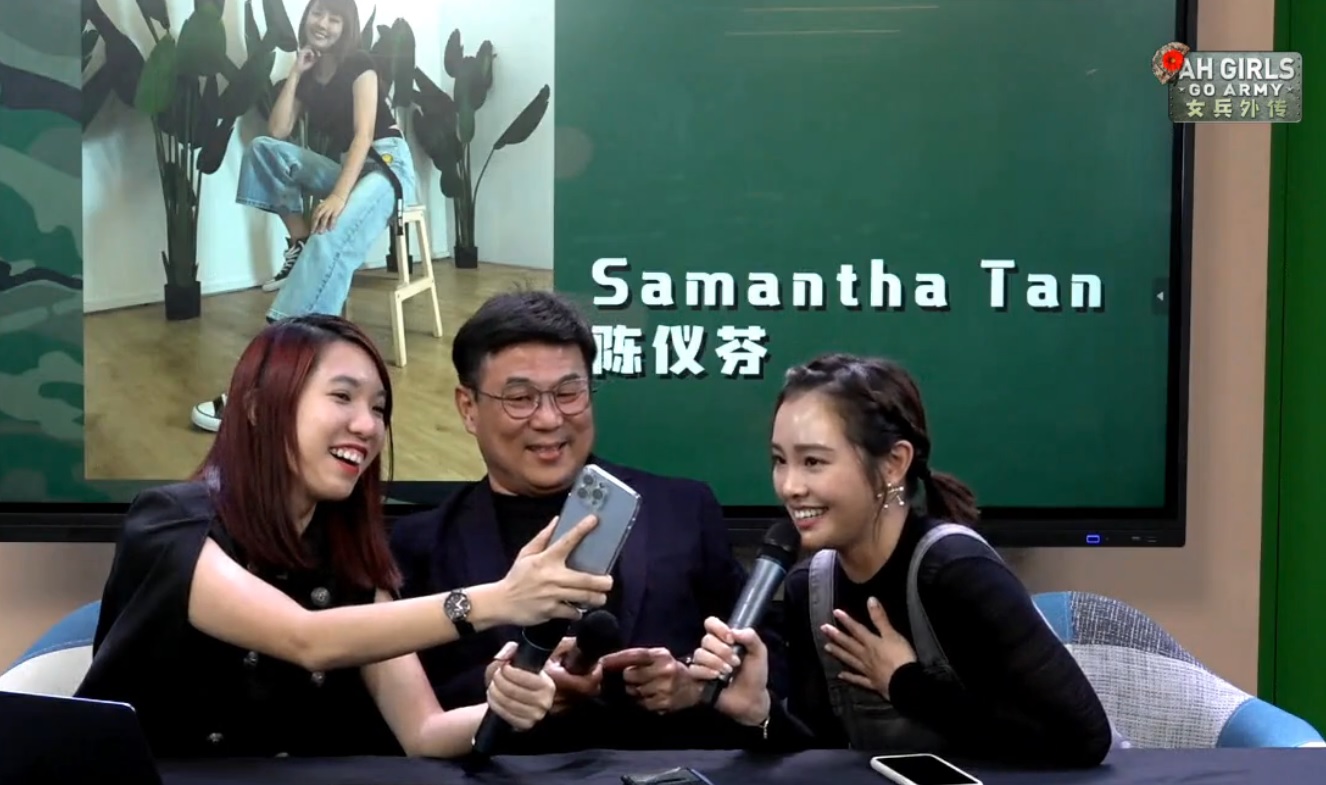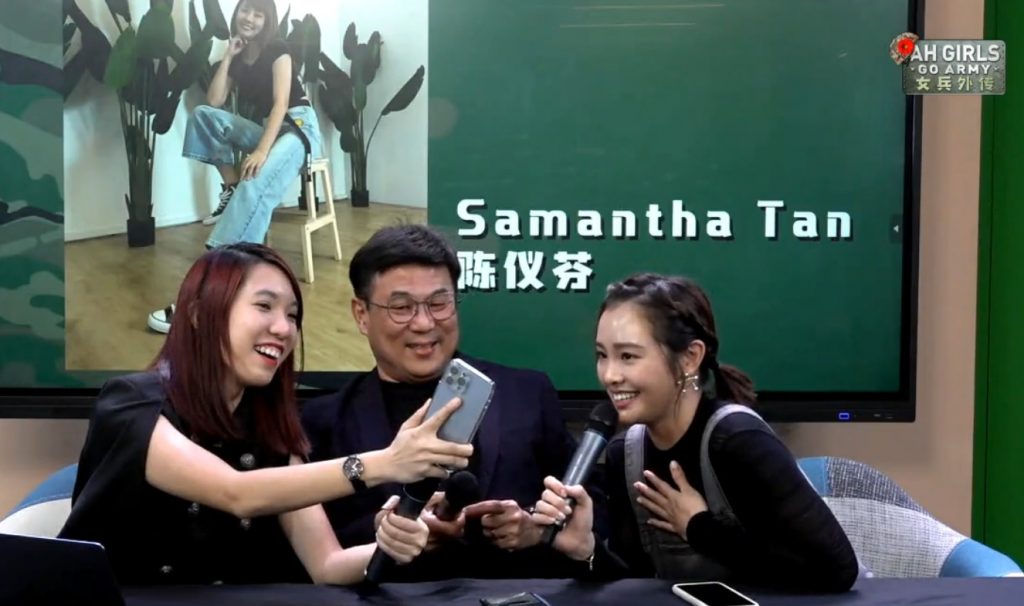 Throughout the whole video, though, Jack Neo did not mention anything about the NOC saga.
You can watch the entire video here, but do note that it's more than an hour long:
Now, if you're Samantha's fan, you'd know that she's on a "getaway" currently.
View this post on Instagram
When Jack called her, it turned out that she was on a cruise, and was visibly shocked to know that she's been selected for a role.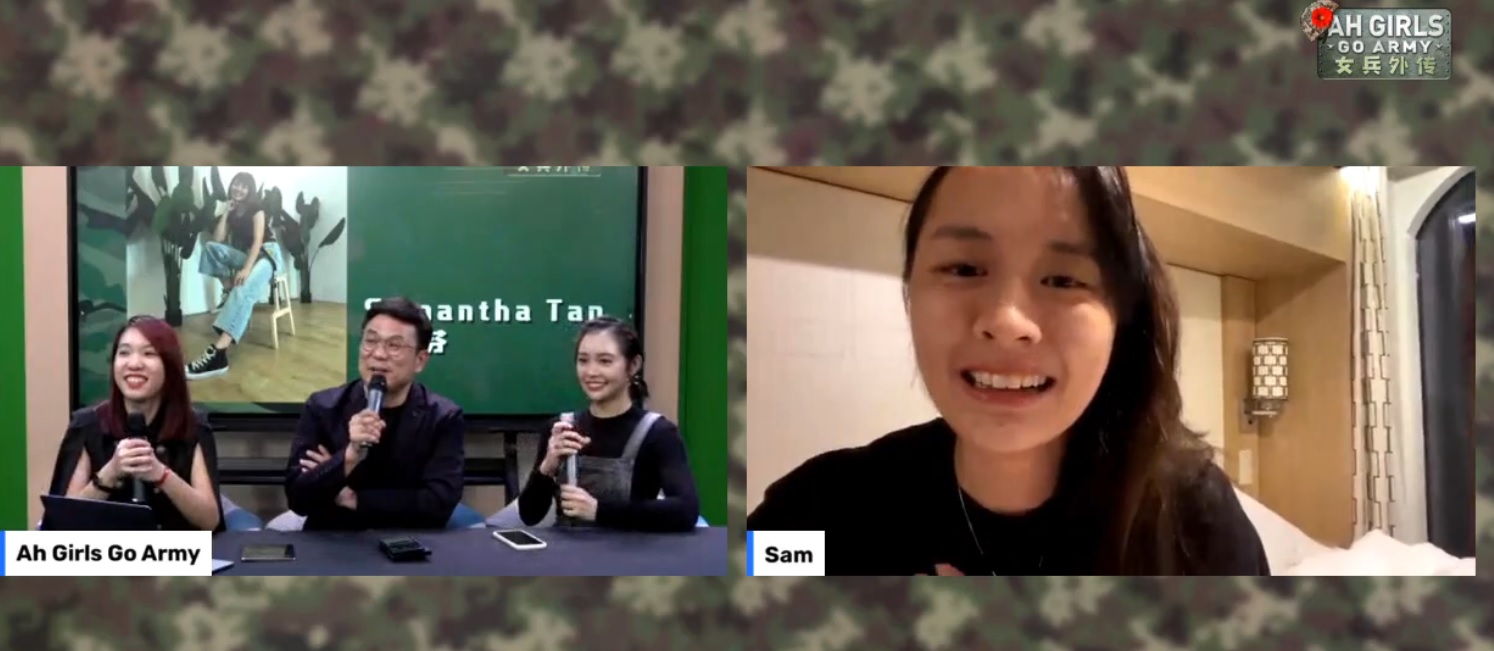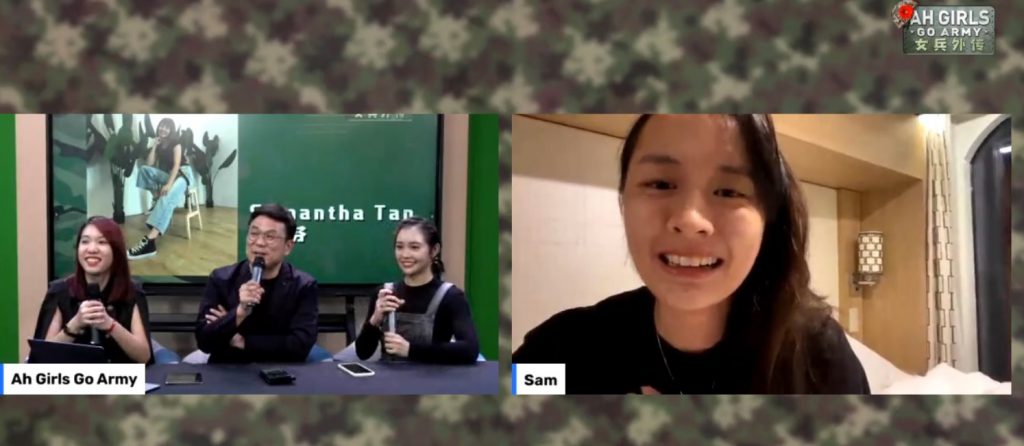 Seeing the success of the actors in Ah Boys to Men, you can bet that we might be seeing more of her in the near future.
---
Advertisements

---
Ah Girls Go Army
Slated for release on 1 February 2022, Ah Girls Go Army will explore a "possible near-future" where the local population has decreased so significantly that women will have to join the army.
So no, it's not about female regulars.
Similar to the very first Ah Boys To Men film, Ah Girls Go Army will see female recruits undergo Basic Military Training under allegedly fierce instructors.
They will supposedly be Singapore's first batch of female recruits: "a bunch of Gen Z teens with different backgrounds and education."
Set to undergo trials and tribulations, these recruits are said to gradually warm up to the concept of National Service over the course of the movie.
---
Advertisements

---
Ng Say Yong, chief content officer of mm2 Asia Ltd, is hoping that Ah Girls Go Army will be the next local blockbuster hit.
Apple Chan will reprise her role as LTA Zhang, while other cast members from the Ah Boys to Men series are expected to have cameos.
To know more about serving NS in the army, watch this video to the end:
Read Also:
Featured Image: Facebook (JackNeoCK) and Instagram (@samanthatyf)

Fresh grads, you don't need any experience to earn up to $4,200 with this "secret":
Read Also: