BMT

-

search results

If you're not happy with the results, please do another search
There's a niggling question that's always been in our minds even before we go into Tekong for the first time. It's not about the...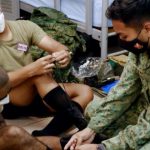 They often say the toughest part of your NS journey is the initial phase. The transition, particularly if you're not mentally braced to rise...
If you're a guy and trained in Tekong during your BMT period, you'd have known what we are talking about. There are moments in...
If you have friends or family members who served in NS before, you would have noticed the change they went through. Boys who went...
Shit coming out from a hole During outfield, you might get the chance to see the rare sight of fresh shit coming out from the...
If you were to think back to your NSF days, I believe your BMT days will be the most memorable period. We all remember...
Usually, life lessons are only learnt when life changing situations occur, and most of the time, these situations are usually tragedies. In a way,...
Remember when you were a teenager, you would go to a lan shop, "play CS" and think that holding a rifle and running around...
Most of us only get to throw grenade once in our lives. If we were to think back to our grenade throwing experience, most...
Basic Military Training (BMT) is a rite of passage that every Singaporean boy has to go through after enlisting into the SAF. We all...