---
Advertisements

---
With the Goods and Services Tax (GST) hike to 8%, you may worry about the rising cost of living. After all, it seems like everything except our salaries is increasing.
With Giant and NTUC FairPrice absorbing the GST hike for six months, Sheng Siong is also jumping on the bandwagon to help Singaporeans — though in a slightly different way.
1% Discount on Everything till March 2023
From 1 January to 31 March 2023, Sheng Siong is offering a 1% discount on all products to help relieve the pressure from the GST hike.
Labelling it a "counter-inflation discount", Sheng Siong announced that this was simply a "small gesture on our part" to help us cope with inflation and the GST hike.
Pretty fitting since their tagline is "all for you".
This discount will apply to everything except alcohol, tobacco, vouchers, lottery tickets, and infant milk powder products. Additionally, the deal will only be in effect in-store.
This discount doesn't apply to wholesale traders or vendors.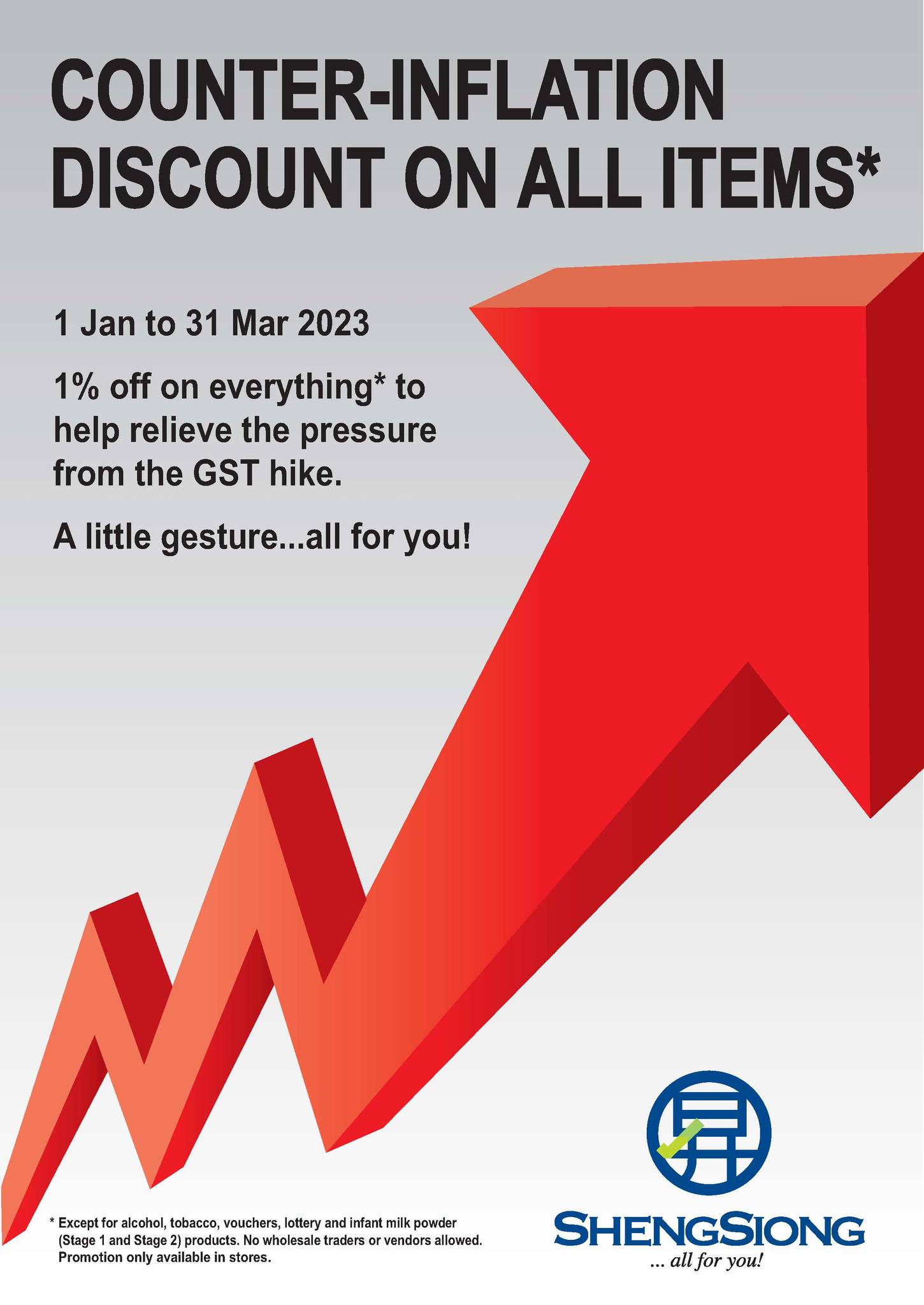 Slightly Different from Giant and NTUC FairPrice
In case you missed it, NTUC FairPrice announced that they would absorb the 1% GST hike for essential items until June 2023. The discount applies to 500 necessary things frequently bought, including fresh fruit and vegetables, meat, staples, dairy, paper products, detergents, and household cleaners.
FairPrice is also taking it one step further by continuing its discount schemes for seniors and low-income families. Holders of the Pioneer Generation, Merdeka Generation, or CHAS Blue cards can enjoy discounts for the whole of 2023 when they shop on the following weekdays:
Pioneer Generation cardholders: 3% discount on Mondays and Wednesdays
Seniors above 60: 2% discount on Tuesdays
Merdeka Generation cardholders: 3% discount on Wednesdays
CHAS Blue cardholders: 3% discount on Thursdays
To enjoy these discounts, flash your relevant card (or NRIC for seniors above 60) at payment. Grandparents, don't say we bojio!
Join our Telegram channel for more entertaining and informative articles at https://t.me/goodyfeedsg or download the Goody Feed app here: https://goodyfeed.com/app/ 
Shortly after NTUC FairPrice's announcement, Giant also announced that they would absorb the rise in GST for the first six months — but for 700 essential items instead of just 500.
Take that, FairPrice!
The essential items include a range of food and household products. And yes, our favourite $1 Meadows potato chips are considered essential, even if it is coriander-flavoured. 
Additionally, Giant's "Lower Prices That Last" campaign will continue throughout 2023, keeping prices of products like potato chips unbelievably low.
Giant also has a senior citizen discount programme. For Singapore Citizens and PRs above 60 years old, flash your NRIC at payment to enjoy a 3% discount from Monday to Friday.
Read Also:
Featured Image: Flo Yeow / Google Maps

Fresh grads, you don't need any experience to earn up to $4,200 with this "secret":
Read Also: