---
Advertisements

---
Yesterday's crowds at Marina Bay area were the true definition of the Chinese idiom Human mountain, Human seas. 
It seemed as if everyone and their mothers were in the Bay area last night to catch glimpses of the fireworks set off at the stroke of midnight.
Thankfully, this was anticipated by the local authorities. The Urban Redevelopment Authority (URA) had estimated crowds of over 500,000 people to flock to the Bay area for New Year's celebrations. This year was the first full-scale New Year's celebration with fireworks for the first time in two years.
The crowds were so huge, the police even had to step in and cordon off areas to disperse them. 
How bad was it? Read on to find out. 
Swarms of People Everywhere
Many social media posts showcased the scale of huge crowds conglomerating in the Bay area.
One video by user @vinnography showcased the hundreds of people trying to exit MBS through a single exit point. We cannot escape, we cannot come out indeed.
Another TikTok clip showcased the large crowds gathering outside Marina Bay Sands as well. All we can see are heads everywhere.
Some users chimed in, calling it a potential Itaewon incident Part 2. As you may recall, a stampede caused 151 deaths in Itaewon last October. There was a crowd crush due to the area exceeding full capacity, and people started piling on one another, resulting in suffocation and death. 

Such worries were not entirely unfounded since security reportedly blocked many exits. They directed all crowds to this one particular exit point.
---
Advertisements

---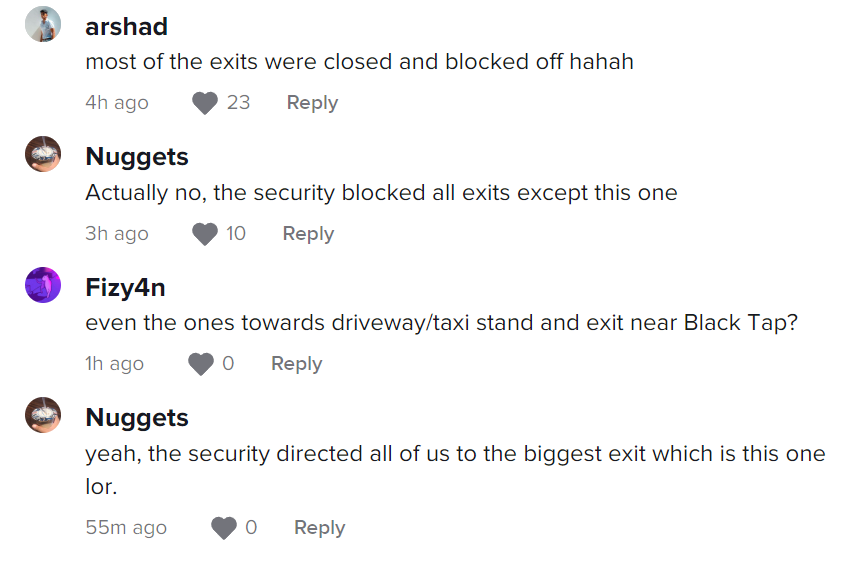 However, others disagreed with this viewpoint, saying the crowds were still safe, even if the situation looked dangerous. According to one TikTok comment on @vinnography's post, it seems like the crowds were still disability-friendly.

Restrictions and Interventions 
Local authorities had to step in and prevent the crowds from getting out of hand. 
As a precaution, the government set up the Crowd@MarinaBay portal on 31 December 2022 to alert people of the crowd levels and areas cordoned off from entry. 
There were many police officers on site, ready to take action if the crowds were deemed to exceed capacity. 
An hour before New Year's, the Police restricted access to many Bay area walkways, including Jubilee Bridge, Marina Bay Sands Event Plaza and Fullerton Waterfront area, including Merlion Park, as they have hit full capacity.
Due to large crowds at the Marina Bay Singapore Countdown 2023, the Police have closed access to the following areas:

1. Fullerton Waterfront (including Merlion Park)
2. Jubilee Bridge
3. Marina Bay Sands Waterfront
4. Esplanade Waterfront
5. Mist Walk
6. The Promontory pic.twitter.com/hc73qrL2ar

— Singapore Police Force (@SingaporePolice) December 31, 2022
Many Singaporeans appreciate such preventive measures. It is better to be safe than sorry about large crowds.
It is okay. Safety should come first. We don't want the Itaewon tragedy to happen in Singapore.

— Chan Lai Fong (@ChanLaiFong3) January 1, 2023
Join our Telegram channel for more entertaining and informative articles at https://t.me/goodyfeedsg or follow us on Twitter : https://twitter.com/goodyfeed
The Need to Stay Vigilant
Although large-scale gatherings are a welcome change after three years of battling the COVID-19 pandemic, we must stay vigilant about public health. 
COVID-19 is still a threat to us, especially with the rise of new variants amidst China's shaky reopening of its borders.
If you are not feeling well, avoid crowded places and stay home. Celebrations can still take place at home with your loved ones. 
It is just a clock change, after all.
---
Advertisements

---


Read Also:
Featured Image: @vinnography / TikTok

Your parents are wrong: MSG (Monosodium Glutamate) is good for you (sort of). Here's the truth:
Read Also: