Singapore was recently crowned the most expensive city in the world. Undoubtedly, the cost of living continues to increase. After all, inflation exists in our society. 
What's the solution to all this, then? 
More subsidies? Lower prices?
---
Advertisements

---
Unfortunately, things just aren't that simple. 
Minister of State Clarifies the Doubts
In a Facebook post on Sunday (11 December), Senior Minister of State for National Development Sim Ann cleared the air regarding household subsidies. 
This was in response to Mr Leong Mun Wai's post on 8 December questioning the generosity of the government's subsidies. 
Beginning her statement, she brought up that the affordability of houses for Singaporeans was significantly higher compared to other major cities. 
"For a large majority of flat buyers, the home price to annual income (HPI) ratio is only about 4 to 5 times, i.e. they use about 4 to 5 years of total household income to pay for their BTO homes. In comparison, in global cities, HPIs range from 8 times to well over 20 times," she wrote.
Can you imagine we had to suffer that same fate? If housing costs doubled, tripled, or even quadrupled?
At that rate, I'd rather live in Changi Airport.
After establishing this, she added that many are satisfied with the current subsidies. Moving on, she addressed the unfeasibility of further increasing price cuts. 
"HDB already prices these flats at a very generous discount to the open market in order to keep them affordable," she wrote. "Pricing them even lower would only attract more eligible buyers into the queue for them, making it less likely for those starting families to obtain one." 
This ties in with Singapore's goal to increase the birth rate and population of the country.
Our Economy at Risk?
Apart from the social impact, decreasing housing prices also pose economic risks. 
Because housing is one slice of the pie, allocating more money to it would mean cutting back on other facets, such as healthcare and education. 
---
Advertisements

---
In turn, taxes would have to be increased to cater to the increased housing subsidies and supplement the other spheres of expenditure.
Simply put, there are more baskets to put the eggs in. 
Finally, she tackles the flaw in Mr Leong's argument. 
"Mr Leong's response would be that the Government can charge HDB less for the land," she writes. 
"We have explained a number of times that state land forms part of the nation's Reserves. If HDB does not pay back into the Reserves the fair market value of the land, we would in effect be running down the value of our Reserves, to the detriment of current and future generations."
As it turns out, things aren't all that simple. 
---
Advertisements

---
Leong Mun Wai's Questioning
Earlier, it was mentioned that Mr Leong first sparked the debate. 
On 8 December, following HDB's release of the cost price of BTO flats, Mr Leong raised further questions. 
On the topic of cost proportion, he established that land costs accounted for almost 60% of the total cost of building the HDB flats. 
He then argued that this 60% should be omitted from the HDB prices. Why?
Because "much of the land used for building HDB flats was surrendered by the Pioneer Generation to the government for a relatively modest sum under the Land Acquisition Act between the 1970s and the 1980s." He claimed that the people then "accepted this because they were told their land was going to be used for a higher purpose, to provide affordable homes for every Singaporean."
---
Advertisements

---
The people then "were evicted from their homes and resettled with a low level of compensation."
Since our elders gave up their land then, the government should similarly give it back to us (for free) now. 
Unfortunately, "Singaporeans today must pay market prices for the land that was taken away from their forebears." 
As such, Mr Leong fights against the policy, claiming that subsidies for increasing housing prices are too low. 
If only we had to pay 40% of the price… 
---
Advertisements
---
Ending off, he doubts the public housing policy by saying: "The time has come for us to question whether even our public housing policy has lost its way. Singaporeans deserve better."
Now that both sides of the story are painted clearly, we can understand both perspectives on the situation. 
Join our Telegram channel for more entertaining and informative articles at https://t.me/goodyfeedsg or download the Goody Feed app here: https://goodyfeed.com/app/
HDB Reveals Cost Price of BTO Flats for All to See
For those who don't understand why the housing prices are the way they are, don't worry.
On 7 December, HDB and the Ministry of National Development (MND) gave a joint statement regarding the prices of BTO flats.
---
Advertisements

---
It's the first time the development costs of BTO flats are being revealed to the public.
This comes after the Leader of the Opposition Pritam Singh suggested making these costs public knowledge to keep tabs on the number of subsidies offered.
This also comes amidst the rising prices of BTO flats, with a five-room BTO flat at Ang Mo Kio launching at a record-high price of S$877,000 in August.
It was revealed that in the 2021-2022 financial year, the development costs for 13,506 BTO units amounted to approximately $3 billion in land costs, S$2 billion in building costs, S$5 billion for the total costs of sales of completed flats, and S$102 million for other expenses.
Despite the high development costs of BTO flats, these high development costs are not a critical factor in determining the price of these flats. The two are kept separate and distinct from one another.
---
Advertisements
---
So what exactly does HDB take into account in pricing BTO flats?
The answer is simple: affordability.
Setting the Price of BTO Flats
In setting the price of BTO flats, HDB establishes the flat's market value by comparing the flat with the transacted prices of comparable resale flats in the vicinity.
What if the resale flat has a better view or is closer to the MRT station?
Well, those are taken into account as well. The prices of these resale flats are admittedly influenced by a confluence of factors from market conditions to individual attributes like location and accessibility, which are considered.
---
Advertisements
---
Next, HDB will provide subsidies to account for the difference in price between the assessed market value of the BTO flat and its final selling price.
The final subsidy that is given is determined according to affordability.
When we say affordability, we're not talking about reducing the prices of BTO flats arbitrarily as if it's a wet market.
Affordability is pegged to two factors—the household incomes of buyers and the mortgage servicing ratio.
Looking for extra subsidies? Why not try and ballot in BTO projects under the Prime Location Public Housing model?
---
Advertisements
---
The high market value of flats at prime locations likely means that the subsidies applied by HDB will be higher.
Other than housing subsidies, eligible first-time flat buyers can consider looking at housing grants for additional support to keep flats affordable.
BTO Availability
Until now, we've been harping on BTO prices and housing subsidies.
Many looking for a flat already have the funds to purchase them (aided by low prices and subsidies, of course).
Herein lies the problem of limited supply.
---
Advertisements
---
Because our land is so tiny, there often needs to be more units to cater to people.
So, how do we act to get our homes quickly?
BTO flats are available for application quarterly (every three months), and HDB will announce the exact application period on the day of the sales launch.
After selecting your flat of choice, you must meet specific BTO eligibility criteria to qualify under a housing scheme.
If all is well, you apply, and your name goes to the ballot.
---
Advertisements
---
This is the difficult stage. You can only pray that your name is chosen. Afterward, it's all smooth sailing.
For more information, you can visit the HDB website, where you can find facts such as the upcoming BTO projects and a more thorough housing application procedure.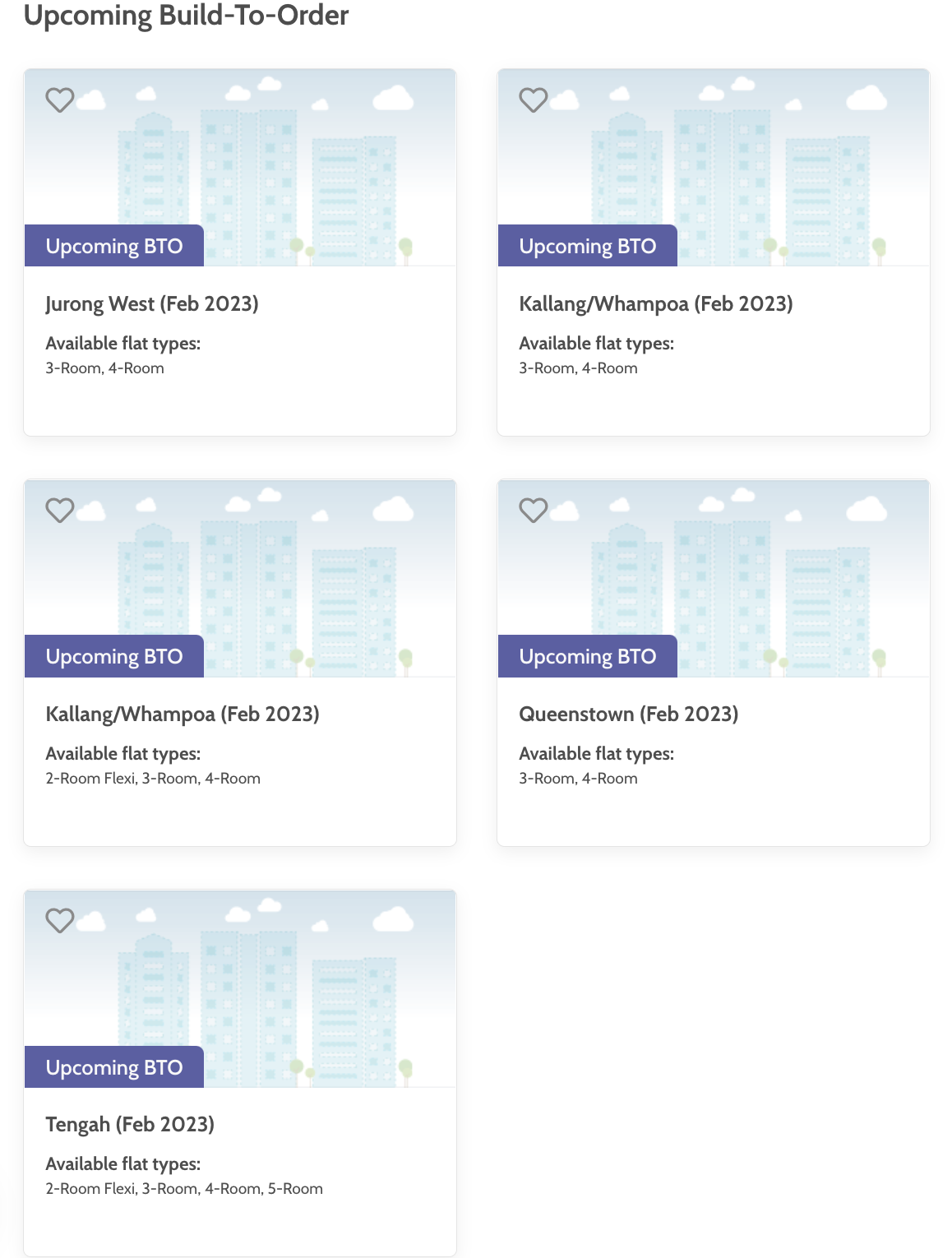 Read also: 
Featured Image: Sim Ann / Facebook