If you've ever played any of the classic Pokemon games, you would surely be familiar with Professor Oak's iconic phrase:
"There's a time and place for everything, but not now."
And though we'll almost always shirk in disgust at being told what to do, we have to admit the logicality of the professor's words.
It was, after all, a little inappropriate to do certain stuff, such as cycling in someone's house.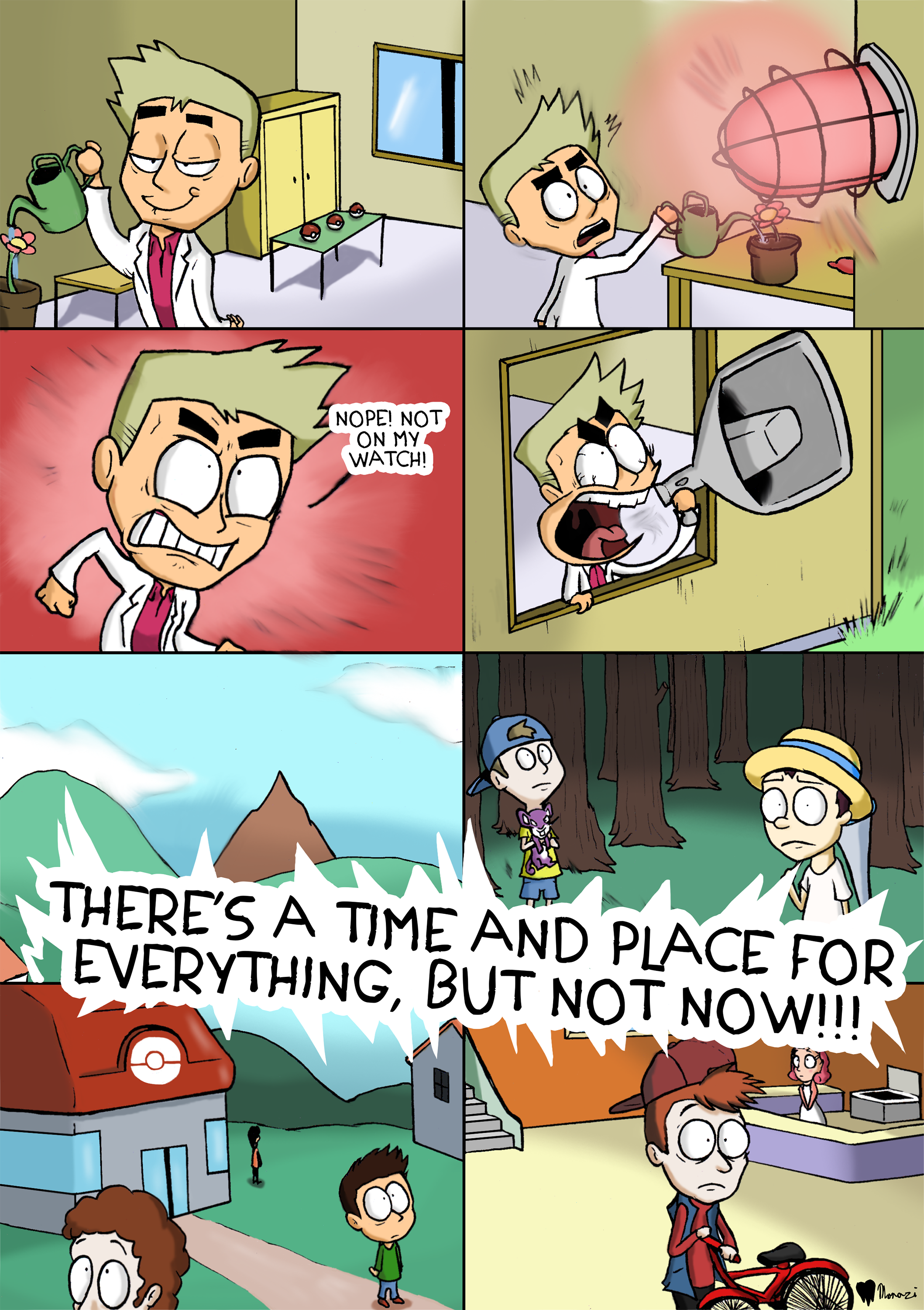 Truly, it was a classic moment – one that also made us all wonder whether Professor Oak actually had an X in his name.
And yet, how ironic is it that in real life…
The situation has somehow flipped?
Yes folks. I'm talking about the topic headline.
As reputable as he may be, Professor Koh has certainly done few a great disservice, by supposedly "joking" about his own resignation.
Now, it may not be as dire as pulling out a bike on your mum's newly-furnished floor, but it sure comes a close second considering the sequence of events that led up to it.
Brief Update
Just ten hours ago, Professor Tommy Koh, who serves as the head (rector) of Tembusu College, posted an insightful update – on the recent spate of events – on his Facebook page.
In the chunky paragraph, he entailed the case of Dr Jeremy Fernando, who has since been dismissed from his post in light of sexual misconduct against two NUS female students.
The accused was also found to have an "intimate relationship" with one of the students, which came across as "a violation of the university's code of conduct".
According to Professor Koh, Dr Fernando was dismissed on 7 October 2020, but the disclosure was only revealed 11 days after, on 18 October 2020.
This was purportedly "wrong" on the University's part.
---
Advertisements
---
"The delay in informing the students and faculty of the college was wrong because the students has a right to be informed about the dismissal of one of their teachers before learning about it from the mainstream and social media," he wrote.
As such, in a town hall meeting with the students and the press, the university decided to be more open about such situations in the future, and endeavoured to "share information with its stakeholders in a timely manner."
"The safety and well-being of the students will always be our number one priority," he ended.
A newspaper clipping, which features the University's admission of its mistake and subsequent vow to correct it, was also attached in the post.
You can view the Facebook post down below:
NUS Tembusu College's Tommy Koh Said He'll Resign Over Fernando's Sacking But Later Said He Was 'Joking'
After the post was uploaded, Netizens turned up in droves to air their comments (and dissent).
One of them, a certain James Ong, publicly advocated the following sentence:
"As rector, you should resign and take responsibility."
---
Advertisements
---
For the record, rector refers to the head position of a certain university or college. It should not be confused with the rectum, which is on the other end of the spectrum.
Anyways, after Ong made the bold declaration, Professor Tommy Koh responded.
But it wasn't exactly the comment everyone was expecting.
"I will offer my resignation to NUS," he said.
---
Advertisements
---


Now that was a plot twist nobody saw coming.
Needless to say, netizens weren't keen on watching Professor Koh go.
---
Advertisements
---
Many of them dropped appeals in the same comments section, asking him not to leave his post.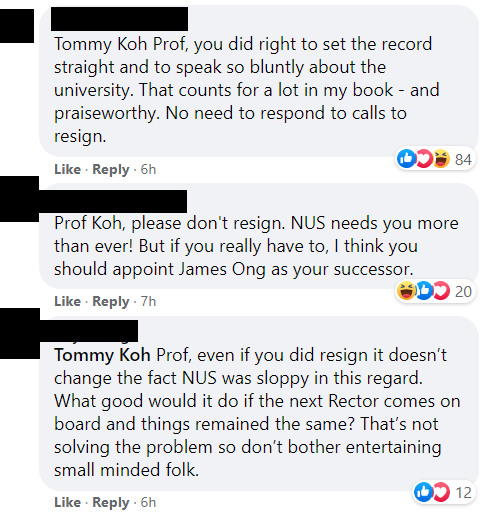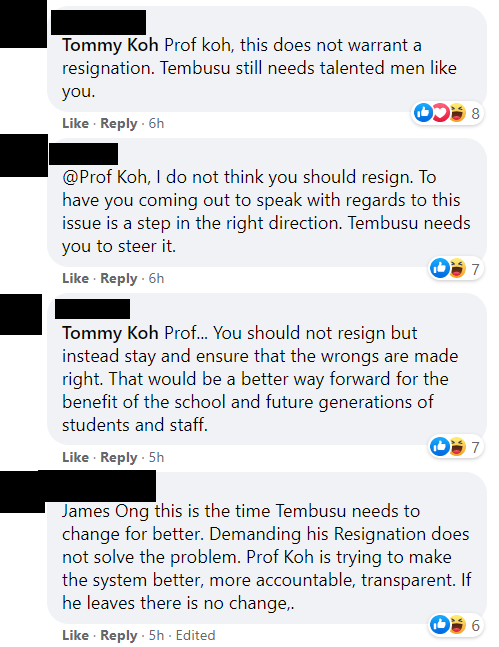 Some also called out James Ong for being an Internet troll, and requested for Professor Koh to ignore him.

---
Advertisements
---
Suffice to say; Professor Koh's decision to leave was not a popular one.
Yet, one could only watch with teary eyes as the maligned hero willingly took the brunt of it all for his beloved Tembusu College…
For two hours anyway.
Two hours later, the professor dropped by the comments section to provide an update on the situation.

---
Advertisements
---
As for his initial comment?
It was, according to TODAYonline, just a joke.
And though Netizens were largely relieved by Professor Koh's reversal (as seen from the 106 likes and hearts on his comment), his version of a joke did not go down well with everyone.

Fortunately, dissent seems to be in the minimal minority. Yet nevertheless, one can't help but feel that the notion would not look good on paper.
---
Advertisements
---
Particularly one as illustrious as his.
Dr Jeremy Fernando
Dr Jeremy Fernando, who was a fellow at Tembusu College, was dismissed by NUS after they received two complaints of sexual misconduct against him.
The university conducted a probe and concluded that he had "behaved inappropriately as a teaching staff".
"An internal investigation was carried out and Dr Fernando's conduct was found to have fallen short of the standards of professionalism that the university expects of a teaching staff. Based on the findings of the internal investigation, Dr Fernando, a non-residential teaching staff, was dismissed by the university," an NUS spokesman said.
The first victim said that Fernando had been making non-consensual sexual advances towards her since Oct 2019, and only stopped at the start of the circuit breaker.
---
Advertisements
---
She claimed that the lecturer kissed and groped her without consent, and even performed oral sex while she was drunk.
"He pressured me into various sexual acts and discouraged me from telling my friends," the victim said.
The second victim said Fernando first approached her during online classes and privately messaged her on Zoom.
A week later, they met another male student for drinks at a restaurant, and went back to her apartment.
While they were there, Fernando allegedly tried touching her and kissed her when the male student was in the bathroom.
---
Advertisements
---
When she pulled away from him, he told her not to tell anyone, because he would lose his job if word got out.
This incident comes after an increasingly prominent spate of sexual-related offences to have occurred at the prestigious University.
These include the infamous Monica Baey incident, during which the victim Monica Baey had been filmed in the shower by a fellow student.
Since then, other deviant cases have occurred, such as further voyeurism and theft.
Like writing? Goody Feed is looking for writers! Click here for more info!