---
Advertisements

---
Love buffets but have no idea where to find one that doesn't break the bank?
We have a solution for you.
Or not, we'll leave that decision to you.
New International Seafood Buffet with Free-Flow Bubble Tea
Unilever International Buffet currently has a 50% offer for international buffet and BBQ.
All you have to do is to like this Facebook post, comment, share it, screenshot the evidence and show the photo to the buffet staff.

Usually, the buffet is priced at $53.90++ per pax.
Now, it's only $26.90 per pax, excluding service charge and GST.
---
Here's Why We Might Not Need to Vote in Presidential Election 2023 After Tharman's Announcement:
---
That's about the same price as a dish from a trendy cafe.
The promotion will last till 23 April, so there's plenty of time for you to patronise their buffet if you aren't free right now.
Besides the usual items you would see at an international buffet, Unilever has unlimited bubble tea and unlimited seafood and sashimi.
Though there are some cooked dishes, there are some dishes you can cook yourself with their smokeless BBQ grill.
---
Advertisements

---
A paradise for a foodie.
Controversy
Before you go running there, here's a disclaimer.
This newly opened buffet has already had its fair share of controversy.
TikTok user @kerrynlee (who goes by Kerryn) reviewed the place and noted that she was disappointed by the slow refill of bubble tea and seafood. 
Though she was there for 90 minutes, she did not get to eat the snow crab and scallops.
However, she managed to try the buffet's sashimi and oysters.
Unfortunately, the sashimi seemed a little sus.
As shown in her video, the sashimi was placed on a plate for people to take without ice to keep it fresh.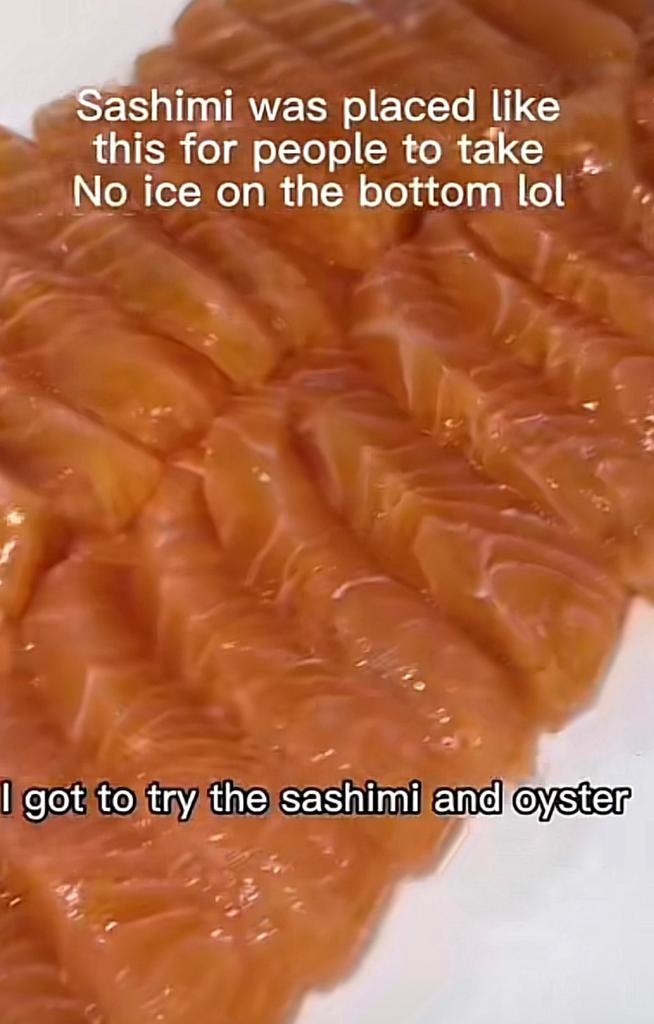 The state of the buffet's sashimi was corroborated by another TikTok video by user @Jxeats.
---
Advertisements

---
@jxeats PLEASE READ⬇️ 50% promo till April 23 ($26.90++/pax, U.P $53.90++) I shared some feedbacks with the owner as I was concerned with the way they serve the sashimi and the marinated meats have sour smell. Owner shared that they change the sashimi every 20 mins but each time they serve, customers usually clear very quickly. Also for the smell, it's because of their limited fridge storage (they are small scale restaurant), they ensured it's freshly marinated. So if you are going to try, my only tip is to try request for fresh Seafood or Sashimi from staff to get directly from fridge (the plate of seafood and sashimi in video was served by staff) Also wait for them to refill the hot dishes then take 😄 They were full house on friday night, I overheard customers sharing to owner that they enjoyed the buffet and seafood was fresh #sgfoodie #wheretoeat #sgbuffet #tiktoksg #sgfoodtrend #foodtok ♬ run bts bts – 🎧
In the video's caption, she noted that she was concerned with how the buffet served the sashimi.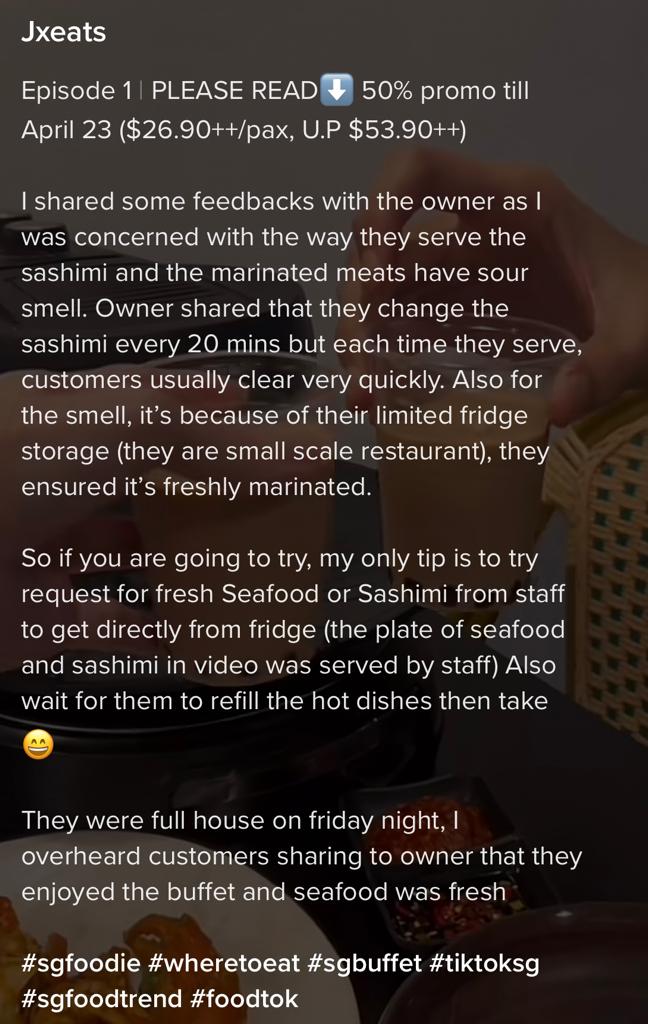 She also felt that the marinated meats had a sour smell.
When she raised her concerns to the owner, the owner shared that the restaurant changes the sashimi every 20 minutes, but customers usually clear it very quickly.
Regarding the sour smell of marinated meats, the owner suggested that it was probably due to the restaurant's limited fridge storage.
Hmm.
---
Advertisements

---
Other Reviews
Netizens in the comments of Kerryn's TikTok shared similar criticisms.
Some kept their comments short and simple, stating they would never patronise the buffet again.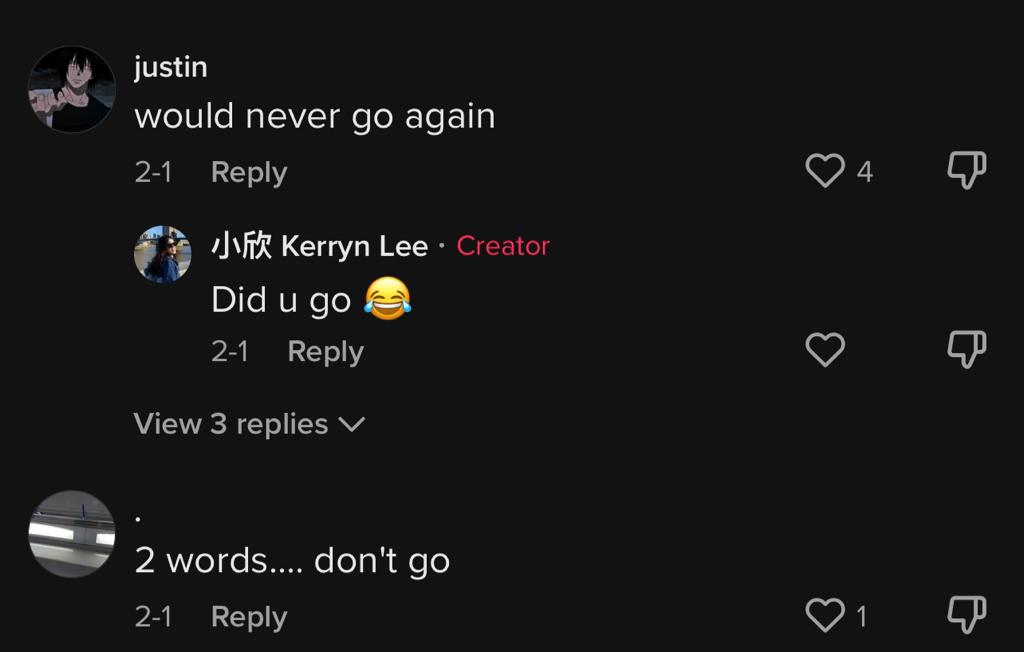 Others felt that a buffet having slow refills was a red flag.

However, the buffet has 3.8 stars on Google reviews, which is a decent score.

Those who rated the buffet one star on Google also mentioned the sus sashimi.
---
Advertisements

---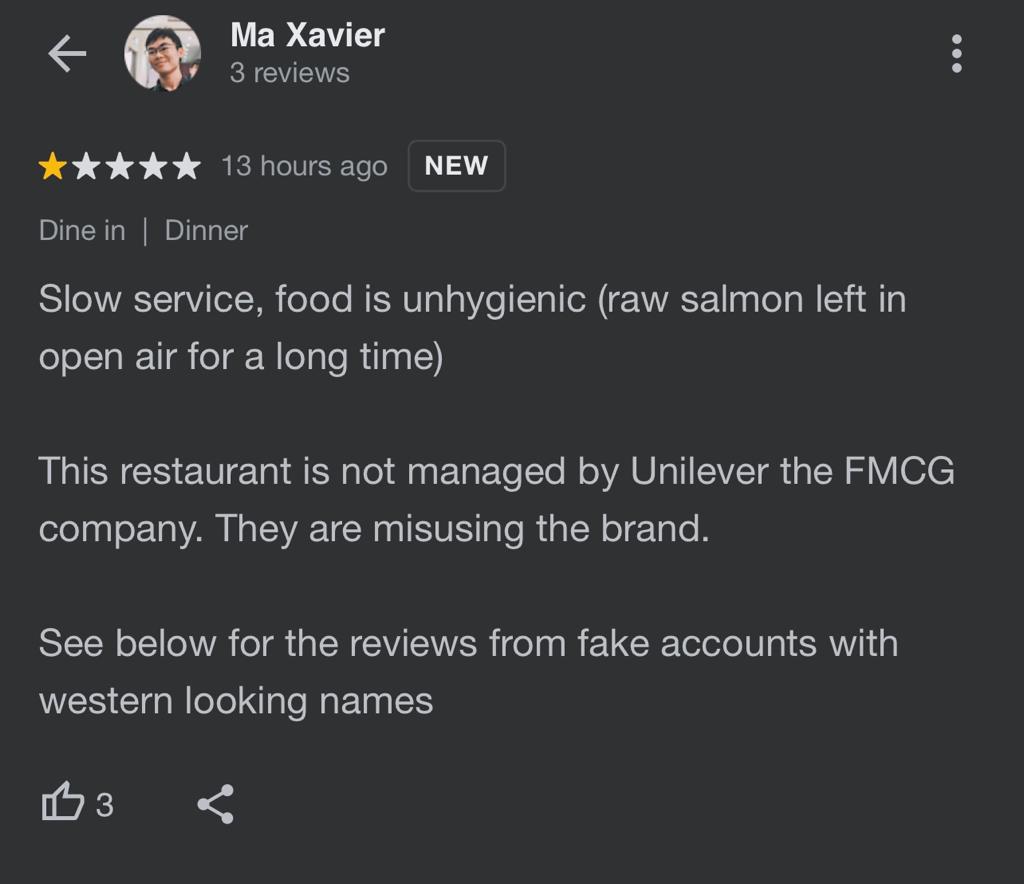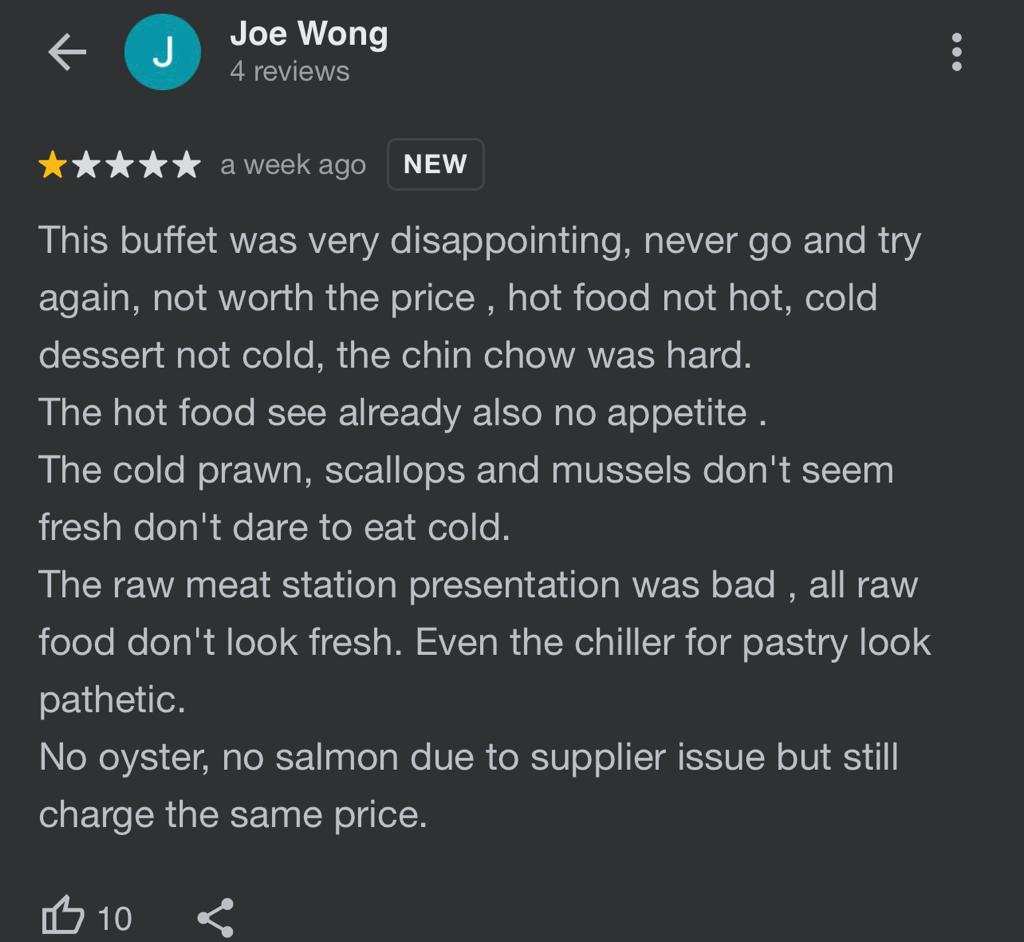 Other reviewers felt the customer service was too poor to be worth the 10% service charge.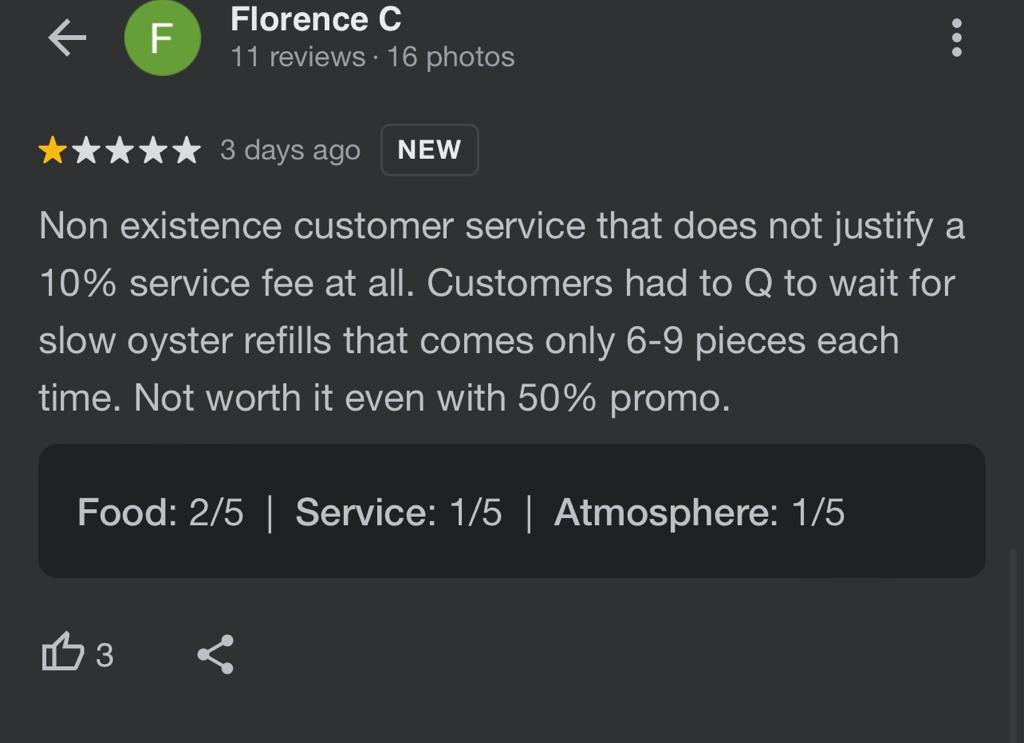 On the other hand, the reviewers who gave five stars praised the buffet's diverse range of high-quality food and the affordable price.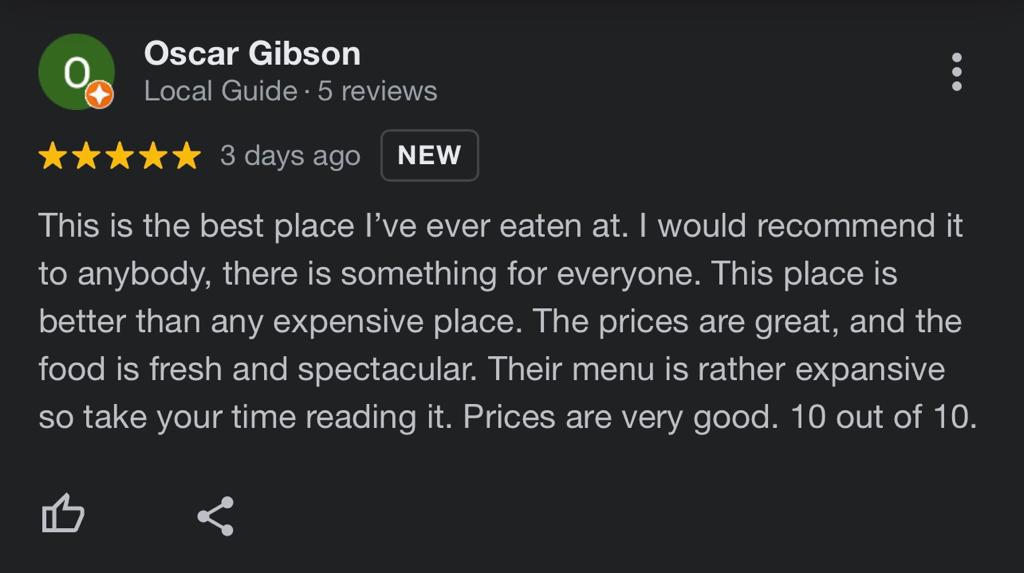 Based on the date of Unilever's first few Facebook posts, it is safe to say that the restaurant only opened in December or January.

Thus, it is pretty suspicious that the restaurant already has 93 Google reviews.
One reviewer pointed out the possibility that some of the five-star reviews were bought and not written by actual customers.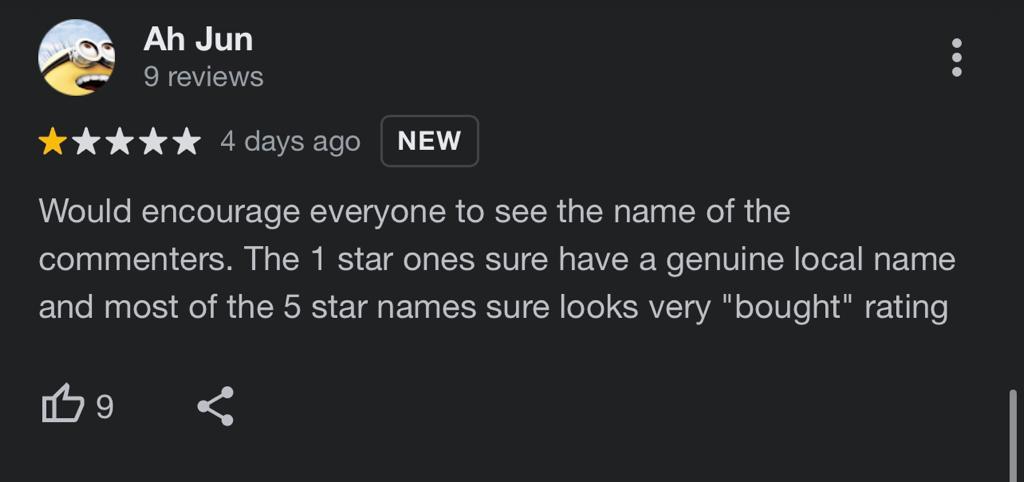 Join our Telegram channel for more entertaining and informative articles at https://t.me/goodyfeedsg or follow us on Twitter : https://twitter.com/goodyfeed
Tips 
If you still want to patronise the buffet despite the controversy, netizens have some tips for you.
Kerryn noted that the meat was abit dry and advised others to remember to add oil when cooking it.
@Jxeat's told her viewers to try and request for fresh seafood or sashimi from the staff.
---
Advertisements

---
She also suggested waiting for staff to refill hot dishes before taking them.
Address
If you're not afraid of the buffet's controversies, you can find Unilever International Buffet at 47 Jalan Pemimpin, Singapore 577200.
If you're bad at directions, the restaurant is located near Marymount MRT station.
You can visit Unilever International Buffet's Facebook page here for more details on their promotions.
Read Also:
Featured Image: TikTok (@kerrynlee)