---
Advertisements

---
The Straits Times works hard, but the Russian Embassy works harder.
The Russian Embassy in Singapore has recently criticised The Straits Times for "spreading blatant lie [sic] and disinformation".
Essentially, the Embassy just slammed The Straits Times, one of Singapore's most established newspapers, for spreading fake news.
Here's why.
Wires crossed
If you spend any time at all on the Internet, the conflict between Russia and Ukraine is anything but an unfamiliar topic.
After all, the administrator of Ukraine's Twitter page works hard to keep the world informed (and tickled).
Recently, in "referendums" organised in areas of Ukraine occupied by Russian forces, residents were told to vote on proposals to declare independence in four Ukrainian regions and thereafter to join Russia.
The Straits Times reported about it, but would never have expected what happened next.
In a report published by The Straits Times last Friday titled "Missile strike, bombing ahead of referendums on joining Russia", an image showing a firefighter comforting a woman in front of a destroyed school bus was used as the accompanying photograph.
In the caption beneath the photograph, the image was described to purportedly depict the aftermath of "Russian strikes".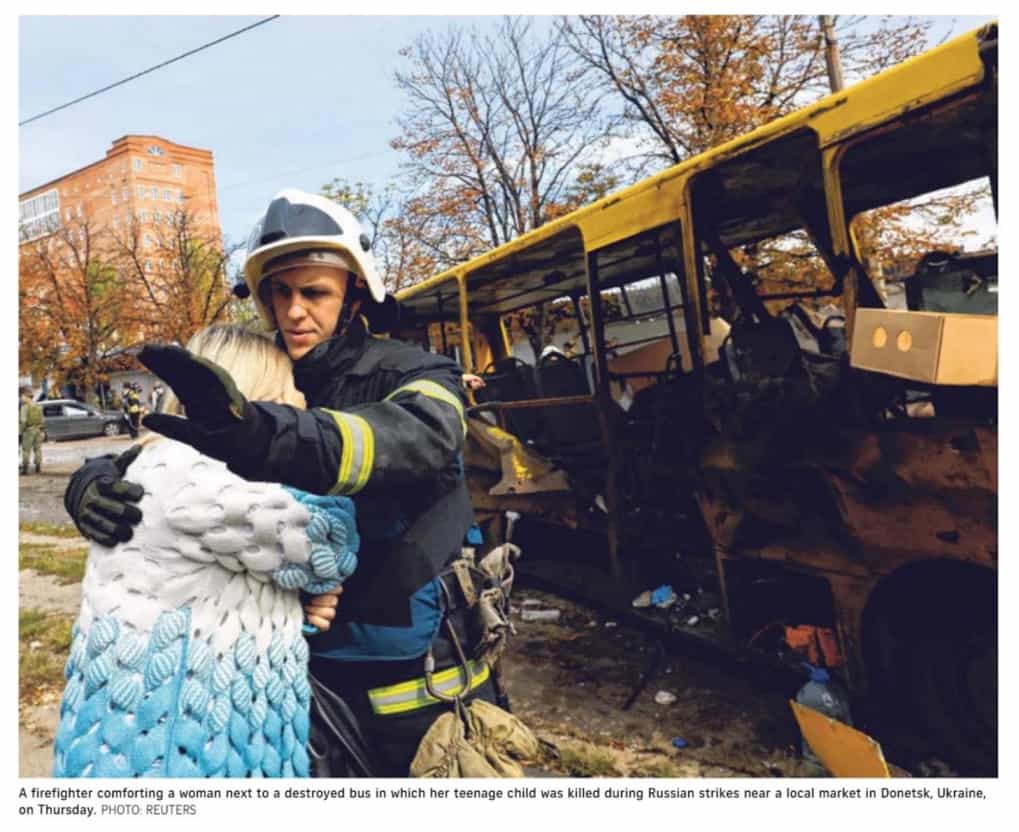 Yet, the Russian Embassy in Singapore says otherwise. In fact, they deny it vehemently.
---
Advertisements

---
Join our Telegram channel for more entertaining and informative articles at https://t.me/goodyfeedsg or download the Goody Feed app here: https://goodyfeed.com/app/
On Friday, the Embassy uploaded an open letter to The Straits Times on Facebook, claiming that the image instead, shows the aftermath of a "terrorist act" committed by Ukraine.
Talk about a plot twist.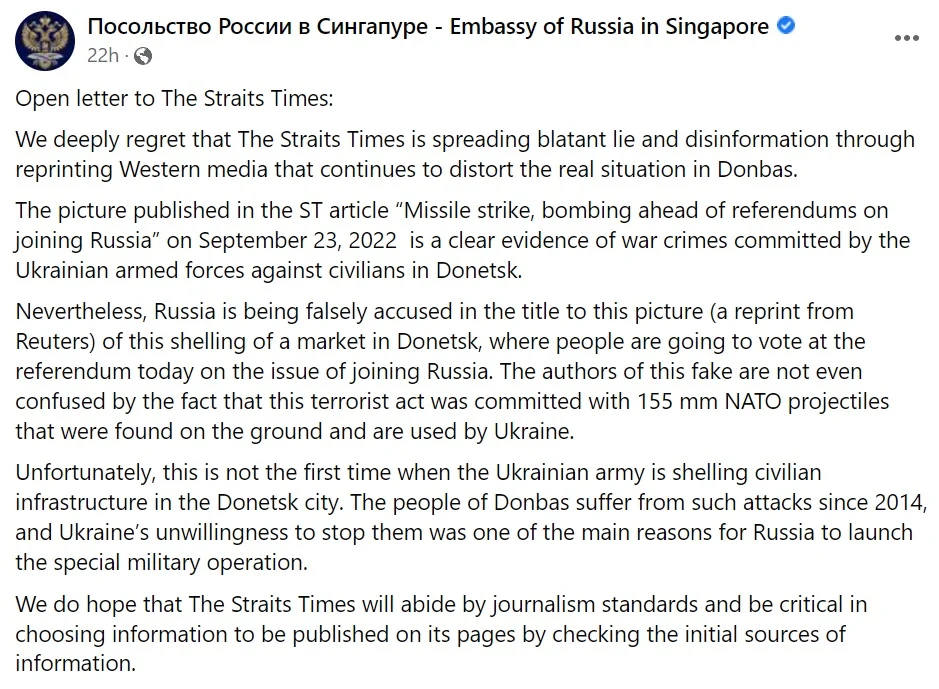 The "terrorist act" was apparently committed by Ukraine using NATO projectiles, and is also not the first of its kind.
The Embassy alleges that the Ukrainian army has been shelling civilian infrastructure in Donetsk from as early as 2014, which was one of the main reasons inducing the launch of Russia's "special military operation" in Ukraine.
Noting that the image in question was sourced from London-based news agency Reuters, the Embassy also criticised The Straits Times for spreading fake news through "reprinting Western media that continues to distort the real situation in Donbas".
The Embassy also urged the newspaper giant to "abide by journalism standards" and be "critical" in publishing information.
Read more:
Featured Image: The Straits Times

Singapore has nearly 6 million people now,and there's a big problem. It's not about overcrowding; it's something more serious:
Read Also: