---
Advertisements
---
It seems that our favourite drama series, the NOC Saga, may finally have come to an end. After weeks of back and forth, there has mostly been silence on the issue, except for a lot of talk about chicken rice, baes, and rendang.
While the spinoff series starring Xiaxue and Sylvia Chan eased some of our post-shows blues, it didn't satisfy our urge to cry over more spilt tea.
The good news is that one of the stars of the NOC Saga, Ryan Tan, has done a Q&A for his fans on Instagram, and has even revealed how he feels about his ex-wife now.
Ryan Tan Did Q&A After NOC Saga; Also Added That He's 'In Debts'
Since addressing allegations levelled at him by Sylvia, Ryan has only shared one post on Instagram, which was uploaded yesterday:
View this post on Instagram
"Hide your sisters, hide your girlfriends because this is the $1200 face of Singapore's most scandalous playboy," he said.
No prizes for guessing what he's referring to.
That same day, the NOC director conducted a Q&A session on his Instagram stories. Surprise surprise, many of the questions were about the NOC Saga.
One of the questions, which was really more of a statement, was in response to an Instagram story Ryan had put up earlier: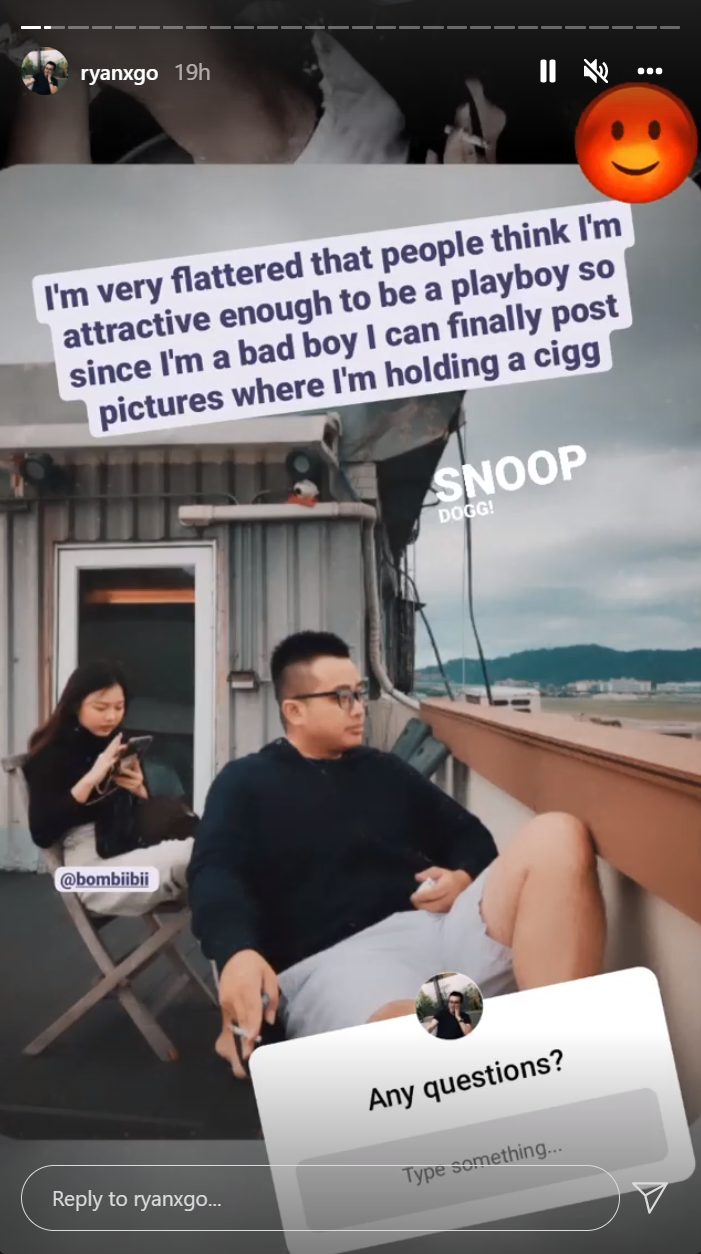 When a follower said that one doesn't need to be attractive to be a playboy, "just rich", Ryan said he wishes he could say he was rich but is actually in debt.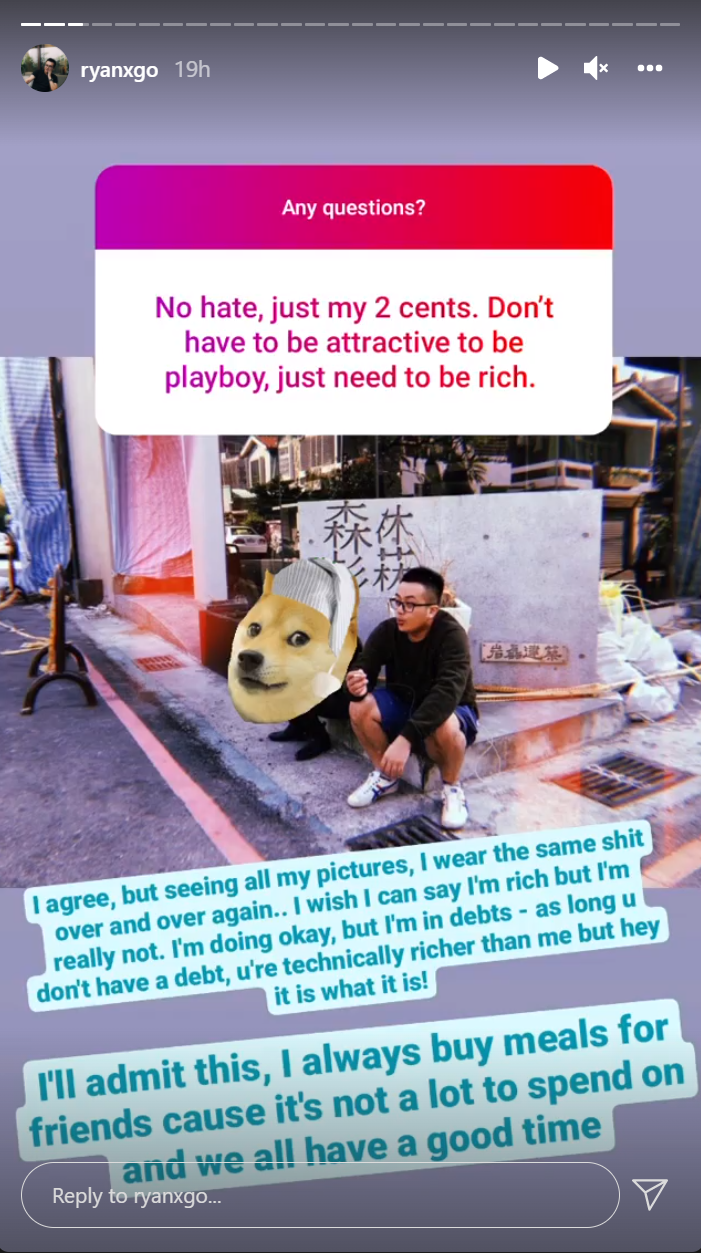 He agreed with a follower's assertion that being in debt is fine for a business if its owners know what they're doing, but added that it's a "very scary feeling" nonetheless.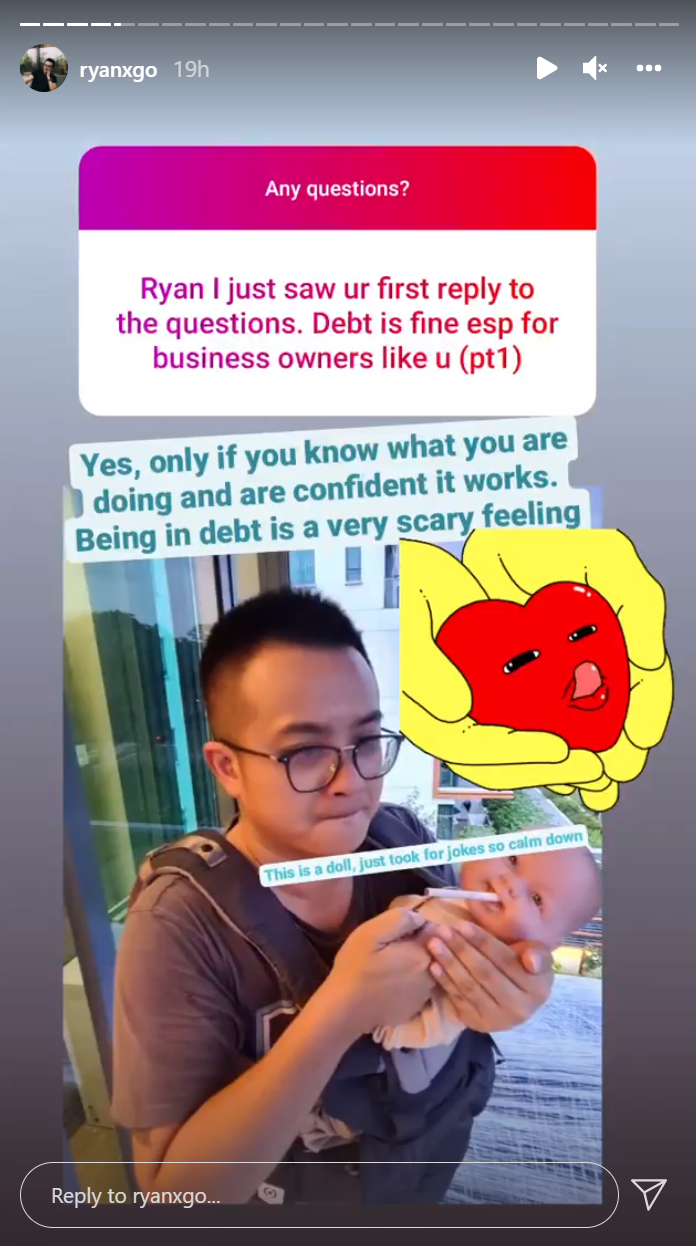 When asked for advice on how to be successful, Ryan said to "get off the internet" and "stop investing time that you can never get back hating on people that done you no wrong".
Can't argue with that.
In response to another question on how the public treats celebrities, Ryan said people tend to hold public figures to a "standard of perfection" that no one can live up to.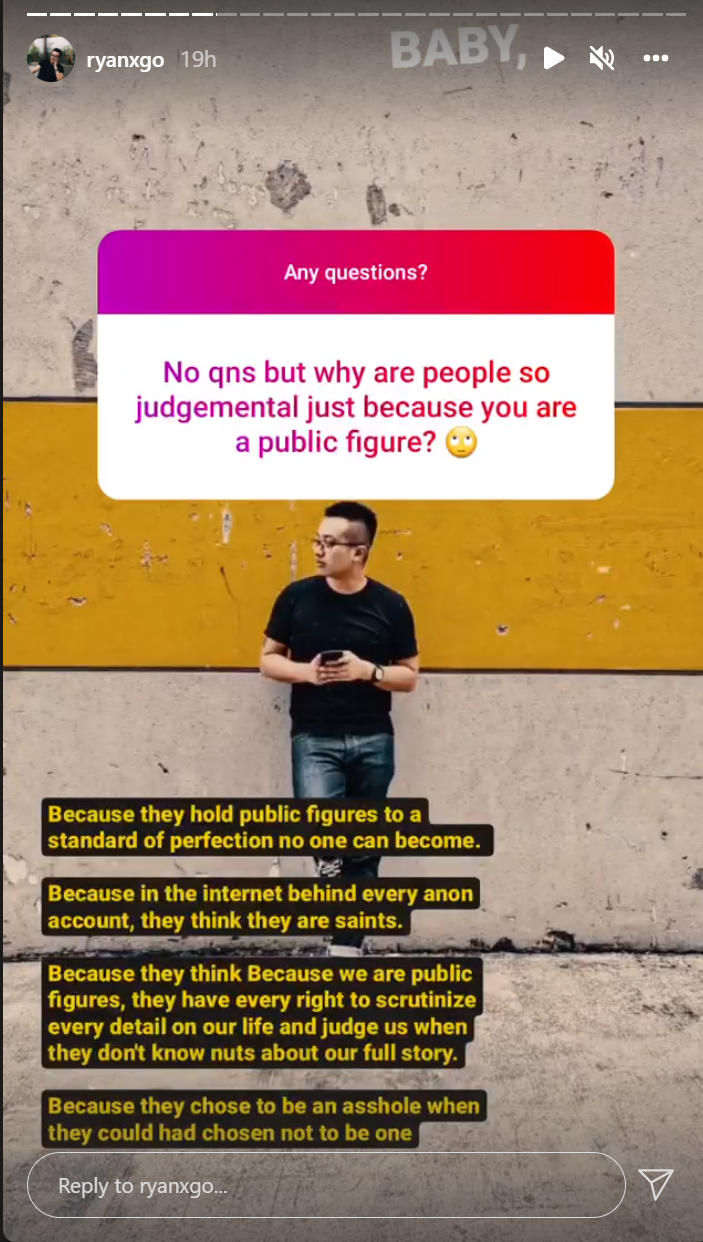 Thoughts on NOC Saga & Sylvia
Then came the questions on everyone's mind: what he learned from the saga and how he feels about Sylvia now.
As for the first question, Ryan said he's realised that he doesn't need anyone's validation.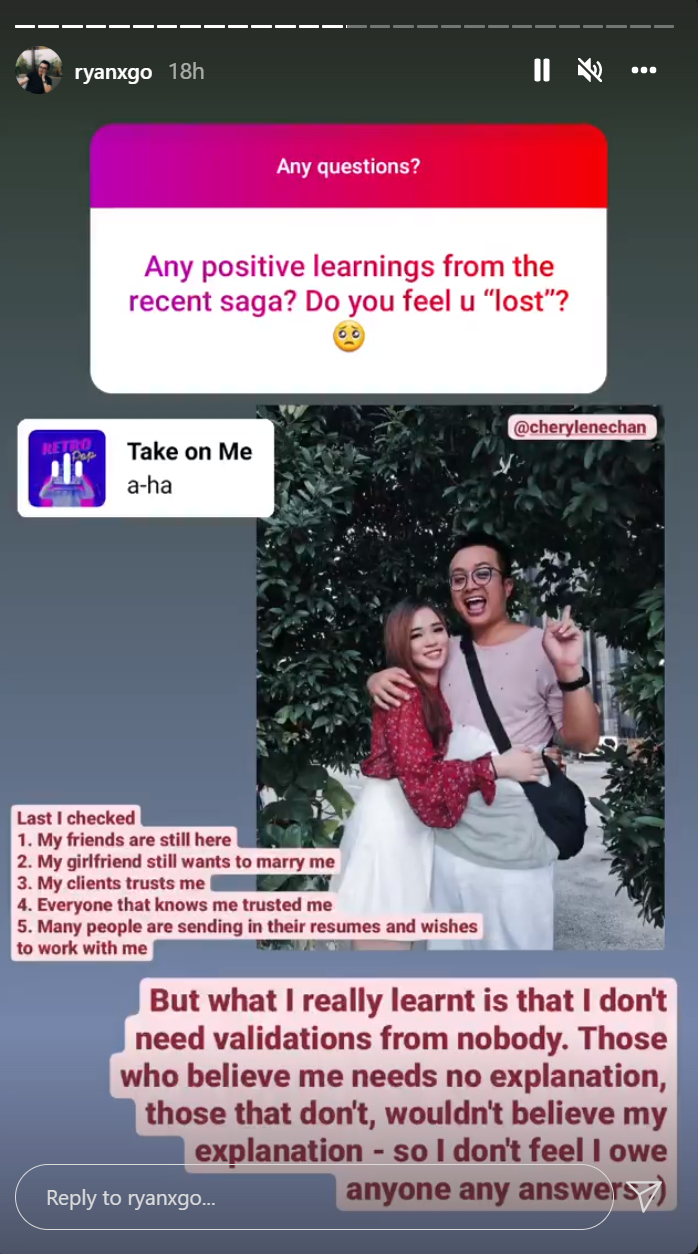 And when asked how he feels about his ex-wife, the YouTuber said: "I wish that she'll be happy".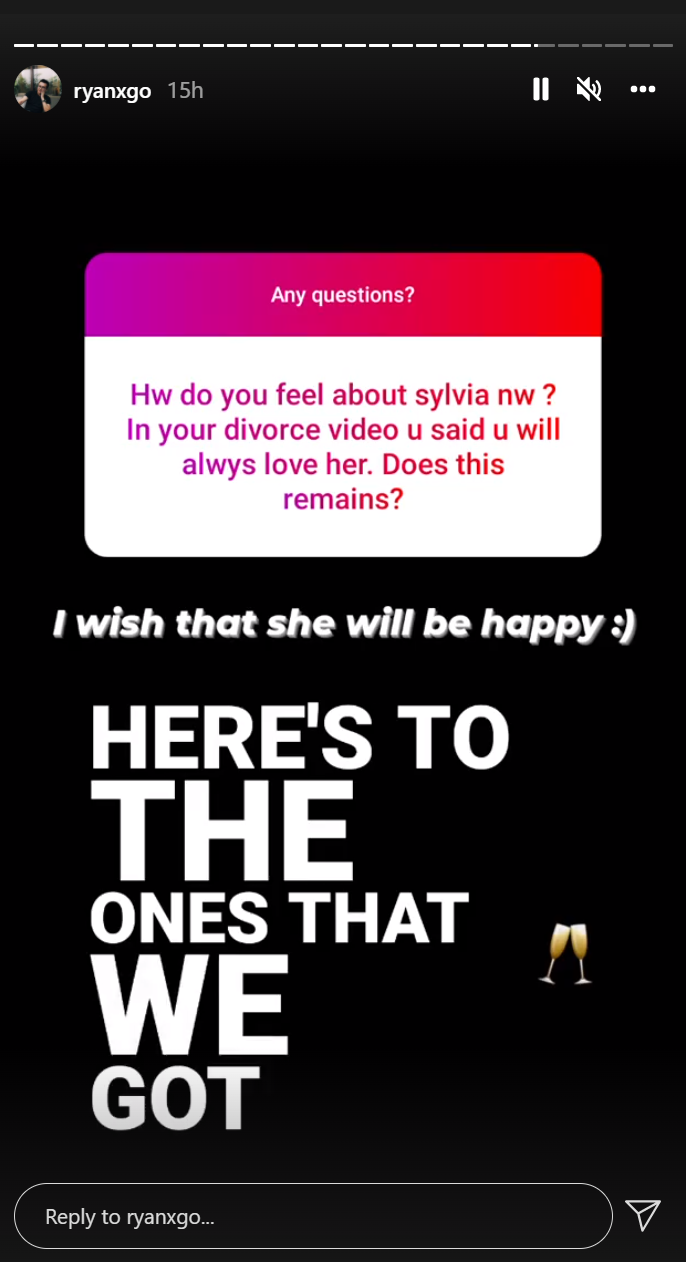 Much like many others embroiled in the NOC controversy when thinking about their future, Ryan just wants to be "free".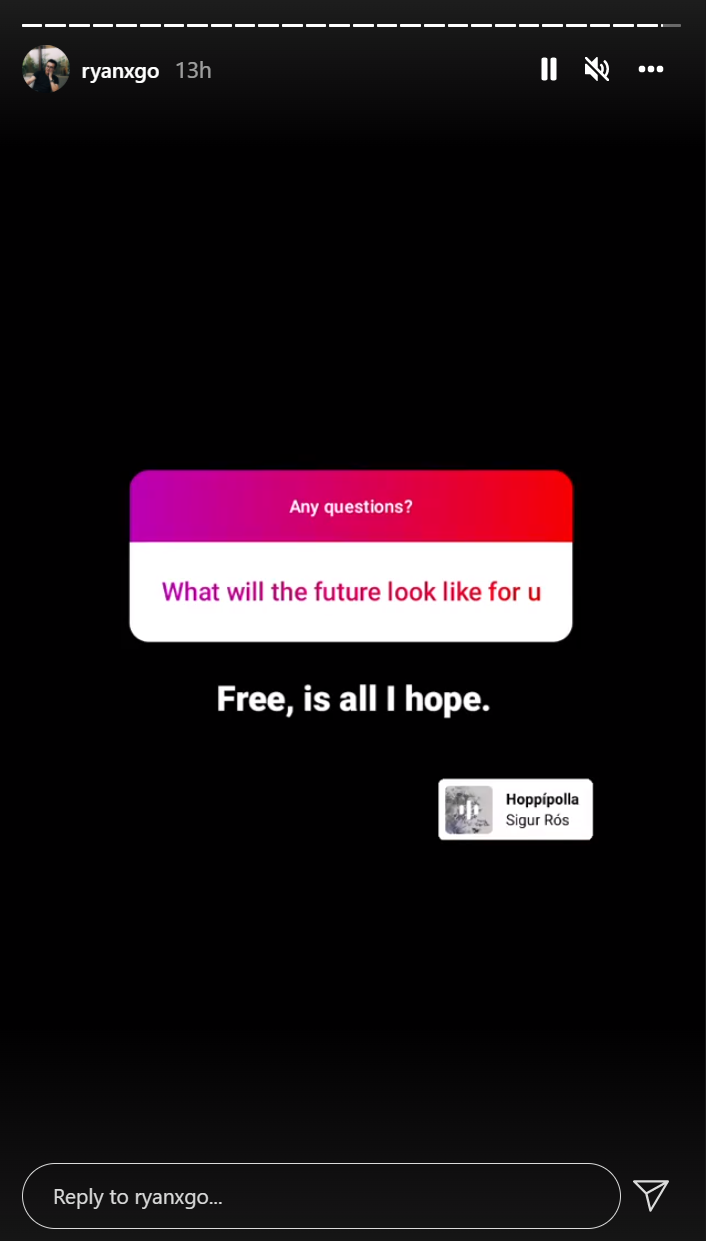 Read Also:
Featured Image: Instagram (@ryanxgo)
---
Advertisements
---