---
Advertisements

---
Nothing is worse than combining "limited edition" and "scalpers". 
What are scalpers, you may ask? Scalpers are resellers who mark up the margin price by a large proportion to earn a hefty profit. 
The greed for a quick buck knows no bounds. Scalpers can scalp anything under the sun — from concert tickets to even the bubble tea that appeared in Jay Chou's music video. 
Scalpers have struck again, this time for NTUC Fairprice's exclusive Hello Kitty Mahjong Solitaire Sets. They now want to make bank on the Hello Kitty craze. 
NTUC Fairprice is pushing out 152-tile Hello Kitty Mahjong Solitaire sets as part of their Hello Kitty campaign, currently running from 1 December 2022 to 1 March 2023.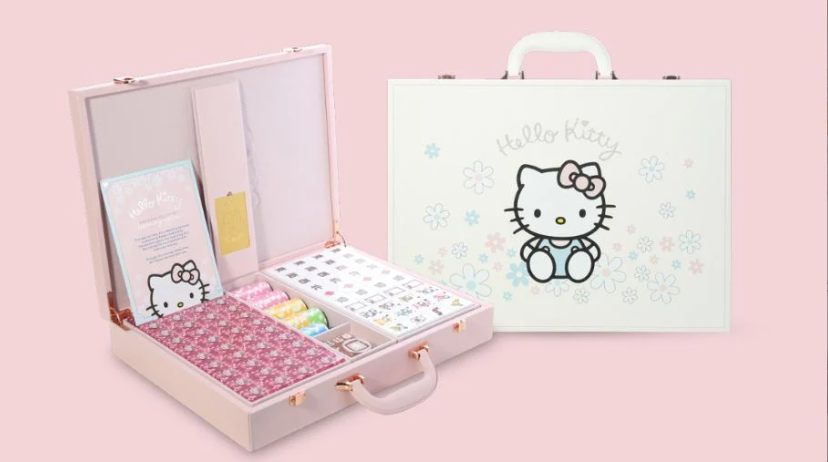 The Hello Kitty mahjong sets are shiny and eye-catching with dazzling pink looks. It will be a definite want for many fans. However, after seeing the price tag, what looked cute was not cute anymore. 
The Hello Kitty Mahjong Solitaire sets initially recommended to be retailed at $388 are now scalped for way higher prices, going up to even $888. That is a half a grand difference, which is double the original price itself
888 may be a huat number, but it should not be like this.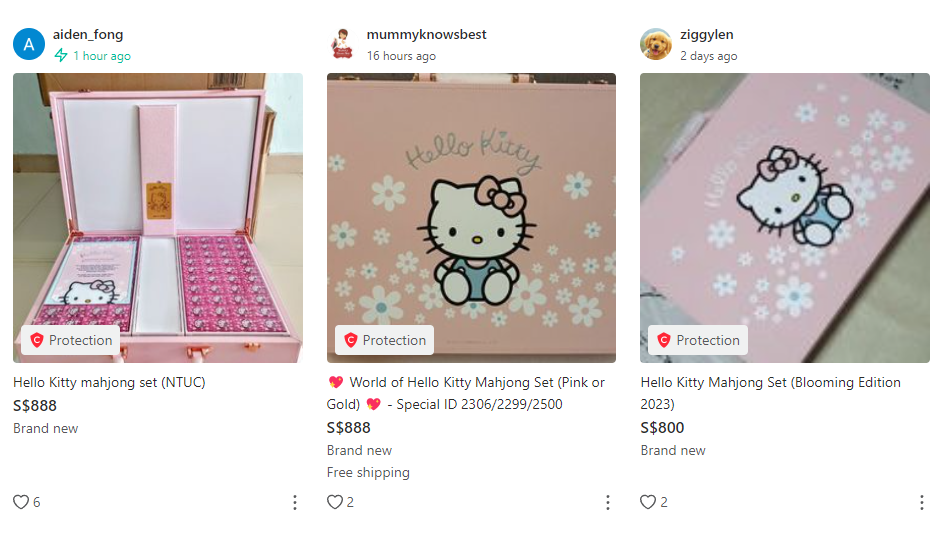 It is no shocker people affectionately nick Carousell users to be Carou-hell when pricing their items.
NTUC Fairprice's Response 
NTUC Fairprice has released a response about the scalping situation on their Facebook page.
They warned that customers should refrain from purchasing the Hello Kitty mahjong sets from resellers as they cannot authenticate whether the products offered are genuine or up to the promised quality. 
They advised customers to purchase it through their official store, using co-payments of bonus points and cash. That is with the assumption that stocks last.
Imagine dropping $888 on faux tiles. Chinese New Year will no longer be so huat when playing with the faux tiles with your extended family. 
Join our Telegram channel for more entertaining and informative articles at https://t.me/goodyfeedsg or follow us on Twitter : https://twitter.com/goodyfeed
Cheaper Alternatives 
You can always opt for cheaper options on online shopping platforms, as Facebook users suggested in NTUC Fairprice's post.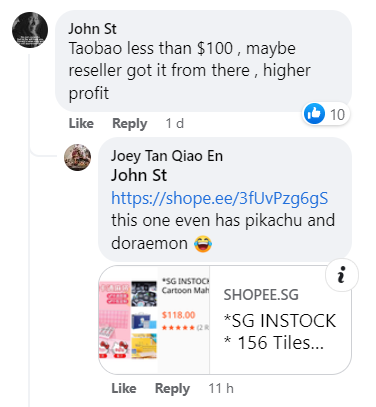 Some Facebook users recommended buying similar Hello Kitty-themed style of mahjong tiles at a fraction of the cost, which you can view here. Others even commented there are so many beloved character designs to choose from online purchasing, such as Pikachu or Doraemon. 
However, if you like the ones NTUC Fairprice offers, there is, unfortunately, nothing you can do about the situation currently.
No laws currently govern the prohibition of reselling goods and services at ridiculously marked-up prices. After all, this is the flow of demand and supply. 
For now, may the fastest win and buy the limited edition Hello Kitty mahjong sets first.

Read Also:
Featured Image: NTUC Fairprice

Fresh grads, you don't need any experience to earn up to $4,200 with this "secret":
Read Also: