Beer and sausages. What comes to mind? If you said Germany, you're absolutely right. And there's nowhere better for authentic German cuisine than Brotzeit...
Pan Pacific Orchard, Singapore Hotel's 10 at Claymore has been offering a buffet deal with free-flow oysters since CNY this year, in case you...
From 14 to 31 August 2016, celebrate Joseph Schooling's win and Singapore first-ever gold medal by spending your day at the pool! Even better, get...
You know what's better than pizza? Cheap pizza. And you know what's better than cheap pizza? Cheap pizza with Coke, because washing down that...
We just can't seem to do without bubble tea in this day and age. Everywhere we go, we get the comfort of these refreshing...
After the whole hype over Artbox, we've been there, or at least heard of how massive the crowd was.If you didn't manage to experience...
It's Monday again, and if the idea of Durian Curry Puff doesn't chase away your Monday Blues... ...here's one article that will. Confirm-plus-chop. Because it's enjoying good...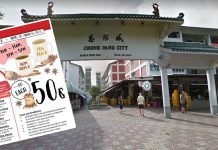 Yishun is many things: infamous, famous and quaint are just a few terms to describe the residential town. But there's one thing you may not know about it. Yishun is,...
Okay, I can't resist saying this: Restaurants and shops are jumping in left and right on the NS discounts bandwagon, but damn if this isn't...
When it comes to burgers and feasting like a king, there's no place you can go to better than Burger King. After all, they're all...