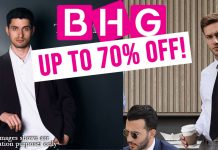 Sales. Deals. Promotions.  Utter one of these three words in front of a Singaporean and all their senses will immediately be heightened as they sniff...
COVID-19 has proven itself a killer, not just to our social lives but our wallets as well. Thousands have lost their jobs with many more...
Most of us don't usually do much with our hair other than wash it. But on a daily basis, we do a lot of things...
Let's face it: If you're like BuffLord95 who counts every cent, you're always on the lookout for the best deal. That's the reason why you're...
Don't you just love the holidays? It's deals and deals galore this December. Just when you think you've got all of it done and dusted,...
Your palms are sweaty, knees weak, arms are heavy. As you sit on the edge of your seat, face close to your computer screen and...
Unless you've been living under a rock, you're familiar with online shopping. Especially what I like to call, the double dates. And by that, I mean... Remember Christiano...
Sometimes, success is about being in the right place at the right time. What're you on about now, you good-for-nothing siaolang writer? Don't dismiss me just...
Nowadays, there's one word that'll trigger any Singaporean: Haze. With Singapore turning into Silent Hill every now and then, we've to do everything online, from...
Tell me if this scenario sounds familiar: You scour jewellery shops in search of the perfect ring. Just when you're about to give up, you...